Virginia Outlasts Georgia Tech, 27-21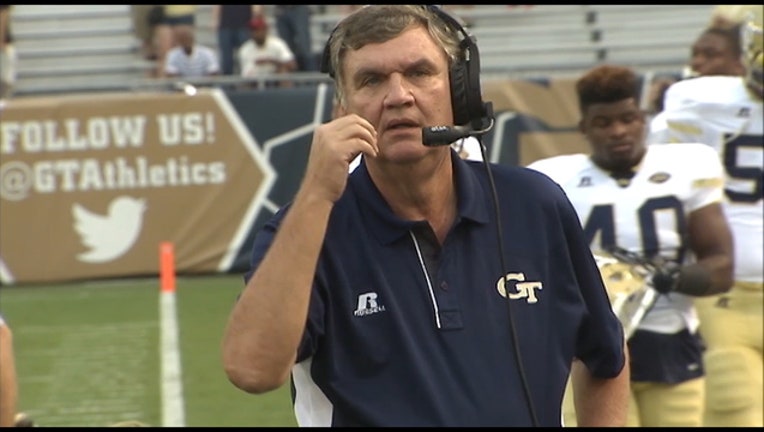 article
CHARLOTTESVILLE, Va. (AP) - Matt Johns threw a go-ahead touchdown pass to Canaan Severin in the third quarter and Virginia limited Georgia Tech to two long scoring plays until the final minutes of the Cavaliers' 27-21 victory Saturday.
Daniel Hamm and Albert Reid also ran for touchdowns for the Cavaliers (3-5, 2-2 Atlantic Coast Conference), who snapped a three-game losing streak against the Yellow Jackets. The victory kept Virginia in the running for the Coastal Division championship and its first bowl game in four years if it loses just once more this season.
Georgia Tech (3-6, 1-5) lost for the sixth time in seven games, with the only victory last weekend's 22-16 triumph against No. 17 Florida State on a blocked punt return touchdown on the game's final play. Coach Paul Johnson's team will have to win its final three games to extend its streak of seasons ending in a bowl to 19.
The Yellow Jackets made it a nail-biter late, scoring on a 22-yard pass from Justin Thomas to Clinton Lynch with 1:41 remaining, then recovering an onside kick. But after driving to the Cavaliers' 34, Thomas threw incomplete on fourth-and-4 with 1:11 left.
The Cavaliers trailed 14-10 at halftime, but drove 58 yards to Ian Frye's 24-yard field goal early in the third quarter. They needed just one play after that to get the ball back as Trent Corney caused Thomas to fumble and Kelvin Rainey recovered for Virginia. Two plays later, the Cavaliers took the lead back, for good.
Taquan Mizzell ran for no gain on first down, but on second, Johns rolled left and hit Severin in the middle of the field and the senior dodged defenders and ran it in. The extra point gave the Cavaliers a 20-14 lead, and they weren't finished.
Virginia dodged a bullet when Thomas missed wide-open tight end Brad Stewart for what would have been a sure touchdown, and after the Yellow Jackets punted, the Cavaliers drove 91 yards in 13 plays to open the 27-14 lead. Mizzell had a 15-yard catch and 14-yard run on the drive, Reid twice picked up short yardage on third down and then finished by bursting through the middle of the line for a 24-yard scoring run with 13:15 remaining.
The Yellow Jackets didn't threaten again until the closing minutes, and then ran out of time.
Georgia Tech had 153 yards in the first half, and more than half of them came on their two scoring plays, a 49-yard run by Lynch with an option toss, and a 30-yard pass from Thomas to Lynch on a third-and-8. On the latter, Thomas was pressured, avoided the rush and found Lynch all by himself for an easy catch and run.
That play was set up by Rod Rook-Chungong's interception of Johns and 16-yard return to the Virginia 44.
The Cavaliers used Wilfred Wahee's fumble recovery to set up a 17-yard scoring drive for their first points. Olamide Zaccheaus ran for 12 yards to the Yellow Jackets' 7 on the first play, and Daniel Hamm went for 6 on the next. But two runs by Reid lost a yard, and Frye kicked a 19-yard field goal.
After Lynch's long run gave Georgia Tech a 7-3 lead, the Cavaliers went 75 yards in 10 plays to lead 10-7. Johns had completions of 18 and 17 yards in the drive, Mizzell had a 21-yard run and Hamm finished it off, taking a snap in the wildcat formation at the Yellow Jackets' 4, faking a handoff and running it in.
---
Follow Hank on Twitter: www.twitter.com/hankkurzjr
---
The AP college football page: www.collegefootball.ap.org