'The Ant Man' shines in UGA hoops debut
ATHENS - Anthony Edwards overcame a slow start to score 24 points in his much-anticipated debut, and Georgia pulled away late to beat Western Carolina 91-72 on Tuesday night in each team's season-opening game.
Edwards had nine rebounds and three steals. Another freshman guard, Sahvir Wheeler, had 19 points .Perhaps Georgia's most celebrated signee since Dominique Wilkins, Edwards hit a 3-pointer with 8:50 remaining to give the Bulldogs a 60-58 lead. The guard whose nickname is "Ant Man" added two more 3s in a 20-8 run that stretched the lead to 71-63. Edwards fouled out with 2:10 remaining.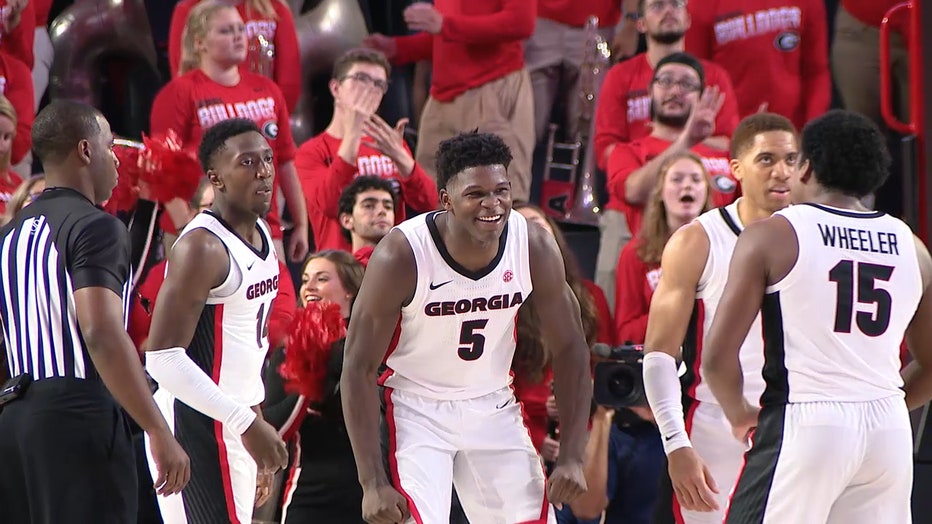 Anthony Edwards celebrates after a basket in UGA debut
Georgia forwards Rayshaun Hammonds and Rodney Howard collected three first-half fouls. The foul trouble became more severe when another forward, Amanze Ngumezi collected two quick fouls in the second half, giving him four.
A 3-pointer by Mason Faulkner gave the Catamounts a 49-46 lead before Wheeler made four free throws in a 7-0 run that gave Georgia a 53-49 advantage.
The Bulldogs were without senior guard Jordan Harris, who is ineligible until a Dec. 20 home game against SMU. Crean announced in brief statement released before the game that the cause for Harris' ineligibility "is an internal matter."
Harris was suspended twice in the 2017-18 season by former coach Mark Fox. The second, termed an "indefinite suspension" carried through the end of the season. Harris averaged 7.8 points last season while starting 13 games.