Taylor drives in 3 as the Dodgers beat the Braves 6-2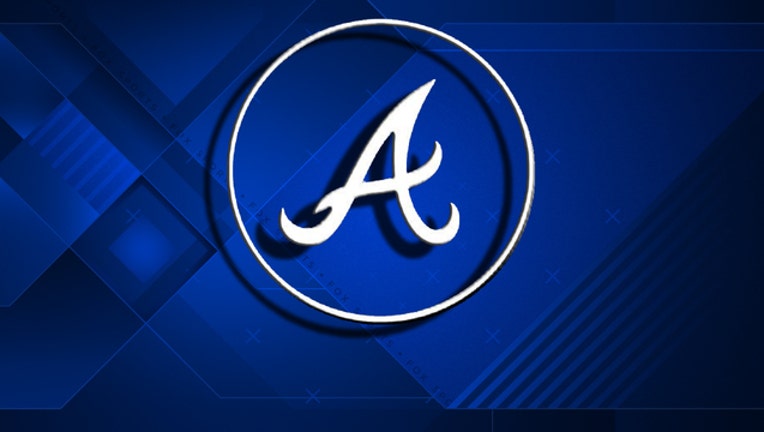 article
LOS ANGELES (AP) - Apparently, the Los Angeles Dodgers just needed a little spark to right themselves.
That spark came off the bench Saturday night in the form of Chris Taylor, who drove in three runs with a home run and a triple and helped the Dodgers to a 6-2 victory over the Atlanta Braves.
"He's a spark," Dodgers manager Dave Roberts said. "He's not so much under the radar anymore, but he adds that spark with quality at-bats.
"To come off the bench with a huge homer and then to hit a triple that clears the bases, and give (closer) Kenley (Jansen) another day, that puts us in a good spot."
Corey Seager and Chase Utley hit solo home runs as the Dodgers snapped a two-game losing streak that saw them outscored 18-6.
Los Angeles has won 32 of 38, and 19 of 22 at Dodger Stadium, for the best record in baseball. The Dodgers' 67-31 mark is their best through 98 games since the Brooklyn Dodgers were 69-29 in 1942.
"Everybody played really well tonight," Dodgers starter Rich Hill said. "We've got such a good clubhouse, and we're a really good, quality team. Just to bounce back tonight was a really good team win by everybody."
Roberts likes what he's seeing in the Los Angeles clubhouse.
"There's talent. There's focus. There's a little chip on our shoulders. And there's confidence," he said. "These guys are relentless."
Braves manager Brian Snitker saw the same thing from the Atlanta dugout.
"You never feel comfortable against these guys," Snitker said. "They are so aggressive; they just keep coming at you."
Taylor, who entered the game as part of a double-switch in the seventh, led off the bottom of the inning by driving an 0-1 pitch from Julio Teheran 400 feet into the left field bleachers, giving the Dodgers a 4-2 lead.
"Sometimes you think you've got an off day, and you've got to realize that in the National League there are no off days," Taylor said. "You can come in at any time. I came up in some good spots and I'm feeling good right now."
Taylor added a two-run triple off reliever Luke Jackson with two outs in the eighth for the final margin.
Hill (7-4) struck out eight as he held the Braves to two runs and six hits over 6 1/3 innings, winning his third decision over his last four starts.
"Yeah, I wasn't as efficient as I'd like but I've been dealing with some stuff, trying to get healthy, there's some respiratory stuff going around," said Hill, his voice hoarse.
Seager put Los Angeles ahead 1-0 in the first by crushing a 93 mph, 3-2 fastball from Teheran (7-8) 10 rows into the centerfield bleachers with one out in the first. The blast, Seager's 16th of the season, was measured at 433 feet.
Utley made it 2-0 by leading off the third with his sixth home run.
The game turned the Dodgers' way with two outs in the sixth. The score was tied 2-2 with Yasmani Grandal on third when Yasiel Puig hit a soft roller down the third base line.
Grandal broke for home, Teheran came off the mound to field the ball and, making the only play he could, threw from foul territory to catcher Tyler Flowers ahead of Grandal.
However, as Grandal approached the plate, he put his fists to his chin, bracing for a collision, and, as Flowers tagged him on his forearms, jarred the ball loose, giving the Dodgers a 3-2 lead.
"It was just like it looks," Flowers said. "Hit the glove, ball flies out. That's just baseball. (I) catch it, he is right there, (he) hit it. I looked at it. There is nothing I can tell you I would do differently tomorrow. It was a quick play. I didn't have time to go to two hands."
The Braves had tied the game 2-2 on Matt Kemp's RBI single with two outs in the fifth. One batter earlier, Freddie Freeman drove in Atlanta's first run with a groundout.
Kemp, Atlanta's left fielder, made the defensive play of the game to end the bottom of the fourth. The former Dodger robbed Grandal of an extra-base hit with a back-handed, head-first diving catch of a ball slicing away from him just inside the left field line.
With a single in the first inning, Nick Markakis of the Braves moved within 10 hits of 2,000.
The Dodgers' longest losing streak this year is three games, which they have reached three times.
TAKING NOTHING FOR GRANTED
After back-to-back losses and being outscored 18-6 after a stretch of 31 wins in 35 games, the team with the best record in baseball held a pre-game team meeting on Saturday. Roberts said the message was "continue to stay the course, and not be results-driven, and just competing and having good at-bats. We'll score runs."
TRAINER'S ROOM
Braves: 2B Brandon Phillips, who left Thursday night's game with tightness in his right hamstring, was kept out of the starting lineup for the second straight night as a precautionary measure, Snitker said, adding he expected Phillips to be available on Sunday.
Dodgers: 3B Justin Turner was kept out of the Dodgers' starting lineup with a chest cold, but was available off the bench, according to Roberts. ... Roberts said RHP Brandon McCarthy would be the Dodgers' starter Tuesday night against Minnesota, with Kenta Maeda ready to go if McCarthy's blister acts up. McCarthy will throw a bullpen session Sunday.
UP NEXT
Braves: LHP Sean Newcomb (1-5, 4.86 ERA) makes his sixth career start for the Braves in the finale of this four-game series. Newcomb has lost his last three starts, giving up five runs and eight hits in 5 1/3 innings against the Cubs in his most recent.
Dodgers: LHP Clayton Kershaw (15-2, 2.07 ERA) carries a 14-start unbeaten streak into Sunday, going 11-0 with a 1.84 ERA since May 6. Kershaw has held opposing hitters to a .193 average, striking out 122 against 20 walks during the stretch.