Super Bowl latest highlight for Falcons owner Arthur Blank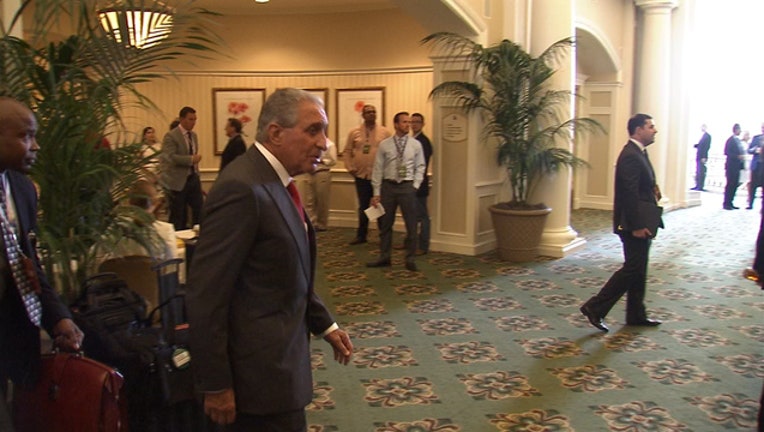 ATLANTA (AP) - One conversation stands out in Arthur Blank's sports year to remember.
Blank, the Atlanta Falcons owner, said Thursday he sent a congratulatory text message to coach Dan Quinn in May, when Atlanta was awarded the 2019 Super Bowl.
Blank said he told Quinn "I look forward to us playing then."
Quinn's response proved prophetic.
"He texted me back and said 'I plan on playing in it sooner,'" Blank said at a news conference. "I don't know if I still have that text, but I'm going to dig and try to find it because he was obviously more of a foreteller than I was on where our team would be sooner than 2019."
In only his second year as coach, Quinn has taken the Falcons to the Feb. 5 Super Bowl in Houston, where they will play New England.
For Blank, who acquired the Falcons in 2002, the end of a 15-year wait to see his team play in the Super Bowl is the biggest highlight of what he says has been "a wonderful year."
He has seen the new Mercedes Benz Stadium, being built beside the Georgia Dome, move closer to completion as the home of the Falcons and his Atlanta United FC MLS expansion team. Blank attended the soccer team's first practice in Bradenton, Florida, on Tuesday.
And now he's making plans for his long-awaited Super Bowl. Blank, 74, celebrated Atlanta's NFC championship game win over Green Bay on Sunday by dancing with his players on the field.
He won't be traveling to the Super Bowl alone.
Blank said he is bringing more than 500 employees, from the Falcons and his other businesses, to the game.
It's an expensive gesture, considering he's providing Super Bowl tickets, flights and lodging.
"The question of sharing with our associates to me was never a question," he said. "It wasn't like 'Let me think about it overnight. Give me an hour, give me 15 minutes.' Anybody in our leadership teams that works with me knows what my response is going to be to that opportunity."
Blank earned his fortune as the co-founder of Home Depot. That business background made him a billionaire, but included few highlights to compare with having his team earn a spot in the Super Bowl.
He said the day Home Depot's stock went public was a high point "but even that didn't have this kind of emotion connected to it."
Blank said he reached out to Patriots owner Robert Kraft "for counsel" on enjoying the experience. He said has had a "special relationship" with Kraft since becoming an owner. Blank said he's hoping the Falcons can follow the Patriots' model of sustained success.
"The Patriots have an incredible track record, incredible owner, incredible coach, incredible quarterback, incredible players who have gone through a lot of transitions over the years and to their leadership's credit they've continued to be competitive and they've continued to put a winning football team on the field," Blank said.
The Falcons started four rookies and four second-year players on defense in their NFC championship game win over Green Bay, giving Blank reason to believe Quinn and general manager Thomas Dimitroff have built a team designed for sustained success.
Blank, 74, noted that 41-year-old kicker Matt Bryant is an exception on the mostly youthful roster.
"Other than Matt Bryant, who is probably my age or even older, this is a young team," Blank said. "So I think we're very well-positioned to be competitive for a long time going forward."
The Super Bowl gave Blank a chance to defend Atlanta in light of recent comments from President Trump that part of the city is "falling apart" and "crime infested." Trump's comments came after Democratic Rep. John Lewis said he doesn't consider Trump a "legitimate president."
"The comments that were made by President Trump, I would say it's early in his time in office and he's probably not as informed about Atlanta as he should be or will become," Blank said. "I don't mean that in a disparaging way. I mean I know Atlanta is not that."
___
For more NFL coverage: http://www.pro32.ap.org and http://www.twitter.com/AP_NFL