No. 9 Georgia tops Louisiana-Monroe 51-14; game called early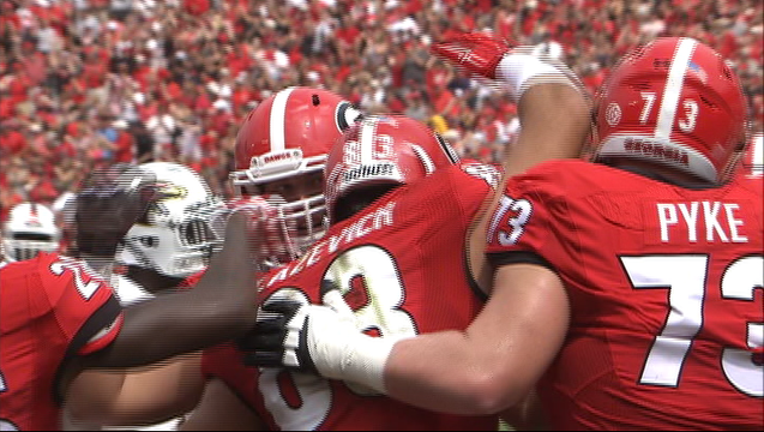 article
ATHENS, Ga. - The best call of the day seemed to be to call off the game in the fourth quarter.
With one lightning delay, a near-empty stadium, and No. 9 Georgia holding a big lead in Saturday's season-opener, school and game officials ended the game with 9:54 left, leaving the Bulldogs with a 51-14 victory over out-manned Louisiana-Monroe.
"I think this is the first time I've been involved in one that got terminated at this point," Georgia coach Mark Richt said. "We had one delay, then another, and it could've gone all day and all night, so it was in the best interest of everyone to terminate it when we did."
A few minutes after the Bulldogs scored their final touchdown, Richt, ULM coach Todd Berry and athletic directors from each school met on the field after play was halted due to more lightning in the vicinity.
There was a 76-minute delay in the third quarter, and most of the fans at Sanford Stadium had left by the time play resumed.
Richt said safety concerns, not the Bulldogs' big lead, was the subject of the discussion.
"It was a joint decision by the coaches and ADs to terminate the game, which I think was the thing to do," Richt said.
Nick Chubb and Keith Marshall each ran for two touchdowns in the season-opener, which saw quarterback Greyson Lambert make his first start for Georgia.
Other games also were affected by threatening weather on college football's opening weekend.
The Illinois-Kent State game was postponed late Friday night after three hours of lightning. The game was played Saturday. On Thursday, severe weather forced the Stony Brook-Toledo game to be called off at halftime, with no plans to replay it.
No. 25 Tennessee's matchup against Bowling Green was put on pause for lighting. In Cincinnati, students rushed the field as rain came down in sheets.
Last season, weather interrupted a few games involving SEC teams. Alabama led 41-0 when its home opener against Florida Atlantic was stopped, then called off, with 7:53 left in the fourth quarter. A week earlier, Idaho kicked off at Florida, then the game was halted because of severe storms. The teams didn't resume and the game wasn't rescheduled.
Georgia led 14-0 about five minutes into the game and 35-0 before ULM scored on Garrett Smith's touchdown pass to Rashon Ceaser with 20 seconds left in the half. Smith found Ceaser on another scoring pass early in the second half.
When play was stopped in the third quarter, teams returned to their locker rooms and most fans left the stadium. Rain began falling during the time the game was halted.
Lambert, the transfer from Virginia chosen as Georgia's starter on Monday, threw for 141 yards and two touchdowns.
"Honestly, I was just more excited than I was nervous," Lambert said.
Chubb ran for 120 yards on 16 carries, including scoring runs of 14 and 23 yards. Marshall had scoring runs of 3 and 2 yards, his first since the opening game in 2013. Sony Michel caught a 31-yard touchdown pass from backup quarterback Brice Ramsey.
Smith was impressive in his first start, completing 23 of 29 passes for 206 yards with two touchdowns and one interception.
"I knew it was going to be loud and a fun environment, and it was," Smith said. "I went out there and had fun."
Ceaser had 13 catches for 153 yards and two touchdowns. But the game was no contest for the start.
"For the most part, they just had too much for us," Berry said. "They know what they're doing."