NASCAR overhauls race and playoff format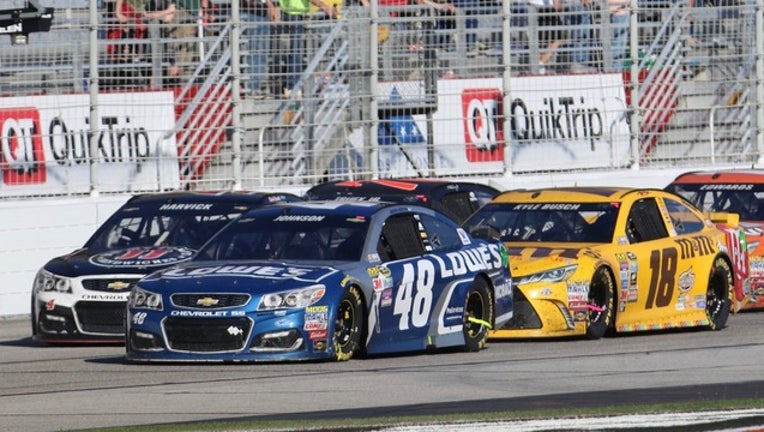 article
CHARLOTTE, N.C. (AP) - NASCAR is taking a progressive approach to modernizing its series with a radical new format.
It's complicated and confusing to explain.
But the panel that spent the last seven months on this overhaul promised it's going to be the best thing to happen in NASCAR in a very long time.
"Wait until you see it on the racetrack," said 2012 champion Brad Keselowski. "If you are watching right now, please trust us. When you see this on the racetrack, this is going to be the best racing you've ever seen."
The overhaul announced Monday assigns three stages to every race. The top 10 drivers at the end of Stage 1 and Stage 2 will be awarded points on a 10-through-1 scale. The third portion of the race will be for the overall victory, and although traditional point scoring will be applied for that stage, the win will be worth 40 points. The rest of the field will be scored on a 35 to 2 scale, and positions 36th to 40 will only receive 1 point.
All bonus points accumulated through the 26-race regular season can be used in the 10-race playoff, which will no longer be called "The Chase."
"You still have the start of the race, you still have the end of the race, and in between, there's going to be a lot of moments," said Denny Hamlin, leader of the driver council.
"I think that there's a lot of different things within this - you don't necessarily need to know how a watch works, you just need to know what time it is. I think you're going to see better racing on the racetrack, and that's all that matters."
NASCAR worked with a wide range of industry stakeholders to come up with the changes. Heavily involved were the television networks, retired drivers Jeff Gordon and Jeff Burton, current drivers from the driver council and team and track executives. Monster Energy, which signed last month as the title sponsor for NASCAR's top series, was only informed of the changes in the last few weeks.
The new format begins with the Feb. 26 season-opening Daytona 500.
"As a driver, I'm happy to be rewarded for performing well throughout the event, not just for how I finished," said Dale Earnhardt Jr., NASCAR's most popular driver. "It'll tick you off if you're in that car for enough races and you're whooping everybody's butt all day long and then you get beat by somebody who's running 20th all day, just by circumstance, how the cautions fall late in the race.
"So it's going to be great to be rewarded as a driver for consistently performing well throughout an event."
NASCAR was energized by the changes, particularly the stages that will allow for a commercial break that doesn't occur during green-flag racing. Segment winners will be interviewed during the breaks, and NASCAR likes that it creates a pause that gives fans a chance to reset. It comes as the series is desperately trying to improve both attendance and television ratings, and Fox Sports estimated it will air 20 percent more of actual racing action because of the commercial breaks.
Race distances will not change under the format, which will apply to all three national series. Had NASCAR run the system this past season, Jimmie Johnson still would have won the title, but Martin Truex Jr. would have advanced one more round through the playoffs based on his two victories in the first round.
Among other changes:
- There will be no bonus points for leading a lap or for leading the most laps.
- The number of laps in each of the first two segments will be the same in a race, and the end of the second stage will be approximately at the halfway point of the race.
- Drivers will now earn bonus points that will be called playoff points and carry with them through the 10-race playoffs. Drivers will earn five playoff points for every race win and one playoff point for every segment win.
- The playoffs will remain divided into three three-race rounds with four drivers eliminated after each round to set up four finalists for the season finale, where the four finalists will not be eligible to earn segment victories.
- The exhibition duels during Speedweeks at Daytona next month will now be worth 10 points to the two race winners.
"You can get confused if you want to get into the weeds on math," said Steve O'Donnell, NASCAR's chief racing. "This is really about introducing two breaks and rewarding your favorite driver for racing up front. What I've heard loud and clear from the fans on Twitter, 'I want my driver rewarded for every race.' That's happening, and it's as simple as that. It's rewarding drivers for their effort all race long."
___
More AP auto racing: www.racing.ap.org