Millsap, Hawks outlast Anthony, Knicks 142-139 in 4 OTs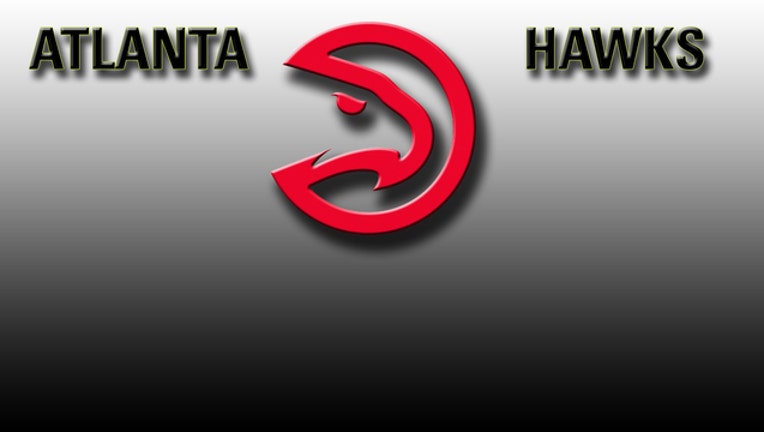 article
ATLANTA (AP) - Paul Millsap made the decisive basket in a four-overtime game that lasted almost four hours and proclaimed it to be great fun that he never wants to experience again.
Millsap had a season-high 37 points, including the go-ahead layup with 27 seconds remaining in the fourth OT, and the Atlanta Hawks overcame Carmelo Anthony's season-high 45 points to outlast the short-handed New York Knicks 142-139 on Sunday.
Millsap logged 60 minutes, which were especially taxing due to his time defending Anthony.
"There was no chance I was coming out," Millsap said.
Millsap had 19 rebounds, setting another season high, and seven assists.
"That was fun," Millsap said. "I don't want to do that again ever, but it was fun."
Asked to summarize the game, he said, "I don't even remember."
The Knicks' first four-overtime game in 66 years included five players, including Anthony and Atlanta's Dwight Howard, fouling out.
Anthony scored the tying baskets at the end of regulation and the first overtime period, before fouling out with 12.9 seconds remaining in the second overtime.
Anthony said it was "difficult" to watch the last two extra periods.
"Those are the overtimes where you've got to dig deep," Anthony said. "You're exhausted, you have to find something from somewhere. But to not be out there in that last overtime was a little difficult to watch. Especially knowing the flow of the game. That was a moment I wanted to be out there."
The Knicks also had starters Kristaps Porzingis and Joakim Noah foul out. New York still found ways to match the scoring from Millsap and Kent Bazemore, who had 24 points, including the Hawks' first eight points in the fourth overtime.
"Good thing we don't play tomorrow," said Knicks coach Jeff Hornacek.
The loss was another blow to the Knicks' hopes of moving into the Eastern Conference playoffs.
"These guys have fought all year," Hornacek said. "Things haven't gone our way but they never give up."
Courtney Lee made a 26-foot tying 3-pointer with 1.5 seconds remaining in the second OT and sank the tying free throws late in the third extra period.
The Knicks held out guard Derrick Rose, who sprained his left ankle in Friday night's win over Charlotte.
Dennis Schroder made one of two free throws with 10.2 seconds remaining in the fourth overtime, leaving the Knicks a chance to extend the game yet again. Lee missed a last-second 3-point attempt on what he said was "a great look."
"It's draining, man, but it was fun," Lee said. "You can't hang your head about this one. We competed."
Schroder had 23 points and 15 assists for Atlanta.
Brandon Jennings had 18 points as the fill-in starter for Rose. Lee added 17.
TIP-INS
Knicks: Porzingis fouled out with 15 points with 1:30 remaining in regulation. ... Anthony, who set a franchise record for points in any quarter with 25 in the second period against Washington on Jan. 19, had 17 in the first quarter. ... Backup Kyle O'Quinn also fouled out. ... Noah had 14 rebounds.
Hawks: Howard fouled out in the second OT with 19 points and 13 rebounds. ... G Lamar Patterson, signed to a 10-day contract, was in uniform but did not play. He played 35 games with Atlanta last season. ... G Gary Neal's 10-day contract expired. ... Tim Hardaway Jr. started for F Thabo Sefolosha (groin) and scored nine of his 19 points in the fourth quarter.
FOUR-OT HISTORY
It was the Knicks' first four-overtime game since Jan. 23, 1951, when they lost at Rochester. Atlanta's last four-overtime game was a win over Utah on March 25, 2012.
ROSE MAY MISS MORE GAMES
Hornacek said Rose also likely will miss the team's game at Washington on Tuesday and possibly more.
"I don't want to say because you never know with an ankle," Hornacek said.
Rose said the ankle "feels better every day."
"I just have to take my time with it and listen to my body and I think that's what I'm doing right now," Rose said.
FLAGRANT FOUL
Howard was assessed a Flagrant 1 foul for knocking Porzingis to the court on a dunk by Porzingis midway through the third quarter. There was a lengthy delay as officials reviewed the play and Porzingis received congratulations from teammates for the slam over Howard.
UP NEXT
Knicks: Visit Washington on Tuesday.
Hawks: Visit Miami on Wednesday.