Miami Miracle: No. 11 'Canes rally past Georgia Tech, 25-24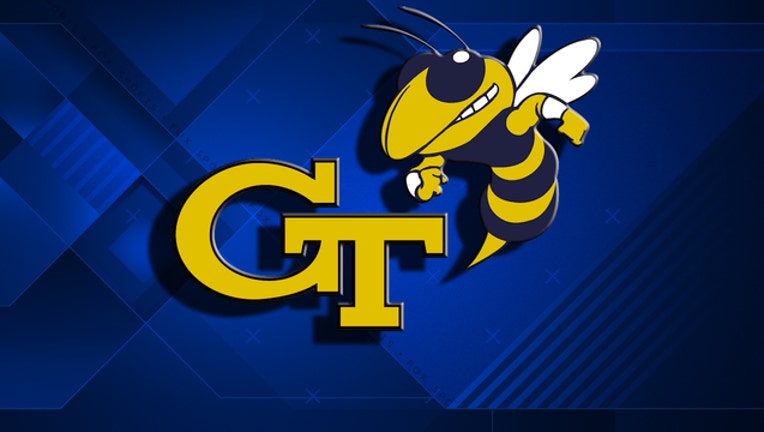 article
MIAMI GARDENS, Fla. (AP) - Darrell Langham was going down, and so was No. 11 Miami.
Until they weren't.
A Miami Miracle happened again - and the Hurricanes are still perfect this season. Langham's 28-yard catch on a tipped ball that just happened to fall into his arms as he fell down on a fourth-or-else play helped set up Michael Badgley's 24-yard field goal with 4 seconds left, and Miami somehow beat Georgia Tech 25-24 on Saturday.
"Just another day in paradise," Miami coach Mark Richt said. "That's how we roll."
A week ago at Florida State, Langham had the game-winning touchdown catch with 6 seconds left as Miami (5-0, 3-0 Atlantic Coast Conference) rallied to beat their archrival. This time, his catch with 35 seconds left, again down the right sideline just like the one in Tallahassee, was no less dramatic - hauling in a 28-yard toss from Malik Rosier that kept the Hurricanes' chances alive.
"College football," Badgley said. "You never know what's going to happen."
Travis Homer rushed for 170 yards and had two scores - one rushing, one receiving - for Miami, which escaped when Georgia Tech's five-lateral attempt at a kickoff return was stopped as time expired. Rosier, now 6-0 as a starter, shook off a slow start and completed 23 of 37 passes for 297 yards.
Lamont Simmons ran a botched onside kick back 42 yards for a touchdown and J.J. Green scored twice for Georgia Tech (3-2, 2-1).
"The receiver had great concentration and off the tip he caught the pass," said Simmons, who deflected the pass that Langham ended up catching. "It was a great catch."
Miami's final drive went 85 yards in 15 plays, and capped Miami's third rally from a halftime deficit this season.
"It's like the stars align," linebacker Shaquille Quarterman said. "We come in, we make our adjustments, and our coaches do such a great job that ... we already know the game is won before we actually come out to the field for the second half. We don't know how it's going to happen."
On a day where the Hurricanes gave away a touchdown on the onside kick, got one TD off five trips into the red zone and almost had their last drive thwarted by a chop-block call that knocked them - albeit temporarily - out of field goal range, Miami took the outright lead in the ACC's Coastal Division and extended their longest winning streak in well over a decade to 10 games.
"We're having fun right now," Langham said.
Down 14-3 early, Miami found some life going into halftime. Rosier connected with Homer on a 17-yard touchdown pass with 12 seconds left before intermission to pull the Hurricanes within 14-13.
But a big blunder on the first play of the second half put Miami back in trouble, when Badgley's onside kick was picked up by Simmons and turned into an easy touchdown that gave the Yellow Jackets breathing room.
A field goal put Georgia Tech up 24-13 midway through the third, but Miami scored the game's final 12 points.
"One play away," Georgia Tech coach Paul Johnson said. "If they guy doesn't catch a batted ball, we win."
THE TAKEAWAY
Georgia Tech: KirVonte Benson was lost during the game to a lower extremity injury, and limited to 40 yards on seven carries. ... The Yellow Jackets were outgained 481-281. ... The Yellow Jackets fell to 2-15 against Richt, with the bulk of those losses coming when he was at Georgia.
Miami: It was Miami's first time pulling off a double-digit comeback since rallying past Wake Forest in 2013 - they had lost 18 such games in a row. ... Linebacker Michael Pinckey left in the first half with a chest injury, and WR Ahmmon Richards didn't play. Without them, Miami was essentially down six starters. ... Miami now leads the all-time series between the schools 12-11.
POLL IMPLICATIONS
With No. 2 Clemson losing Friday at Syracuse, Miami could be the ACC's top-ranked team when the new poll comes out Sunday. Georgia Tech had the 26th-most points in the voting a week ago, and likely missed a chance to get into the AP Top 25 for the first time in more than two years.
RING OF HONOR
Miami put Michael Irvin, Warren Sapp, Ed Reed, Ray Lewis and Sean Taylor in its ring of honor during a halftime ceremony. Irvin (2007) and Sapp (2013) got in the Pro Football Hall of Fame before they made their school's ring of honor.
UP NEXT
Georgia Tech: Host Wake Forest on Oct. 21, time TBA.
Miami: Host Syracuse on Oct. 21 at 3:30 p.m.
___
For more AP college football coverage: http://collegefootball.ap.org and http://twitter.com/AP_Top25