Memories of Palmer abound as tournament begins at Bay Hill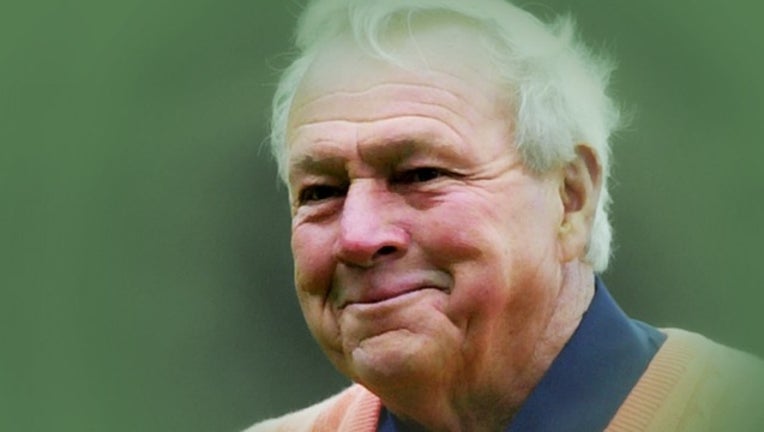 article
ORLANDO, Fla. (AP) - Sam Saunders stepped onto the first tee at Bay Hill and flashed a quick thumbs-up to the crowd, the trademark gesture of his grandfather. For the next four hours, memories of Arnold Palmer were all around him Thursday.
Nothing hit him harder, though, than his walk to the 16th tee.
Parked next to the tee was Palmer's cart - that's where his grandfather loved to watch the action at the Arnold Palmer Invitational - and Saunders grew emotional.
"I started thinking about all the years that I've played in the tournament, and I just started thinking about him driving around in the cart and watching me," Saunders said. "And just to see it sitting there empty ... yeah, that's hard. I think we all feel that. I had my emotional moment, looked at it, and then got my head where it needed to be to play the next hole."
And then he finished like Palmer, taking on tough shots. They just didn't work out the way he wanted, though that sometimes was the case for the King, too.
The first Arnold Palmer Invitational without the beloved tournament host began with Emiliano Grillo of Argentina and Matt Fitzpatrick of England opening at 5-under 67 to share the lead on a Bay Hill course that looked better than ever.
Saunders hit 5-iron from a fairway bunker on the par-5 16th and came up short into the water, leading to bogey. His 4-iron landed an inch from the hole and nicked the pin on the par-3 17th. And he went after the flag with a 6-iron on the 18th and again found water for a double bogey, leaving him at 74.
Even so, it was a big day.
The week is a celebration of Palmer, who died Sept. 25, for the tournament he brought to Bay Hill in 1979 and played until 2004, when he hit driver off the deck on the 18th hole with 16-year-old Saunders on the bag.
Saunders not only received a sponsor exemption, he was placed in the star pairing for the afternoon with Rory McIlroy and Brandt Snedeker. McIlroy twice made bogeys from the bunker and three-putted from 18 feet on the fringe in his round of 74.
Palmer's 29-year-old grandson was at Bay Hill to play, though he realized this was not a normal round. Asked how much he thought of Palmer, he said, "All day."
"How can you not? He's everywhere," Saunders said. "I see him, I feel him, you hear about him. There were so many well wishes out there toward me today, and his presence is overwhelming. It always will be."
Multicolored umbrellas - the famous Palmer logo - were everywhere at Bay Hill. They were on shirt collars and caps, golf bags and even the covers of fairway metals. Parkas might have been more appropriate, especially with the round beginning in 39 degrees, the coldest start of a PGA Tour event this year - in Florida, no less.
Grillo made the most of it.
After two soft bogeys - a three-putt from 25 feet on No. 3 and missing the green from 120 yards in the fairway on the par-5 fourth - the 24-year-old Argentine came to life with seven birdies. That included a 50-foot birdie putt on No. 9 and a 40-foot birdie putt on No. 17.
"If I had my hands out of my pockets for a minute or two, I would be freezing," Grillo said. "But I was able to keep it in the fairway mostly all day and I was able to make a few good putts on 9 and 17, and that kept me going."
Grillo played Bay Hill last year. It was the first time he saw the King in person, riding in his cart.
"And this year, it's like I was expecting again to see him arrive at the driving range with his golf cart," Grillo said. "They did some spectacular job this year honoring him. Everybody's wearing umbrella - I have the umbrella on my sweater today - and everybody is carrying the name of Arnold Palmer with great honor."
Fitzpatrick played in warmer and slightly easier conditions in the afternoon, running off four birdies in a six-hole stretch around the turn.
They were one shot clear of former U.S. Open champion Lucas Glover, Paul Casey and Charley Hoffman. Glover entered the tournament on Oct. 3, a day before Palmer's public funeral service in Latrobe, Pennsylvania.
Defending champion Jason Day was among those at 2 under.
The greens were particularly pure, and especially fast, which kept scores down. It was the highest score to lead after the opening round at Bay Hill since 2005.
Saunders has lost track of how many times he has played Bay Hill, and he was aware of his mistakes. He hit three balls in the water, starting with a 3-wood that came up short on the par-5 sixth that led to bogey. He blamed two on poor execution, and one on a bad decision. He wishes he had hit 5-iron on the 18th.
"Maybe got a little aggressive there," he said.
His grandfather would know the feeling.