Matt Wisler stung by 3 HRs in Braves' 8-2 loss to Cubs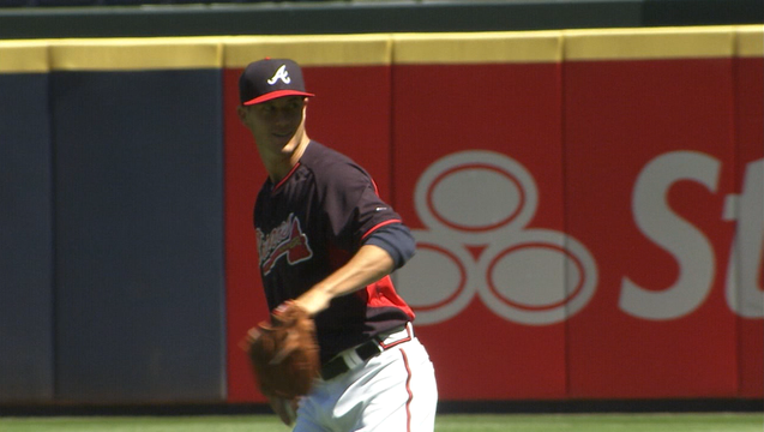 article
ATLANTA (AP) - A new inability to keep the ball in the park has Matt Wisler looking for answers.
Wisler allowed three of Chicago's four home runs, leading to his early exit as the Cubs beat the Atlanta Braves 8-2 on Saturday.
After allowing only three homers in his previous nine starts, Wisler has given up three homers in each of two straight losses to the Dodgers and Cubs. He lasted only four innings in each start while allowing a combined 13 runs.
"I've got to find a way to keep the ball in the ballpark right now," Wisler said. "I've got to do a better job of executing pitches. The ones that hang, they're getting to them and hitting them out of the park."
Jason Heyward gave Chicago the lead with his first-inning homer, and Anthony Rizzo and Miguel Montero also hit homers in a four-run fourth inning.
Wisler (2-7) allowed five runs on seven hits in four innings.
Braves interim manager Brian Snitker said the recent struggles are just part of Wisler's growth process in his first full season.
"He's just in a little rut right now, you know?" Snitker said.
"He'll be fine. He'll get through it. Everybody goes through it. It's a learning curve. He's still trying to figure it out."
Cubs ace Jake Arrieta (10-1) allowed only four hits and two runs in seven innings in his answer to his first loss of the season. He described his outing as "OK for my part."
Armed with the early lead, Arrieta looked almost unbeatable to the Braves.
"It kind of got away from us a little bit and a little bit is a whole lot with him," Snitker said of Arrieta.
Arrieta had two hits as the Cubs' offense rolled after being held to four hits in a 5-1 loss to Atlanta on Friday night.
Montero's homer was three-run shot. Kris Bryant added a two-run homer in the fifth inning.
The Cubs (42-18) own baseball's best record and have won 13 of 17. They have 22 wins by five or more runs and improved to 38-2 when scoring at least four runs.
The Braves' first run off Arrieta came in the fourth, when Nick Markakis doubled and then scored on Adonis Garcia's single to center field. Ender Inciarte's triple in the seventh drove in Jace Peterson, who walked.
CELEBRITY WATCH
Actor and Cubs fan Bill Murray, sitting near the Cubs' dugout, drew an ovation when shown on the video board. Murray responded by sticking his thumbs in his ears and wagging his fingers at the camera. Actor Jason Bateman also attended the game.
DERBY TIME
The two hits had Arrieta talking about his hitting — and the possibility of joining San Francisco's Madison Bumgarner in the All-Star home-run derby.
"If he's in it, I want to be in it," Arrieta said, adding "I honestly think that would probably be the most adrenalin I would ever have."
Arrieta has one homer this year after hitting two in 2015.
TRAINER'S ROOM
Braves: Tests showed RHP Williams Perez has rotator cuff tendinitis. He was placed on the 15-day DL on Wednesday. ... RHP Mike Foltynewicz, on the DL with bone spurs in his right elbow, is throwing from 90 feet. ... SS Erick Aybar (right foot contusion) was scheduled to play with Triple-A Gwinnett on Saturday night.
UP NEXT
Cubs: LHP Jon Lester will try to give the Cubs the series win when he faces the Braves on Sunday. Lester is 3-2 with a 2.52 ERA in six career starts against Atlanta.
Braves: Rookie RHP John Gant will make his first start in the majors on Sunday, giving RHP Aaron Blair an extra day to rest. Blair was pushed back one day to Monday night against Cincinnati. RHP Julio Teheran also will have extra rest before starting on Tuesday night. Gant has a 6.17 ERA in seven games in relief with Atlanta. He had a 3.15 ERA in seven starts with Gwinnett.