Matt Ryan, Sarah Ryan announces birth of twin boys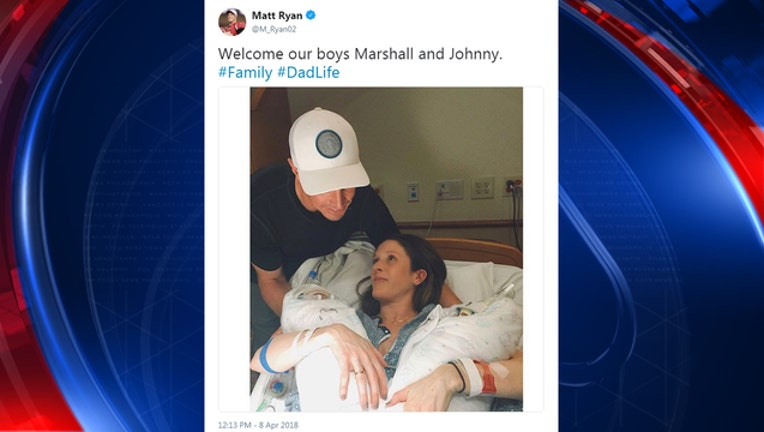 ATLANTA - Atlanta Falcons quarterback Matt Ryan and his wife Sarah have announced the birth of their two twin boys.
App users: View full article here
On Instagram, Sarah shared a photo of the family with an update on the birth and little Marshall Thomas Ryan and Johnny Matthew Ryan. Matt also shared the photo on Twitter with the hashtags #Family and #DadLife.
Sarah said that she was placed on bed rest at Northside Hospital due to pregnancy complications in January. 
Six weeks later, they welcomed their two sons into the world.
"They were small but tough and fought their way through their time in the NICU to get strong enough to come home," Sarah wrote.
Both boys are now out of the NICU and are home.
"To say that having Marshall and Johnny at home is a dream come true for Matt and I would be putting it mildly," she said. "We are endlessly thankful for their doctors and nurses in the NICU who gave them the most incredible care and will forever hold a special place in our hearts."
The Falcons congratulated the happy couple on becoming parents on Facebook.
Now Sarah promises to "flood your timelines with baby photos."