Marshall leads Georgia Tech past fumble-prone Miami, 27-21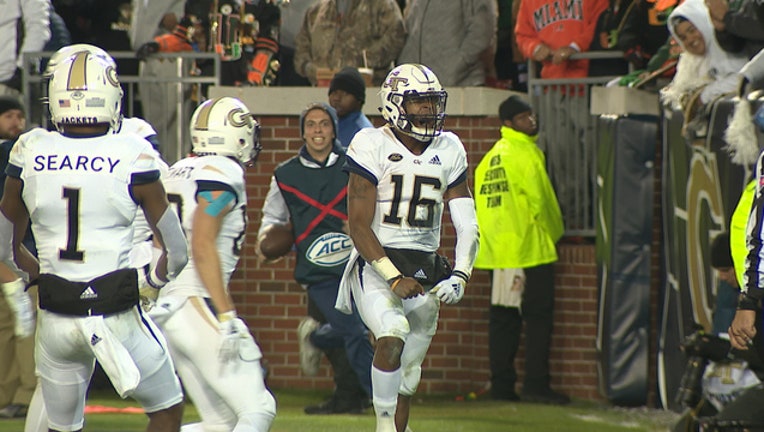 article
ATLANTA (AP) - TaQuon Marshall ran for 92 yards with two touchdowns and Georgia Tech scored 13 points off Miami's three lost fumbles to beat the struggling Hurricanes 27-21 on Saturday night.
Georgia Tech's top-ranked running attack gained 231 yards against Miami's defense, second in the nation in total yards allowed. Marshall completed only 3 of 4 passes for 73 yards, including a 31-yard scoring pass to Brad Stewart in the third quarter.
Georgia Tech (6-4, 4-3 Atlantic Coast Conference) has won three straight games and five of six to become bowl-eligible. The Yellow Jackets failed to qualify for a bowl in two of the last three seasons.
Miami (5-5, 2-4) continued to see its once-promising season fall flat with its fourth straight loss. It was Mark Richt's first loss in 10 games as a head coach at Bobby Dodd Stadium, including his time with Georgia.
Travis Homer's 2-yard scoring run midway through the final quarter cut Georgia Tech's lead to six points.
Miami's proud defense gave up Marshall's 22-yard pass to Jalen Camp on third and 6. Marshall converted another third down on a keeper, allowing the Yellow Jackets to work more time off the clock.
Finally, after Miami called its final timeout with 2:53 remaining, Jerry Howard ran for 11 yards on a third-and-5 play that ended the Hurricanes' comeback hopes.
Marshall had touchdown runs of 28 and 8 yards on Georgia Tech's first two possessions. The second scoring run followed a lost fumble on a kickoff return by DeeJay Dallas. Ajani Kerr recovered for the Yellow Jackets at the Miami 23.
Miami's second turnover again led to points for the Yellow Jackets. N'Kosi Perry's fumbled snap was recovered by Charlie Thomas at the Miami 39, setting up Wesley Wells' 38-yard field goal for a 17-7 lead.
A bizarre turnover helped Miami narrow the deficit late in the half. A low line-drive punt by Miami's Jack Spicer hit Georgia Tech's Nathan Cottrell from behind. Miami's Shaq Quarterman recovered at the Georgia Tech 30.
Freshman Cam'ron Davis scored his first career touchdown on a 22-yard run with 50 seconds remaining in the half.
Miami's hopes of keeping the momentum to start the second half ended when Jeff Thomas called for a fair catch on a punt before fumbling the ball in front of the Hurricanes' end zone. Juanyeh Thomas recovered for Georgia Tech at the 10, leading to Walls' second field goal of the game, a 23-yarder.
The forced turnovers were the continuation of a trend for Georgia Tech's defense. Entering the night, the Yellow Jackets had forced 20 turnovers, tied for the eighth-highest total in the nation.
Marshall, a senior, kept the starting job even though redshirt freshman Tobias Oliver saw more playing time in last week's 38-28 win at North Carolina.
The Hurricanes also have been alternating quarterbacks, but Richt stuck with Perry as senior Malik Rosier watched from the sideline.
A strong start for Perry and the Hurricanes provided a misleading indication on how the game would unfold.
Miami took the opening kickoff and moved 75 yards on 11 plays as Perry was 3-for-3 passing for 60 yards. Dallas had five straight runs to cap the drive, including a 1-yard scoring plunge.
THE TAKEAWAY
Miami: The Hurricanes couldn't overcome an avalanche of mistakes, including the two lost fumbles on returns and seven penalties for 49 yards. After the impressive opening drive, they consistently stopped themselves until the short touchdown drive set up by Georgia Tech's only turnover.
Georgia Tech: Marshall, who never lost the starting job, ended questions about his status as he avoided mistakes while expertly directing the option attack. Marshall left the game only briefly after limping off the field but quickly returned. The senior enjoyed one of his most efficient games against a tough defense.
FASHION STATEMENT
Miami players wore all-black uniforms as their answer to Georgia Tech's whiteout. Miami's uniform included orange cleats, orange and green stripes on pants and orange trim on jerseys with white numbers.
UP NEXT
Miami: At Virginia Tech on Saturday
Georgia Tech: Hosts Virginia on Saturday
___
More AP college football: https://apnews.com/Collegefootball and https://twitter.com/AP_Top25