Marshall, Jeune spark Georgia Tech past Jacksonville State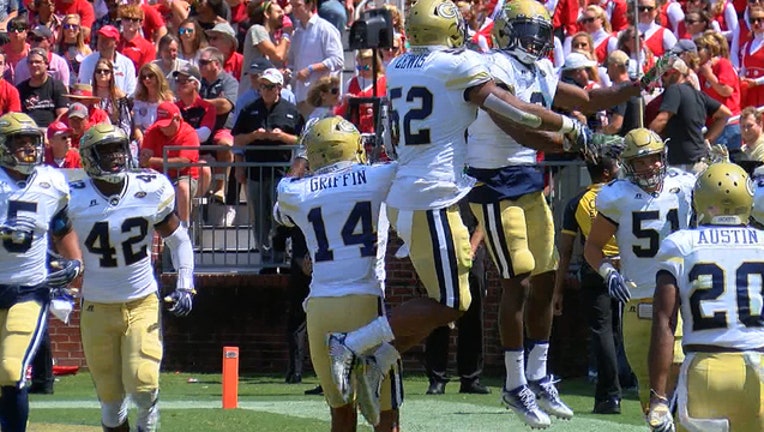 article
ATLANTA (AP) - Georgia Tech quarterback TaQuon Marshall had to throw the ball with Jacksonville State loaded up to stop the run.
"After the first game, I wanted to sit in the pocket and show my arm ability," he said. "The other guys made great plays and the line blocked for me, so I had a lot of time to get the ball out of my hands."
Marshall passed for three touchdowns, receiver Ricky Jeune scored twice and Georgia Tech beat Jacksonville State 37-10 on Saturday.
Playing five days after losing in two overtimes to Tennessee, the Yellow Jackets (1-1) had a sluggish start but took charge with three TDs in the third quarter.
"The first couple of series were just ridiculous," Georgia Tech coach Paul Johnson said. "We've got a guy that goes the wrong way on a pitch motion, penalties and whatever we could do to shoot ourselves in the foot."
Marshall, making his second career start, finished 5 for 7 passing for 112 yards and added a 1-yard touchdown run in the fourth quarter. He ran 13 times for just 25 yards, far off his production from Monday when he scored five touchdowns and set an Atlantic Coast Conference record for yards rushing by a quarterback with 249.
"I think they kind of had our number in the first half on third down," Marshall said. "They were just being really disruptive. All the guys on defense were really flying to the ball."
Roc Thomas rushed 18 times for 86 yards for Jacksonville State (1-1). Gamecocks quarterback Bryant Horn had 50 yards passing and 41 rushing in the first half, but he was picked off for the second time early in the third quarter. Both of his interceptions led to immediate touchdowns.
"They baited him into a couple of throws," Jacksonville State coach John Grass said. "They made good plays on the football. Sometimes you learn more from your mistakes than you do when good things happen."
Georgia Tech made it 17-7 on its first drive of the third when Marshall and Jeune connected for a 23-yard TD. Horn lost a fumble on the Gamecocks' next offensive snap, and the Jackets went up 23-7 when J.J. Green caught a 10-yard pass on a crossing route in the back of the end zone.
Freshman Jerry Howard broke free up the middle for 65-yard run late in the third to make it 30-7.
The Jackets took a 10-7 lead late in the second quarter on Marshall's 27-yard pass to Jeune. Jacksonville State led 7-3 early in the period on Horn's 5-yard pass to Krenwick Sanders. Georgia Tech was on the board first when Davis kicked a 34-yard field goal in the first.
THE TAKEAWAY
Jacksonville State: Grass has had an outstanding run in four years as head coach, not losing a regular-season game to a non-FBS opponent and overseeing one of six Division I programs to win at least 10 games a season since the start of 2014. The others are Alabama, Ohio State, Clemson, Florida State and perennial FCS national contender North Dakota State. Despite the loss, the Gamecocks are still heavily favored to win the Ohio Valley Conference and make a run for the national title. Their only other regular-season losses under Grass are to Michigan State, Auburn and LSU.
Georgia Tech: The Jackets needed a defender make a big play against Tennessee, but nobody stepped up. CB Lawrence Austin did his part against Jacksonville State even though he had an inauspicious start in losing his helmet on Krenwick Sanders' touchdown catch early in the second. On the Gamecocks' next two possessions, Austin broke up a third-down pass attempt and picked off Horn for a 21-yard return to set up Georgia Tech's first TD.
MORE ADVENTURES
Johnson said a few days ago that Shawn Davis hadn't kicked his way out of a job, even though two missed field goals against Tennessee, including one that was blocked at the end of regulation, put his status in doubt. After connecting on his first attempt against Jacksonville State, Davis hit a 40-yarder in the third that would've put the Jackets up 13, but a roughing the kicker penalty gave the Jackets a first down instead. He hit the upright to miss the ensuing extra-point attempt and then hit the left upright on the ensuing kickoff.
UP NEXT
Jacksonville State: The Gamecocks host Liberty on Sept. 23.
Georgia Tech: The Jackets visit Central Florida next Saturday.
___
More AP college football: http://collegefootball.ap.org and http://www.twitter.com/AP_Top25