Kelly Johnson's homer in 11th gives Mets 1-0 win over Braves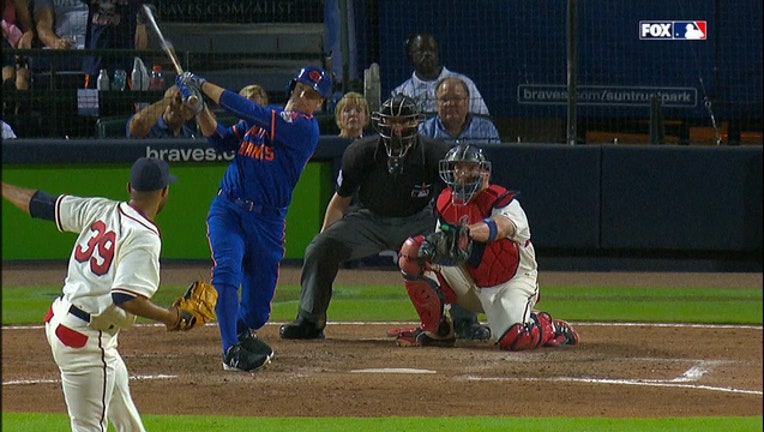 article
ATLANTA (AP) - Pinch-hitter Kelly Johnson lined a leadoff home run in the 11th inning and the New York Mets outlasted the Atlanta Braves 1-0 on Saturday night.
Johnson pulled a pitch from Dario Alvarez (1-1) into the first row of the right-field seats for his third homer.
Johnson began the year with the Braves before he was traded to the Mets on June 8. Alvarez was claimed off waivers from the Mets by the Braves in late May.
The homer was the first extra-base hit of a game that began as a terrific duel between Jacob deGrom and Julio Teheran. They each threw eight scoreless innings.
Addison Reed (2-2) pitched 1 2/3 scoreless innings for the Mets, who now trail first-place Washington by two games in the NL East.
Jeurys Familia worked the 11th for his majors-leading 26th save in 26 chances. He got Nick Markakis to ground into a double play with runners on first and second to end it.
Jace Peterson singled off Familia to begin the 11th and moved to second on Ender Inciarte's sacrifice bunt. Following an intentional walk to Freddie Freeman, Markakis hit a hard comebacker to Familia.
Teheran extended his career-best string of scoreless innings to 23. He threw a one-hit shutout last Sunday to win in New York, and the Mets were still baffled by him at Turner Field.
Teheran gave up five hits, walked none and struck out seven. He recorded 15 consecutive outs before Curtis Granderson singled with two outs in the eighth. After a steal, Teheran struck out Asdrubal Cabrera to end the inning.
DeGrom gave up seven hits and a walk, striking out six. His streak of winless starts for the Mets reached 10, the longest of his career.
The mental mistake cost the Mets a chance in the 10th.
Wilmer Flores led off with a bloop single and Matt Reynolds pinch-ran. Alejandro De Aza tried to bunt and popped it up, but instead of immediately running to first, he slammed down his bat in frustration.
Reliever Jim Johnson, seeing De Aza lingering down the line, let the ball drop before throwing to second to start a double play. The relay to first beat De Aza's head-first slide.
Granderson's sliding catch in foul territory of Tyler Flowers' fly ball ended the ninth inning.
Before the game, the Mets signed Jose Reyes to a minor league deal, sent slumping outfielder Michael Conforto to Triple-A Las Vegas and called up outfielder Brandon Nimmo from Las Vegas.
Reyes was released by Colorado after he served a 59-day suspension for violating Major League Baseball's domestic violence policy.
TRIBUTE
The Braves wore Atlanta Black Crackers uniforms and the Mets wore Brooklyn Royal Giants uniforms as part of MLB's tribute to the Negro Leagues. Former Negro League players, some in wheelchairs, lined the infield for pregame introductions.
FIRST-ROUNDER SIGNED
The Braves' first-round draft pick, right-hander Ian Anderson of Clifton Park, New York, agreed to terms on a $4 million deal, pending his physical, and had his first tour of Turner Field. Anderson, the No. 3 overall pick, was not eligible to sign before graduating from high school this week. He will report to the Braves' Gulf Coast League team.
Anderson, 18, said the highlight of his visit to the Braves' clubhouse was meeting Jeff Francoeur.
TRAINER'S ROOM
Mets: RHP Bartolo Colon (6-3, 3.00) has been cleared for Sunday's start in the final game of the four-game series. Colon, 43, threw only four pitches in his last start against Kansas City before being forced to leave the game with a bruised right thumb. He was hurt when hit by a line drive.
UP NEXT
Mets: Colon is 9-2 with a 2.44 ERA in 12 career starts against the Braves.
Braves: RHP Bud Norris (2-7, 4.69 ERA), who has allowed seven earned runs in four starts this month, will make his 10th start of the season.