JT Daniels, UGA defense lead No. 2 Bulldogs past South Carolina, 40-13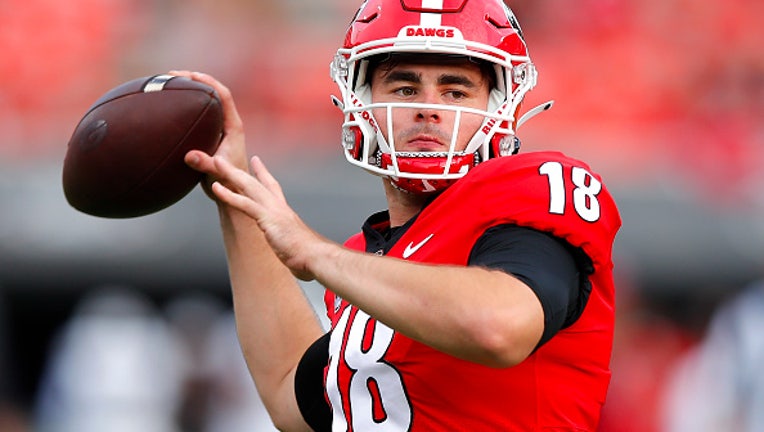 ATHENS (AP) - So much for any debate about Georgia's starting quarterback.
JT Daniels has a firm grasp on the job.
Daniels returned from injury with three touchdown passes, backing up another stellar performance by Georgia's defense that carried the No. 2 Bulldogs to a 40-13 victory over South Carolina on Saturday night.
Daniels completed 23 of 31 for 303 yards, including scoring throws of 43 yards to Jermaine Burton, 38 yards to freshman Adonai Mitchell and 4 yards to James Cook.
"I definitely felt very confident," said Daniels, who missed the previous game with an oblique injury.
Georgia (3-0, 1-0 Southeastern Conference) finally gave up a touchdown while on defense when Luke Doty, getting the ball on the Bulldogs' side of the field after a fumble, connected with Josh Vann on a 36-yard touchdown pass with 10:55 remaining.
"Of course, that upsets us," said Georgia linebacker Nolan Smith, who had a huge night. "When we say no one in the end zone, that's what we mean."
With Doty playing for the first time this season, South Carolina (2-1, 0-1) gave up three sacks and a safety, along with two turnovers that led to Georgia touchdowns.
But the offense could take some satisfaction from being the first to score a touchdown on the Bulldogs. Until then, the only TD against Georgia had come on an interception return.
Daniels sat out a 56-7 victory over UAB, watching as backup Stetson Bennett tied a school record with five touchdown passes.
Daniels wasted no time re-establishing his hold on the No. 1 spot, completing a 21-yard pass to Brock Bowers on his very first snap and guiding the Bulldogs to the end zone on their first two possessions.
"Only one of us can play, and everybody is dying to be that guy," Daniels said. "Everybody in the room wants to play every game."
Bennett got a shot the third time the Bulldogs had the ball. He promptly threw an interception that was returned to the Georgia 12, setting up a field goal.
Daniels returned to the game and didn't leave until early in the fourth quarter with the outcome no longer in doubt.
"We let the coach make the decision on who's going to play and when," Daniels said. "I'm happy when Stetson plays great and he's happy when I play great."
After punting the ball away in the closing seconds of the first half and content to settle for a 21-6 lead, Georgia wound up scoring five more points.
Backed up on their own 1, the Gamecocks explicably attempted to throw out of the end zone. Doty was sacked by Jordan Davis and Smith for a safety.
Then, after receiving the free kick, Daniels completed three passes for 39 yards to set up Jack Podlesny's 36-yard field goal as time expired, sending Georgia to the locker room up 26-6.
Georgia put it away in opening minute of the second half, again sparked by a huge defensive play.
Doty's pass was picked off by Derion Kendrick, who returned it to the South Carolina 20 to set up Zamir White's 5-yard touchdown run.
"They're not doing anything special on defense. They're just really good," said South Carolina's Shane Beamer, who took his first loss as a head coach. "They line up and say, 'We're better than you. Come beat us.'"
WATCH: FOX 5 Atlanta live news coverage
_____
Sign up for FOX 5 email alerts
Download the FOX 5 Atlanta app for breaking news and weather alerts.