Jackson brothers face off as Georgia Tech hosts Virginia Tech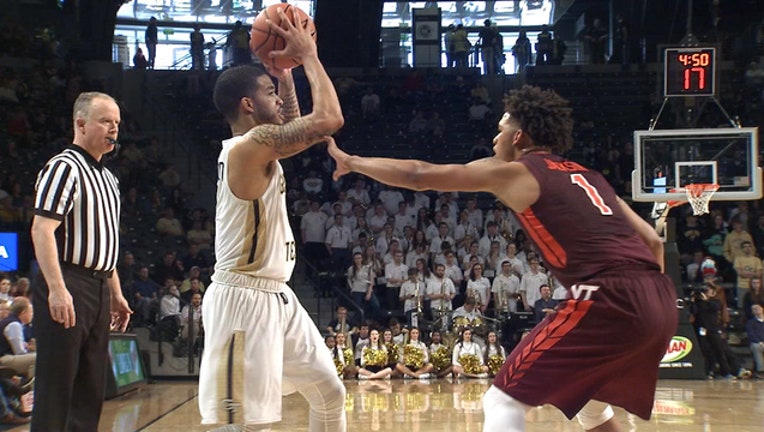 ATLANTA - Though it was a sell-out crowd at McCamish Pavilion, it was not hard to find the Jackson family.
"I feel like I'm rich," said Natasha Jackson. "Win or lose, I'm still the winner."
Jackson was elated to watch her two sons face off on the hardwood: Georgia Tech senior Tadric Jackson and Virginia Tech redshirt freshman Tyrie Jackson. Three busloads of fans made the trip from Tifton County in South Georgia to cheer on their hometown stars. The group included about 30 relatives of Tadric and Tyrie, many of whom sporting matching t-shirts.
After the game, Tadric was not feeling too sentimental, maybe in part because his younger brother's team picked up a 20-point win.
At the end of the day, we lost," said Tadric Jackson. "It's cool, [my brother is] on the court, I'm on the court. You can look in the crowd and hear the crowd and feel the energy. At the end of the day we have to get out of this losing streak. We have to get it done."
Tadric Jackson scored 17 points while Tyrie had 6. Virginia Tech freshman PJ Horne also went to Tift County High School, so he heard plenty of cheers as well. While one of the Jackson brothers gets bragging rights, the family says they'll remember the day for more than the final score. With Tadric a senior and Tyrie a redshirt freshman, this may well be the only time the brothers play against one another.
"I'm very blessed," said Natasha Jackson. "I thank God. God's been a very important part of this. I can't express the way I feel. I'm overjoyed. It can't get better than this."
Tadric Jackson and Georgia Tech are currently on a five-game losing streak. They are back in action Wednesday at top-ranked Virginia.