IT'S OUR TIME! HIGH 5 Sports Returns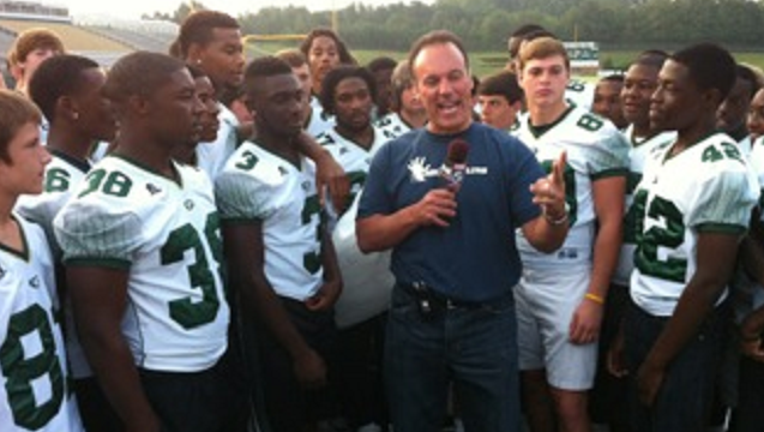 ATLANTA - It still amazes me!  I haven't played a down of football in nearly 40-years, but right before the start of every new high school football season I still feel the old butterflies fluttering in my gut, a heightened state of awareness, and an unhealthy desire to run into someone or something really hard!
App users: View full article here
It's a primitive awakening triggered by the smells of fresh cut grass, pads, helmets, cleats and sour practice uniforms.  The subtle change in the way the sun crosses the sky, and the eventual cooling of the air.  I can step into a locker room right now and the smell will instantly take me back to my own memories of fall Friday nights in Georgia.
It's those memories that drive the energy and enthusiasm of our High 5 Sports show every Friday night at 11 p.m.  It's all about you.  Your memories.  Your kids and your community.  We may have aged a little (just a little) since our high school days, but we haven't lost that Friday night feeling.  Indeed, middle-aged pride still whispers in my ear that if it had to, I could still suit up and play --if, of course, pants are available in my size!
It's not just about the game on the field.  I love the traditions surrounding the games.  Pep rallies, marching bands, mascots, cheerleaders and homecoming dances.  I love the fact that people go to these games even if they don't have a child playing or participating in game night.  Very few activities match the sense of community you get when we're all gathered at the local stadium.
I am grateful for my Friday night experiences, and for me, High 5 Sports has a way of keeping it alive!  As I like to say... "High school football.  Wish it could last forever.  And it does, on HIGH 5 Sports!"
So, a brand new season of HIGH 5 coverage begins Friday and I am more excited than ever.  I invite you joins and let's be kids again!
Do yourself a favor and get in the mood with the Kenny Chesney song, "The Boys of Fall."
Chesney says the song "is a perfect description of how I grew up and where I grew up."
THE BOYS OF FALL: 
When I feel that chill, smell that fresh cut grass
I'm back in my helmet, cleats, and shoulder pads
Standing in the huddle, listening to the call
Fans going crazy for the boys of fall
They didn't let just anybody in that club
Took every ounce of heart and sweat and blood
To get to wear those game-day jerseys down the hall
The kings of the school, man, we're the boys of fall
Well it's turn to face the stars and stripes
It's fighting back them butterflies
It's call it in the air, alright
Yes sir, we want the ball
And it's knocking heads and talking trash
It's slinging mud and dirt and grass
It's I got your number, I got your back
When your back's against the wall
You mess with one man, you got us all
The boys of fall
In little towns like mine, that's all they've got
Newspaper clippings fill the coffee shops
The old men will always think they know it all
Young girls will dream about the boys of fall
Well it's turn and face the stars and stripes
It's fighting back them butterflies
It's call it in the air, alright
Yes sir, we want the ball
And it's knocking heads and talking trash
It's slinging mud and dirt and grass
It's I got your number, I got your back
When your back's against the wall
You mess with one man, you got us all
The boys of fall
Well it's turn and face the stars and stripes
It's fighting back them butterflies
It's call it in the air, alright
Yes sir, we want the ball
And it's knocking heads and talking trash
It's slinging mud and dirt and grass
It's I got your number, I got your back
When your back's against the wall
You mess with one man, you got us all
The boys of fall
We're the boys of fall
We're the boys of fall
We're the boys of fall
We're the boys of fall
Songwriters: Casey Beathard / Dave Turnbull