Irma forces Georgia high school teams to cancel football games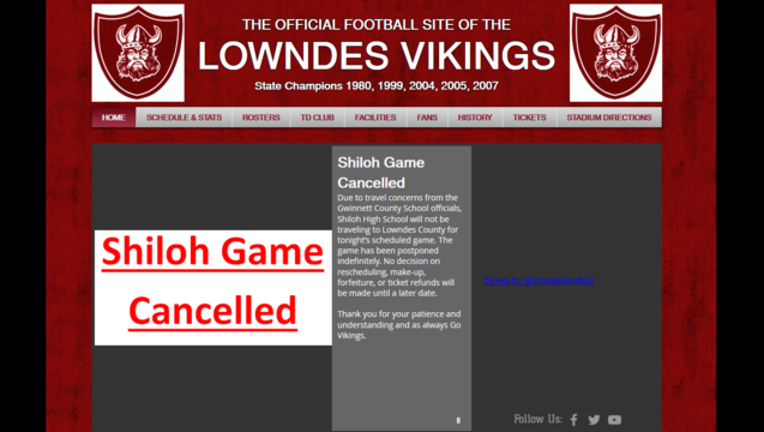 article
VALDOSTA, Ga. - The Shiloh Generals decided early this afternoon to cancel their road football game scheduled for 7:30 Friday night with Lowndes due to deteriorating road conditions and the threat of severe weather as Hurricane Irma approaches Georgia.
"It was really for the safety of the kids." Shiloh Athletic Director Robert Wilson told FOX 5, " There was no telling how long our trip would be because of the traffic on I-75. Although the weather is fine now, we didn't want to take a chance on the weather turning while we were in Valdosta."
Wilson said he made the decision after consulting Lowndes head football coach Randy McPherson about road conditions late this morning. "Coach McPherson said he could see from his office window that traffic was at a standstill."
According to Wilson, the game will not likely be rescheduled because it doesn't have regional implications.
Meanwhile, another local team is currently on its way to Colquitt County to play a game in Moultrie. The Roswell Hornets are scheduled to take on the Colquitt County Packers at Mack Tharpe Stadium tonight at 8 o'clock.
FOX 5 Sports contacted Roswell to find out if plans had changed due to the weather and road conditions and were told to contact the Fulton County Communications Office. Attempts to reach that office were unsuccessful.
Colquitt County recently posted on Twitter that the game was still on and suggested that Roswell fans should plan on returning to Atlanta immediately following the game because hotels in the area were sold out. They also offered to help provide diesel fuel for the Roswell buses if necessary.
Earlier Friday, Ware County canceled their scheduled home game with Atlanta's Grady High School. No makeup date has been announced for that game.
MORE: Get an in depth look at Irma, Harvey, and the 2017 Hurricane Season
-----
Keep up with the latest watches and warnings by downloading the FREE FOX 5 Storm Team app and following @FOX5StormTeam on Twitter.
DOWNLOAD the FREE FOX 5 Storm Team app to keep up with this extreme weather