Hurts rallies No. 1 Alabama to 35-28 win over No. 4 Georgia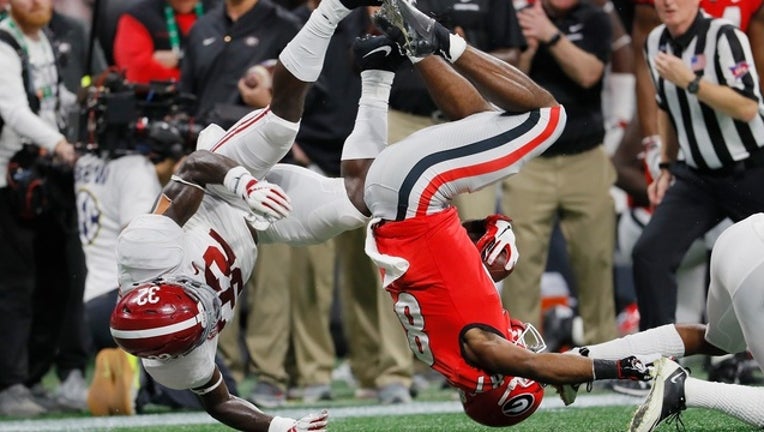 article
ATLANTA (AP) - In a dramatic twist on last season's national championship game, Jalen Hurts came off the bench to pass for one touchdown and run for another in the fourth quarter, rallying No. 1 Alabama to a 35-28 win over No. 4 Georgia for the Southeastern Conference title Saturday.
Heisman Trophy favorite Tua Tagovailoa had to be helped off the field with just over 11 minutes remaining after one of his own linemen stepped on the quarterback's right ankle as he attempted to throw.
Enter Hurts, who led Alabama to the national title game as a freshman but lost the starting job to Tagovailoa. Hurts calmly guided the Crimson Tide (13-0, No. 1 CFP) to a game-tying touchdown with a 10-yard pass to Jerry Jeudy, capping a 16-play, 80-yard drive that consumed more than 7 minutes.
After Georgia (11-2, No. 4 CFP) was stuffed on a fake punt near midfield, Hurts took matters into his own hands for the winning score. Spotting an opening up the middle, he took off on a 15-yard TD run with 1:04 remaining.
"All year, I've kind of been waiting on my opportunity," Hurts said. "My opportunity came today. I worked so hard this week with my teammates. We found a way to get it done today."
This was a reversal of the storyline from last season's national title game when Tagovailoa replaced an ineffective Hurts at the start of the second half with Alabama trailing Georgia 13-0. The replacement threw three touchdown passes, including a 41-yarder in overtime that gave the Tide a stunning 26-23 victory.
Tagovailoa won the starting job in preseason practice and performed brilliantly during the regular season, throwing 36 touchdown passes with only two interceptions.
The SEC title game took a different path. Georgia put quite a beating on Tagovailoa, who was picked off twice, spent much of his spare time in the medical tent and was largely ineffective as the Bulldogs built a pair of two-touchdown leads.
This time, it was Hurts who bailed out the Crimson Tide. When he trotted off the field after the winning TD, Tagovailoa was one of the first ones to greet him on the sideline. Afterward, they stood side-by-side on the podium in the middle of the field while Alabama received its SEC championship trophy.
Alabama coach Nick Saban summed it up best: "Wow."
Now, the Crimson Tide is headed back to the College Football Playoff, looking for its second straight national title and the sixth of the last decade under Saban.
"I know at Alabama, there's always an opportunity to win," Hurts said. "We worked so hard in the offseason -- blood, sweat and tears together. Today, we found a way to get it done. I'm so happy, so happy for everybody."
Georgia can make a pretty good case for the playoff, too, but the Bulldogs will likely get left out. Big 12 champion Oklahoma avenged its only loss by beating Texas, and No. 6 Ohio State still had a chance to make its case in the Big Ten title game.
This was another galling loss for Saban's former assistant, Kirby Smart. He's quickly built Georgia into a national powerhouse, but he keeps coming up short against his ex-boss.
For the second time in about 11 months, the Bulldogs squandered a double-digit lead to the Crimson Tide. While this one didn't end with the suddenness of that national title game, it hurt just as bad. They had had another chance to knock off the team that had been No. 1 in the polls all season, a team that has built perhaps the greatest rivalry in college football history.
Again, it slipped away.
Georgia's Jake Fromm threw for 301 yards and three touchdowns, while Tagovailoa was only 10 of 25 for 164 yards. The Alabama quarterback had a pair of interceptions, matching his total for the entire season, though he did spark the comeback with a 51-yard touchdown pass to Jaylen Waddle late in the third quarter, cutting Georgia's lead to 28-21.
Hurts took it from there.
------
Follow Paul Newberry on Twitter at www.twitter.com/pnewberry1963 . His work can be found at https://apnews.com/search/paul%20newberry
------
For more AP college football: https://apnews.com/Collegefootball and https://twitter.com/AP--Top25