High school football players choose colleges on National Signing Day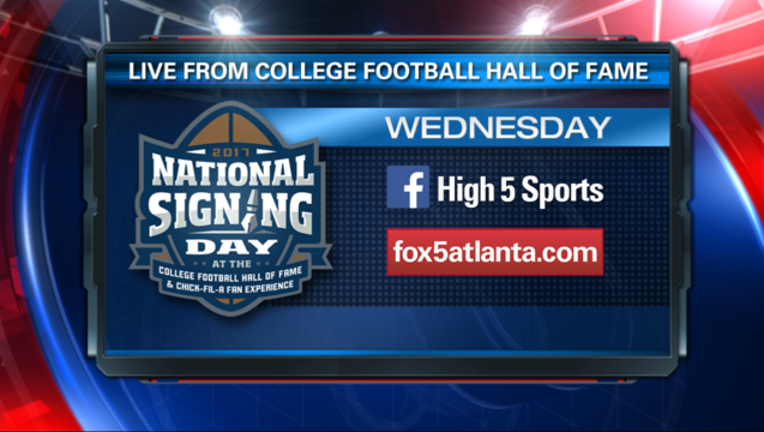 article
ATLANTA - Wednesday was National Signing Day and a time for student athletes to reflect on their time at their respective high schools while celebrating the promise of the next phase in their sporting development.
WATCH: Full broadcast of National Signing Day 
Three players signed their national letters of intent live on Good Day Atlanta Wednesday morning.
The first player to sign was Brookwood Broncos linebacker Leonard Warner, who announced he would attend FSU. The four-star player was also being recruited from Stanford and UGA, among other schools.
Leonard joined the HIGH 5 Sports Team at the College Football Hall of Fame for the special Signing Day broadcast, exclusively on FOX 5 Live.
More than 200 players filed through the hallowed Hall in downtown Atlanta, making their intentions known.
Here is a list of some of those who attended (click on the school name to jump to just before their appearance on the show):
Pace Academy:  Coach Slade - 9:06 a.m.
Deon Jackson - Duke
Trey Blount - UGA
Andrew Thomas  - UGA
Jordan Payne  - Richmond
Alpharetta: Coach Nichols - 9:17 a.m.
Carlos Carriere - Maryland
Pierce Cusick - Washington & Lee
Mill Creek: Coach Jarvis - 9:27 a.m.
Dylan Artman - Seton Hill University (PA)
Nick Campbell - Western Carolina
Tyler Fannin - Virginia
Jack Franklin - Coastal Carolina
Edmond Graham - Mercer
Jamar Hall - Mercer
Victor Heyward - Georgia State
Brenton King - Georgia Tech
David Milon - Nichols College
Preston Norwood - Penn
Anthony Presto - Reinhardt
Ayoola Ogun-Semore - Ohio University
Demetrias Rias - Nichols College
Joe Thomas - Air Force
Matthew Winston - Princeton
Lanier: Coach Mobbs - 9:46 a.m.
Tyler Taylor - OK/LSU/Auburn
Juwaun Jones - Western Kentucky
Michael Allen - Wake Forest
Jake Smith - EKU/Tenn Tech
Ethan Wilson
Paul Miller
Morgan Kent
Josh Stroud
North Gwinnett: Coach Stewart - 9:56
Cole Williams- Samford
Walker House
Ryan Lovelace - Wofford
Chandler Hood - Birmingham Southern
Sean Maggin - Wake Forest
Drew Jordan - Stewart Duke
Zaniel Phillips - Pikeville
Chris Sibilia - Georgia State (Enrolled)
Brookwood: Coach Jones - 10:07 a.m.
Cantorian Weems - Coastal Carolina
Nick Eubanks - Brevard
Leonard Warner - FSU/UGA/Stanford
Dacula: Coach Jones - 10:07 a.m.
Allen Daniels - Purdue
Babila Fomuteh - Wesleyan University
Ty Harris - Army
Dez Ikpa - Valdosta State
Chase Isler - Ellsworth Community College
Brandon Jones - Georgia Military College
Jaylon Jones - Georgia State
Trey Pratt - College of the Canyons
Archer: Coach Dyer - 10:07 a.m.
Sam Wright - Princeton
Tyler Ranel - Miles College
Chandler Evans
Quinn Miller
Central Gwinnett: Wofford - 10:34 a.m.
Josh Samuel - WKU
Tim Wilkins - Presbyterian
Jairus Jones - Valdosta St
Hunter Sims - Hutchinson CC
Vern Bellamy - New Rock Prep
Nick Partlow - New Rock Prep
Paul Brewer - New Rock Prep
Elliot Cummings - North GA Football Academy
Shiloh: Coach Andrews - 10:54 a.m.
Cameron Sample - Tulane
Justin Gardner - Oregon State
Julian McDuffie - Army
Tyler Reese - Morehead State
Donavon Grier - Jacksonville (FL) University
Quincy Brooks - Ferrum College
Davonte Womack - Maryville College
Kolby Wyatt - UGA
Jared Wilson - Shorter College
Jordan Williams - Heidelberg Univeristy
Purvis Terrell - Nicholls College
Chapel Hill: Coach Deshon - 11:11 a.m.
Jadon Walker - Colorado State
Tajai Owens - Wagner
Dylan Galm - Stetson
Mountain View: Coach Bach - 11:11 a.m.
Garbentz Josue - Georgia Southern
Michael Sobczyk - Air Force
Jonathan Stewart - Vanderbilt
Dhante Hill
Jasen Johnson
Landmark Christian: Coach Brantley - 11:11 a.m.
West Hall: Coach Lotti - 11:28 a.m.
Jacob Satterfield - Wingate University
Parkview: Coach Godfree - 11:28 a.m.
Hanock Berhane - Shorter College
Robert Carter - Lindsay Wilson College
Deion Slade - Jacksonville (FL) University
Demarius Smith - University of the Cumberlands
TD Roof - Georgia Tech
Chee Anyanwu - Northwestern
Joshua Blackwell - Duke
Jake Simpson - Wake Forest
Dean Powell - Army
Tyler Thurmond - West Virginia
Mic Roof - Charlotte
KJ Anderson - Western Michigan
Connor Mills - Princeton
Hank White - Columbia
Zac Waters - Catawba
Jack Ness - Kennesaw State
Garrett Scoggins - Gardner Webb
Tanner Alexander - Suwanee
Roswell: Coach Ford - 11:48 a.m.
Xavier McKinney - Alabama
Leanthony Williams - Clemson
Jordan Tucker - UNC
Jayden Comma - Maryland
Justus Harris - Cincinnati
Jack Nichols - Gardner Webb
Sam Diroberto
Justin Ellis
Koby Cumberlander
Sheldon Evans
Max Boyd
Mitch Stone
Lamon Titus
Grayson: Coach Herron - 12:07 p.m.
Demetrius Murray - Ball St
Luke Seale - Berry College
Chase Brice - Clemson
Ellison Hubbard - Colorado State
John Taylor - Duke
Will Tayler - Duke
Jalen Jackson - Georgia State
Steven Banks - Georgia State
Kurt Taylor - Michigan
Breon Dixon - Ole Miss
Evan Sturgill - West Georgia
Omari DeBose - Reinhardt
Ismail Abdul - Savannah State
Aaron Brawley - Citadel
DeAngelo Gibbs - UGA
Quintin Thames - Western Carolina
Tony Gray
Jamyest Williams
Sultaan Shabazz - Princeton
Ryan Glover - Penn
JR Pace - Northwestern
Josh Johnson - Louisville
Terry Myrick - Easten Michigan
Will Berkey - Davidson
Zach Quarterman - Delta State
Knox Hagan - Wofford/Richmond/GA Southern
Jeffrey Hubbard - EMU/Purdue/UConn/WKU
Cade Sutherland
Daniel Farzaneh
Kobe Sandel
Darien Wiggins
Hunter Falconer
Cherokee: Coach Shaw - 12:51 p.m.
Jake Alvey - Air Force
Aaron Knowles - Army
Montrell Washington - Samford
Charles Perry - Reinhardt
Kamari Walker - Reinhardt
Creekview: Coach Crowder - 12:51 p.m.
Jacob Webb - Charlotte
Trevor Kolb - Tennessee Tech
Josh Horowitz - Huntingdon College
Etowah: Coach Svehla - 12:51 p.m.
Stuart Head - Stanford
Tyray Devezin - Mercer
Alan Michael Harris - Berry College
River Ridge: Coach Wynn - 12:51 p.m.
Somadina Okeke - NC Central
Sequoyah: Coach Teter - 12:51 p.m.
Bobby Hewitt - Kentucky Wesleyan
Mac Wells - Berry College
Woodstock: Coach Budde - 12:51 p.m.
Ethan Chamberlin - Rhodes College
Solon Page III - Tennessee
Kendall Bailey - Army
Milton: Coach DeCristofaro - 1:17 p.m. 
Troy Simon - Wake Forest
Chase Hooper - FAU
Josh Hall - Harvard
Mason Nutter - Air Force
Cade Leonard - JMU
Cameron Adams - Lousiana-Lafayette
Trevor Allison - Birmingham Southern
McEachern: Coach Hockman - 1:36 p.m.
Xavier Reddick - Navy/USA/CMU/Gtown
Courtney Mills - Miami (OH)/KSU
Tyler Smith - North Carolina
Brandon Smith - Charleston Southern
Quay Holmes - Mercer/EKU/Elon
CJ Miller - Southern Cal
EJ Scott - Colorado State
Israel Moore - Point, Catawba
Justin Coleman - Wagner/Pikeville
Kevin Sherman - Lindsey Wilson, NAIAs
Quentin Hayes - Pikeville
Khalil Robinson - several NAIAs
Kyree Jones
Myles James - Navy
Montayo Hood
Carlton Bates - DIII
Jeffrey Bryant - DIII
Dvonn Gibbons - Savannah State
Jaylin Marsin Knight - Wingate University
Hassan Littles - Ball St
Khalil Newton - Ball St
Deontray Fagin - Miles College
Ivan Staples - Campbell University
Keshon Jackson - Reinhardt
Michael Makins - Coastal Carolina
Gethro Georges - Morehouse
Graland Dawkins - LaGrange College
Shaun Jolly - Appalachian St
Myles Hannah - Ball St
Carlito Gonzales - Auburn
Aaron Greene - Point University
Justyn Hector - Point University
Tavies Butts - Point University
Jayvon Hilton - Point University
Mount Zion: Coach Holloway - 2:26 p.m.
Grady: Coach Moreland - 2:37 p.m.
Caylin Newton - Howard
Brandon Kemp - Norfolk St/West Georgia
Jacquez Sloan - WKU
Cincere Mason - Tenn Tech/ KSU/ Presbyterian
Dimarcus Clay - Furman/Morehouse
Kemari Averett - WKU/Louisville/Auburn
Seth Wolfe - Charleston Southern (PFO)
Jaelin Whitt - Savannah State/Clark Atlanta
Caleb Shaw - Reinhardt
Stockbridge: Coach Whitley - 3:02 p.m.
Jalen Holston - Virginia Tech
Kelton Dawson - Georgia Tech
Kenderick Duncan - Georgia Southern
Chris Hall - Tuskegee Institute
Aaron Robinson - Savannah State
Justice Bell - Point University
Ryan Massey - Point University
Matt Foster - Alabama State
Devin Oubre - Miles College
Wesley Guilford - Point University
Josh Beasley - Arkansas Baptist
Jordan Douglas - Arkansas Baptist
Nidarius Alexander - ASA Prep
Greater Atlanta Christian: Coach Hardy - 3:28 p.m.
Davis Mills - Stanford
Brooks Buce - UGA
Davis Markham - Mercer
Devin Thomas - USM
Carson Costas - Notre Dame College (OH)
This is a bittersweet day for the HIGH 5 Sports Team as we bid not goodbye, but good luck to our HIGH 5 Sports star alums. It's a one last #INYOURFACE affair as we talk football with the soon-to-be new faces of college football.
Here's a little flavor from the event: