Goodell, union, players to meet on social issues and anthem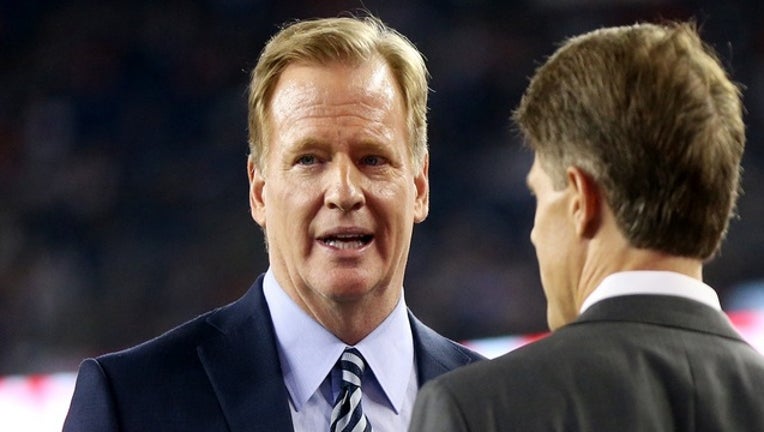 article
NEW YORK (AP) - NFL Commissioner Roger Goodell, owners of each team, representatives of the players' union and players themselves will meet Tuesday to discuss ways to "move from protest to progress."
Among the topics will be enhancing their platforms for speaking out on social issues, and the league's policy that suggests but does not mandate players standing for the national anthem.
There is a quiet mandate, though, for those discussions: figuring out how to get the attention back on those social issues, not how they are being publicized.
And getting the attention back on football.
"We are proud to be able to work with our players to highlight these issues to really put focus on the issues and how the game and the NFL and our players bring communities together when we are divided," NFL spokesman Joe Lockhart said.
Goodell emphasized the need for productive dialogue among the owners and players when he sent a memo to the teams last week. He also invited players' union chief DeMaurice Smith and a group of players to attend the regularly scheduled meetings.
What are they likely to discuss before the owners get back to their usual October league business?
For one, demonstrations during the anthem will be a high-priority topic. Goodell has noted that the NFL will have a plan ready to present to the players regarding the anthem.
"Like many of our fans, we believe that everyone should stand for the national anthem," Goodell wrote last week. "It is an important moment in our game. We want to honor our flag and our country, and our fans expect that of us.
"We also care deeply about our players and respect their opinions and concerns about critical social issues. The controversy over the anthem is a barrier to having honest conversations and making real progress on the underlying issues. We need to move past this controversy, and we want to do that together with our players."
Certainly on Tuesday's agenda will be options presented by both sides on how to get the message across without it being misinterpreted.
While the backlash has been loud from those who believe the players have been protesting against the anthem or the American flag or the military, everyone involved with the league is seeking clarity.
As Lockhart has noted: "Owners across the league have spoken out on where they stand. The important thing now will be coming together as an ownership group to try to have a common position - a position that either affirms where we are now, or perhaps adjusts where we are now."
With input from the NFLPA and its members.
"I think there will be a discussion about the entire issue including the (anthem) policy, including all of the various elements that have been raised over the last four weeks," Lockhart said.
The league also will be supporting a bipartisan legislative bill in Congress that seeks reforms and targets enhanced mandatory minimums for prior drug felons; increases judicial discretion for sentencing; and reforms enhanced mandatory minimums and sentences.
"We felt that this was an issue over the last months as we have continued to work with our players on issues of equality and on issues of criminal justice reform that was surfaced for us," Lockhart said. And we thought it was appropriate to lend our support to it."
Asked about a potential pushback from the White House, Lockhart said he didn't know the president's position on the bill.
"I know that this has overwhelming bipartisan support and we think it's the right thing to do, so that is our focus right now," he said.
___
For more NFL coverage: http://www.pro32.ap.org and http://www.twitter.com/AP_NFL