Georgia's Carter enjoys 'surreal' pro day with Belichick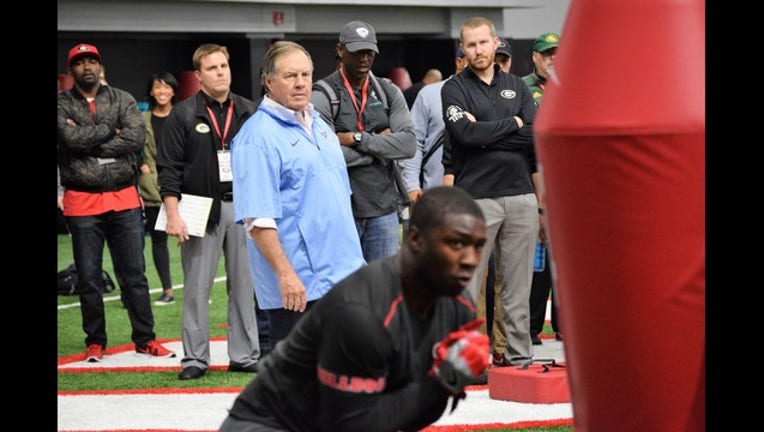 ATHENS, Ga. (AP) - After growing up as a Patriots fan, Lorenzo Carter said it was "kind of surreal" to find New England coach Bill Belichick leading positional drills at Georgia's Pro Day on Wednesday.
App users: View full article here
This was no time to be star-struck. Those linebacker drills, also organized by Lions coach Matt Patricia, were Carter's chance to validate his standing as a player expected to be selected in the first two days of next month's NFL draft.
"You go out there and you see them but at the end of the day it's football," Carter said. "It doesn't matter who's out there across from you or who's coaching you, you have to go out there and execute."
Carter and Davin Bellamy showed off their versatility by participating in the linebacker and defensive line positional drills, hoping to prove they'd fit in 3-4 or 4-3 schemes in the NFL.
Bengals coach Marvin Lewis and Falcons coach Dan Quinn also attended the pro day. All 32 teams were represented by coaches, scouts or other personnel, including Atlanta general manager Thomas Dimitroff.
Georgia linebacker Roquan Smith , a probable first-round pick, said it was "pretty awesome" to perform for Belichick and Patricia, who he described as "pretty much legends of the game, doing it a long time and knowing what it takes to succeed at the next level."
Smith, the Butkus Award winner, said he has been invited to attend the draft in Arlington, Texas.
Offensive lineman Isaiah Wynn, running backs Sony Michel and Nick Chubb and Carter also are widely projected to be selected in the first three rounds.
Michel said he expects to see more NFL coaches attending future pro days at Georgia, which won the 2017 Southeastern Conference championship and lost to Alabama in the national championship game. After landing the nation's top-rating signing class last month, Georgia begins spring practice on Tuesday.
"This program is on the rise," Michel said. "These coaches are going to be out here for a while, for years to come. There are so many great players coming out, so many great players to come."
Bellamy, defensive linemen John Atkins and Trenton Thompson , wide receiver Javon Wims and safety Dominick Sanders also worked out for scouts at the NFL combine and again at the pro day.
Carter (6-6, 250) ran the 40-yard dash in 4.5 seconds at the NFL combine earlier this month. Like Smith, Michel and Chubb, he saw no need to run the 40 again on Wednesday.
Wynn couldn't participate in drills because he is recovering from surgery to repair a torn labrum. He suffered the injury on Nov. 18 against Kentucky.
Wynn, who was the leader of Georgia's offensive line, said it was "kind of bittersweet not being able to perform" but added he enjoyed watching teammates "chasing their dream."
Dimitroff said he looks for more than bench press, vertical jump and broad jump results. He said he also considers other factors in his draft decisions.
"See how they handle their business," Dimitroff said. "That's a big thing. If they adhere to instruction properly. You like to see how they interact with the players, their teammates, as well, in the setting. See if they're cheering people on."
Dimitroff, who was the Patriots' director of college scouting before moving to the Falcons in 2008, said he knows coaches like Belichick and Quinn enjoy working with the draft prospects.
"That's what they thrive on," Dimitroff said. "They like to be back in there doing their stuff."
Belichick declined an interview request.
Also working out on Wednesday were tight ends Jeb Blazevich and Jordan Davis, linebacker Reggie Carter, defensive backs Aaron Davis, Malkom Parrish and Tim Hill, offensive lineman Dyshon Sims, quarterback Brice Ramsey, punter Cam Nizialek and snapper Trent Frix.
Iowa State safety Reggie Wilkerson, who transferred as a graduate student from Georgia, also participated.
___
More AP college football: www.collegefootball.ap.org and https://twitter.com/AP_Top25