Georgia Southern rolls over Georgia State, 35-14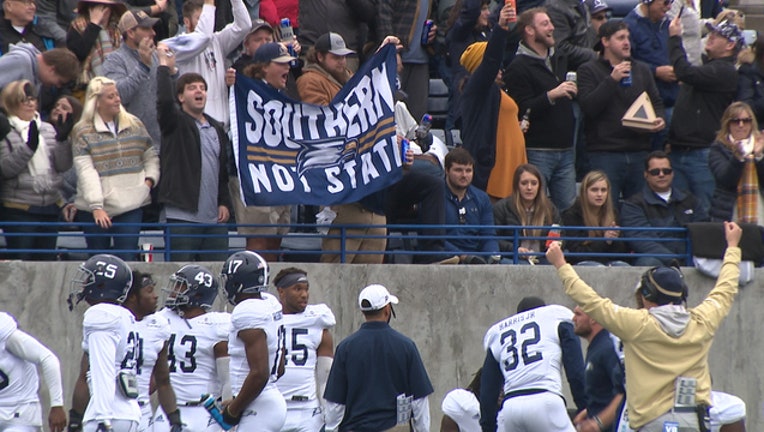 article
ATLANTA (AP) - Shai Werts threw for two touchdowns and ran for a third and Wesley Fields ran for 151 yards and a score as Georgia Southern beat Georgia State for just the second time, 35-14 in a Sun Belt regular season finale on Saturday.
Georgia Southern rolled to a 28-0 lead through three quarters to snap a streak of three-straight losses to the Panthers.
Tyler Bass hit first-quarter field goals from 39- and 49-yards out and Darion Anderson pulled in a 38-yard touchdown pass from Werts to take a 13-0 lead after a quarter. Werts ran 18 yards for a score and Bass threw to Deshon Cooper for a two-point conversion in the third quarter and Werts hit Colby Ransom with a 58-yard touchdown pass.
Dan Ellington threw touchdown passes to Devin Gentry and Tamir Jones in the fourth quarter for Georgia State (2-10, 1-7).
Fields came into the game needing 141 rushing yards to move into 10th place all-time for rushing yards by a Georgia Southern senior. The Eagles did not turn the ball over against Georgia State and set an FBS single-season record with just five turnovers this season. The previous record of eight was held by six teams, most recently tied by LSU in 2017.
Georgia Southern (9-3, 6-2) came into the game already bowl eligible and picked up its ninth win in 12 starts under first-year coach Chad Lunsford.