Falcons pick Auburn defensive lineman Davidson in second round
ATLANTA - The Atlanta Falcons added another piece to their defense in Friday night's second round of the NFL Draft. The team selected defensive lineman Marlon Davidson out of Auburn with the 47th overall pick.
"This is a blessing, man, this is a blessing," said Davidson on a conference call with media members after being picked. "I've been praying on this moment since I was 5 years old. Showing that hard work pays off. This is all I ever wanted."
Davidson was a four-year starter on the defensive line for the Tigers. From Greenville, Alabama, he was voted first team All-SEC as a senior. Davidson was a team captain as a senior, and his 17 career sacks are eighth-most in Auburn history.
"I can do it all," said Davidson. "I can do whatever move you want me to. I'm that type of athlete, I feel like I'm that caliber player. When I step on the field, I feel like I'm the best."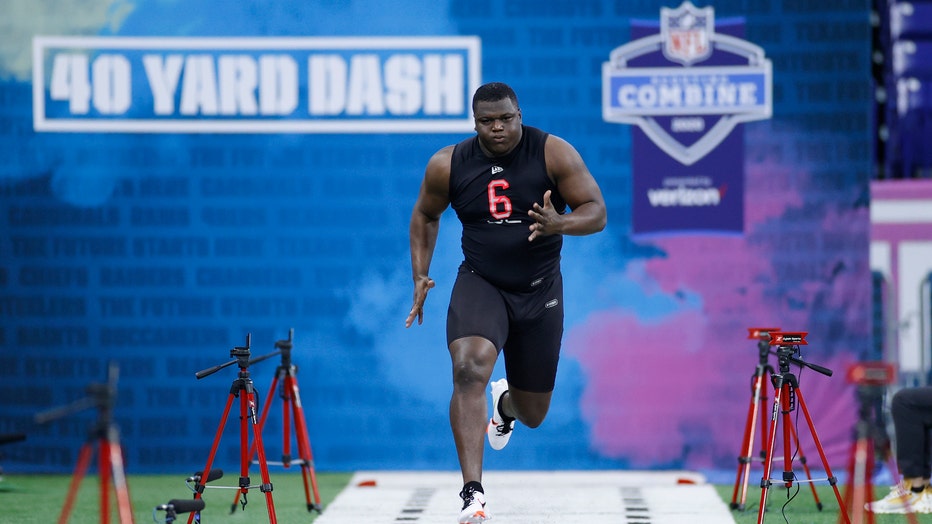 INDIANAPOLIS, IN - FEBRUARY 29: Defensive lineman Marlon Davidson of Auburn runs the 40-yard dash during the NFL Combine at Lucas Oil Stadium on February 29, 2020 in Indianapolis, Indiana. (Photo by Joe Robbins/Getty Images)
Davidson played alongside first round draft pick Derrick Brown on the Auburn defensive line. While he calls Brown his "brother," he joked, it's time for Brown to lose now that the two are NFC South rivals. Davidson has a big personality, and has plenty of confidence.
"I told [the Falcons] I've been waiting on them forever," said Davidson. "I'm glad they called. You don't have to tell me nothing else. I'm coming. First flight, first ride, whatever I can, I'm coming to Atlanta."