Falcons holding out Julio Jones, Alex Mack with injuries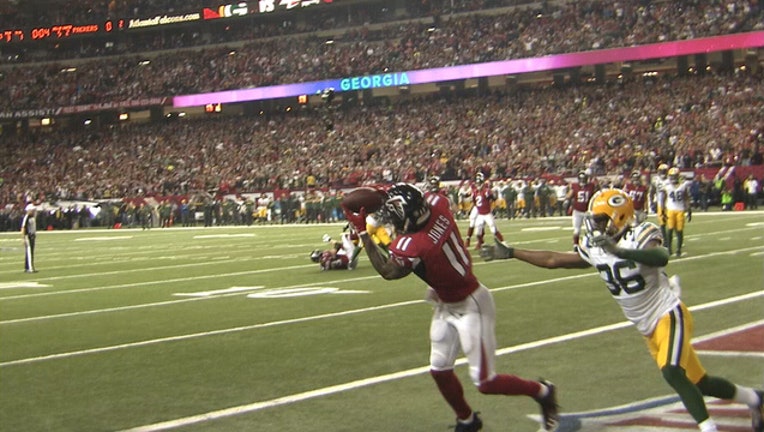 article
FLOWERY BRANCH, Ga. (AP) - Matt Ryan wasn't worried that he didn't have his center and top receiver with him for the Falcons' first Super Bowl practice on Wednesday or for the remainder of the week.
The quarterback says he trusts Alex Mack and Julio Jones will do what is necessary to be ready despite missing this week's practice schedule with injuries.
"Obviously you'd love to have everybody out there practicing, but it's not realistic this time of the year," Ryan said after the practice.
"Both those guys, to me, are guys who have played so many snaps for us this year that they'll be ready to go regardless."
Coach Dan Quinn said he expects Mack, the center who suffered a lower left leg injury in Sunday's NFC championship game win over Green Bay, to be able to practice next week and play in the Feb. 5 Super Bowl against New England.
PHOTOS: Atlanta Falcons practice for Super Bowl
The Falcons have good reason to feel good about Jones' ability to play after resting his sprained left toe.
Jones missed all but one practice last week before flashing his All-Pro form with nine catches for 180 yards and two touchdowns in the 44-21 win over the Packers.
"They are two really, really smart guys and diligent guys when it comes to their preparation in meetings and being on top of the walkthroughs, studying film, so I feel like both those guys won't miss a beat," Ryan said.
Quinn said Mack's leg was sore above his ankle.
"We'll hold him this week and he'll be ready to go for next week," Quinn said, before adding "same thing" with Jones.
Mack briefly left Sunday's game in the second quarter before returning. Ben Garland again took over at center late in the game when the win was assured.
Mack was considered perhaps Atlanta's most important offseason addition. The Falcons made Mack the NFL's highest-paid center when he signed a five-year, $45 million contract as a free agent. He spent his first seven seasons with Cleveland.
The Falcons had struggled at center since longtime starter Todd McClure's final season in 2012. With Mack in the middle, the line featured the same five starters for every game this season as the Falcons led the NFL in scoring. He earned his fourth Pro Bowl selection.
___
MORE: Falcons News on FOX5Atlanta.com