Falcons get back to work after earning trip to Super Bowl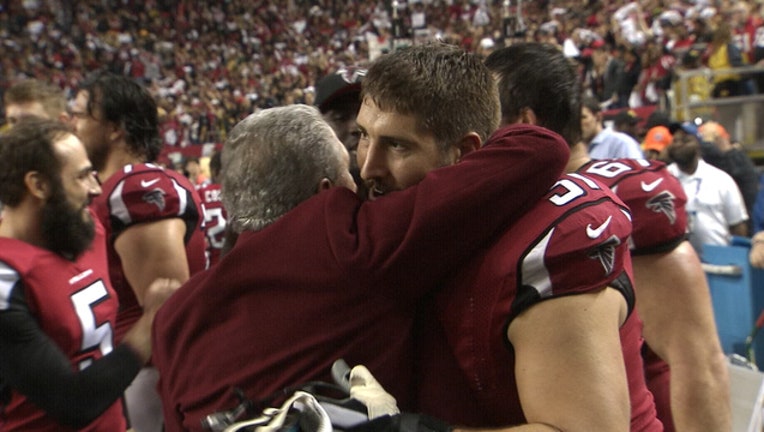 article
FLOWERY BRANCH, Ga. (AP) - FLOWERY BRANCH, Ga. (AP) - Dan Quinn certainly knows who the Atlanta Falcons are playing in the Super Bowl.
No wonder.
It seems as if Bill Belichick, Tom Brady and the New England Patriots are there every year.
One day after reaching the big game for only the second time in franchise history, Quinn and his players were back at their training complex in Atlanta's northern suburbs, rehashing the blowout of Green Bay before turning their attention to the team they'll play next.
"Going to the Super Bowl is not a reward," Quinn said Monday. "Playing really well and winning, that's the reward. It's going to be a hell of a battle."
Immediately after the Patriots routed Pittsburgh for the AFC title , Belichick said he didn't even know the Falcons had won the NFC championship game.
No such ignorance from his coaching counterpart in Atlanta.
"Yes, I know," Quinn said with a smile.
He didn't get much sleep the night before.
It didn't have anything to do with facing the mighty Patriots, however.
"I generally don't after the games," the second-year coach said. "I'm thinking about what we could've done different. Then today, we get right back into our process. Honestly, when you're around our building ... whether it's Week 4, Week 8, Week 12, Week 16, Week 19, when you're inside these walls, it should feel the same. We try to put up a championship week every time we go."
The Patriots know a thing or two about championships. They are the first team to reach the Super Bowl nine times, and the coach-quarterback tandem of Belichick and Brady will be going for its fifth Lombardi Trophy.
Quite a contrast with the Falcons, who have never won an NFL title in their 51-year history. It's been 18 years since their initial Super Bowl appearance, when a team known as the "Dirty Birds" was beaten handily by the Denver Broncos in John Elway's final game.
Atlanta endured plenty of distractions in the buildup to that game, from coach Dan Reeves reliving an ugly breakup with the Broncos to a dispute over the how the players departed their chartered jet in Miami to, most notably, team leader Eugene Robinson being arrested the night before the game for attempting to solicit a prostitute.
After all that, it wasn't surprising that Denver cruised to a 34-19 victory.
Quinn expects no such problems from his team, before or after it gets to Houston.
"With some teams, I might be worried. Not this one," he said. "This team is so tight. The accountability they have for each other is so strong, this brotherhood is so strong. They care about one another. They realize they're playing for something bigger than themselves. This team, this group, I totally trust them."
A bigger concern might be the huge gap in Super Bowl experience.
Outside of 36-year-old defensive end Dwight Freeney, who played in a pair of title games with the Indianapolis Colts, the Falcons really have no idea what they'll face over the next two weeks.
That's where Quinn might be of help.
He was Seattle's defensive coordinator during back-to-back Super Bowl appearances - one a rout of the Broncos, the other a heartbreaking loss to the Patriots.
"I've gone when things have gone well, I've been a part of it when it hasn't," Quinn said. "I want to outline some of the keys to playing well in the game and managing some of the things on the outside. That's a part of the process where I can help, and I'll share that with the guys."
Quinn's advice will certainly come in handy for players such as Taylor Gabriel. The speedy receiver was cut by the lowly Cleveland Browns during the preseason and now he's got a shot at a championship, a turn of events that still seems a bit surreal.
"It hasn't hit me yet that I'm going to the Super Bowl," he said after the 44-21 victory over the Packers.
Gabriel, who is from the Dallas suburbs, expects to get a plethora of ticket requests from family and friends who can easily make the drive to Houston.
That's one of those things that every player must deal with to some degree during a Super Bowl week, and some manage it better than others.
Another possible distraction for the Falcons is the impending departure of offensive coordinator Kyle Shanahan , who is expected to be named coach of the San Francisco 49ers as soon as the season is over.
The Falcons will have a normal week of practice through Friday, so Shanahan will likely have a second meeting with 49ers officials on Saturday to hammer out any lingering details about his first head coaching job, according to Quinn.
"I'm really proud of him," Quinn said. "A lot of speculation and things are going on in the outside world, but he was able to stay dialed in. He should be commended for being on point and going for it. He totally nailed that."
___
Follow Paul Newberry on Twitter at www.twitter.com/pnewberry1963 . His work can be found at http://bigstory.ap.org/content/paul-newberry .
___
For more NFL coverage: www.pro32.ap.org and www.twitter.com/AP_NFL