Falcons beef up O-Line with two first round selections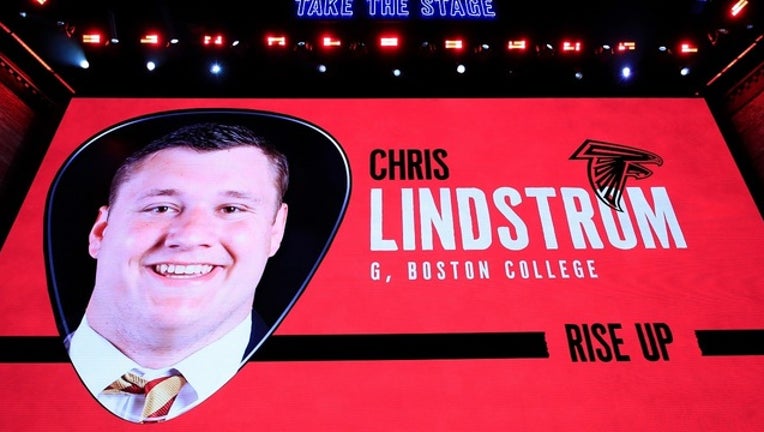 NASHVILLE, Tenn. (FOX 5 Atlanta) - The Atlanta Falcons have chosen Boston College Guard Chris Lindstrom as their first pick in the 2019 NFL Draft. Lindstrom is the first BC player to go in the first round since Luke Kuechly was selected ninth overall by the Panthers in 2012. You might remember the Falcons drafted another Eagle's offensive star back in 2008-current quarterback Matt Ryan.
Lindstrom comes from a long line of football players, his father, uncle and brother all played college ball in New England. The 6-4, 303-pound Lindstrom has experience at both tackle and guard but has also been working on snapping the ball since his senior season ended, and he believes that versatility will help him in the NFL.
The Miami Dolphins selected one of the Falcons top draft targets, Clemson defensive tackle Christian Wilkins with the 13th pick, so General Manager Thomas Dimitroff and Head Coach Dan Quinn shifted to the offensive line—adding some much-needed depth with the selection of Lindstrom.
After securing the guard of their choice, the Falcons then moved up in the draft, trading the 45th and 79th picks to the Los Angeles Rams for the 31st overall selection. This time Dimitroff and company grabbed the fiesty tackle from Washington, Kaleb McGary. McGary is known for his nasty finishes and raw power. The Falcons gave up over a hundred quarterback hits on Matt Ryan last season, and never established an effective running attack. It appears they've addressed those issues on day one of the draft. Los Angeles also sent the Falcons the 203rd overall selection as a part of the deal.
Quinn will be under heavy scrutiny as he enters his fifth year with the team. Last season he had a losing record for the first time- this after recording double-digit wins in 2016 and 2017. In the offseason, Quinn took over defensive coordinator responsibilities, so hitting the right note with a solid draft selection could be critical to his survival in Atlanta.
Earlier this year, the Falcons bolstered their depth on both sides of the ball with the free-agent signings of guards James Carpenter and Jamon Brown, and the re-signing of defensive end Adrian Clayborn, who spent the last year in New England following a stint with Falcons.
The Falcons have seven more selections in the 2019 NFL Draft, which continues in Nashville with rounds 2-3 Friday, followed by rounds 4-7 on Saturday.
FOX 5 Sports reporting from Atlanta. The Associated Press contributed to this report