Falcons add RB Bijan Robinson to young core around QB Ridder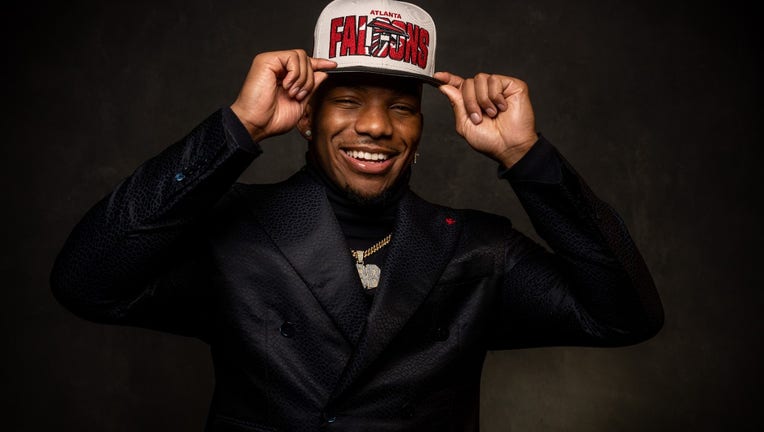 article
The NFL draft left the Atlanta Falcons exactly where they finished the 2022 season: with the spotlight on quarterback Desmond Ridder.
The Falcons will open next season with Ridder the key piece of a group of young playmakers that now includes running back Bijan Robinson.
Robinson,  Atlanta's No. 8 overall pick , joins Ridder, running back Tyler Allgeier, wide receiver Drake London and tight end Kyle Pitts as featured offensive playmakers from the last three drafts. 
RELATED: AP Report Cards: Texans, Eagles get highest NFL draft grades
If Ridder can hold the starting job he was given for the final four games last season, the Falcons' offensive foundation will be set for the immediate future under coach Arthur Smith and general manager Terry Fontenot.
If Ridder falters, the Falcons may have to look for a quarterback in next year's draft. The Falcons, coming off a 7-10 finish, are trying to snap a streak of five consecutive losing seasons.
Atlanta signed veteran Taylor Heinicke to a two-year deal this offseason, and  Heinicke immediately announced his role is to play behind Ridder. Even if Heinicke, 30, is forced to start, it may be on a short-term basis. 
On  Saturday , the Falcons selected Utah cornerback Clark Phillips III, who entered the  draft's third day as one of the top available defensive backs, in the fourth round. Phillips, an AP All-America first-team pick, had six interceptions and two touchdowns in 2022. 
KANSAS CITY, MO - APRIL 27: Bijan Robinson receives news that he will be drafted by the Atlanta Falcons in the green room backstage during the first round of the 2023 NFL Draft at Union Station on April 27, 2023 in Kansas City, Missouri. (Photo by Kevin Sabitus/Getty Images)
Phillips (5-9, 184) says he used hard work, including a commitment to the film room, to make up for his small stature and produce nine career interceptions.
"It's a product of a lot of film study and a lot of confidence," Phillips said.
The Falcons selected Alabama safety DeMarcco Hellams and South Carolina offensive guard Jovaughn Gwyn with their two seventh-round picks.
Phillips and Hellams join a deep secondary.
The Falcons added cornerbacks  Jeff Okudah and Mike Hughes, as well as safety Jessie Bates, this offseason. Defensive tackle David Onyemata, outside linebackers Kaden Elliss and Bud Dupree and defensive end Calais Campbell also were added to the defense.  
The Falcons could have looked for an edge rusher, left guard or even a quarterback with their first-round pick. Instead, the choice of Robinson solidifies Smith's commitment to a run-first offense.
Smith says Robinson, who was the top-ranked running back in the draft after rushing for 1,580 yards with 18 touchdowns for Texas last season, is a "home-run hitter" with both power and speed.
Even so, Smith says there will be a role for Allgeier, who ran for 1,035 yards as a rookie.
"They're different players," Smith said of Robinson and Allgeier. "Both of them are yards after contact players, but how they do that, they're different, completely different. Tyler is like - you know when you watch the game go on, it's like somebody that's got a sledgehammer that's bludgeoning through their line of scrimmage as the game goes on and wears you down."
Smith said Robinson's success is based on "contact balance, the way he doesn't go down and the way he is able to get explosives off that."
On Friday night, the Falcons moved up in the second round by swapping picks in the round with Indianapolis and also giving the Colts a fourth-round pick. That left Atlanta with six overall picks in the draft, including three on Saturday.
By moving up in the second round, the Falcons selected Syracuse offensive lineman Matthew Bergeron, who played tackle in college but will compete for a starting job at left guard this season. Atlanta selected edge rusher Zach Harrison of Ohio State in the third round.
The emphasis on defense in offseason signings and trades helped clear the path to add Robinson in the first round.
"Obviously, the offense is really good with really good talent," Robinson said. "For me, I just want to be a piece in that offense, man, and do as much as I can no matter where they line me up at. ... I know that the rushing attack is really, really good, with a really good running back already. 
"Man, I just want to go in there and learn from him and be a good teammate, and hopefully we can make something special happen out of it."
___
AP NFL: https://apnews.com/hub/nfl and https://twitter.com/AP_NFL