Curry delivers: Warriors guard sends Napa girl new sneaks following frustration over girl sizes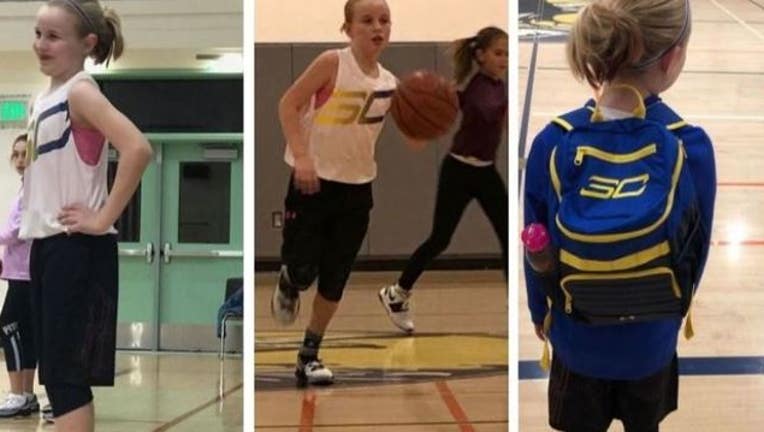 article
NAPA, Calif. (KTVU) - Score!
Warriors guard Steph Curry mailed 9-year-old Riley Morrison of Napa new Curry 5 sneakers, delivering on his Twitter promise he made about a week ago.
Riley's dad, Chris Morrison, sent KTVU pictures of his daughter in the new basketball shoes, practicing with her teammates at Napa Valley Language Academy.
"Curry and Under Armour were super generous and hooked her up with a bunch of swag," her dad said.
She and her dad took to the stage at school on Friday to talk about her life-changing experience and the reason she got an early Christmas present from Curry because of a letter she wrote the player about a month ago.
"I learned that everyone has a voice," Riley said into a microphone while standing next to her dad. "And just by writing a letter, you can make a change, as you inspire people all over the world."
She had been shoe shopping with her dad on the Under Armour website, looking to buy Curry 5s. And she was disappointed that they didn't sell them in the girl's section. She could buy the same size on the boy's side, but inspired by her dad, she wrote Curry to express her frustration. 
A reporter at Vox tweeted at Curry to help Riley out and the story went national.
Curry responded on Nov. 29 with a letter of his own, promising that he and Under Armor fixed the problem and that now, his shoes and others, will be listed on the girl's section.
Under Armour apologized and thanked Riley for bringing the matter to the company's attention.
In his letter, Curry promised Riley new Curry 5s, the new Curry 6s when they come out, and perhaps a surprise appearance with the Warriors in March during International Women's Day.