Browns running back, former UGA star Nick Chubb carted off with knee injury vs. Steelers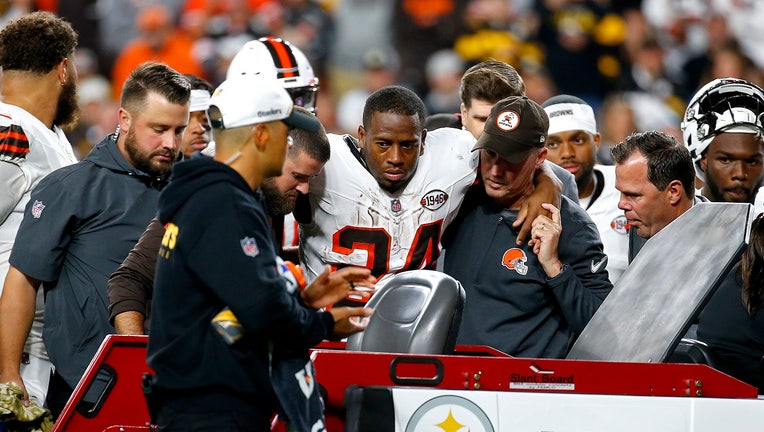 article
PITTSBURGH - Cleveland Browns star running back Nick Chubb was carted off the field with a left knee injury against the Pittsburgh Steelers on Monday night.
Steelers safety Minkah Fitzpatrick came in low for a tackle at the end of a 5-yard run early in the second quarter and delivered a hit to Chubb's legs. Chubb's knee buckled underneath him.
After the play, a teammate grabbed Chubb's hand to try to help him to his feet, and Chubb shook his head while clutching his left knee. He undid his chinstrap and rolled over onto his side.
Chubb suffered a serious injury to the same knee on Oct. 10, 2015 while in college at Georgia — a dislocation with three torn ligaments. The Bulldogs were playing Tennessee at the time. Like the previous injury, the one Monday night was difficult to watch, and ESPN declined to show replays of the play where he was hurt.
Chubb remained on the ground for several minutes while teammates gathered in prayer nearby. He eventually left on a cart.
NBA star and Ohio native LeBron James and Baltimore Ravens quarterback Lamar Jackson were among those who expressed support for Chubb on social media.
James posted he was "praying for the absolute best," with Jackson offering a similar sentiment.
Chubb ran 10 times for 64 yards before getting hurt. The Browns ruled him out for the rest of the game, a mere formality for the 27-year-old Chubb, who could face a lengthy recovery.
This story is breaking. Check back for details. If you have additional information, pictures, or video email newstipsatlanta@fox.com.