Braves Near Roster Limit for Opener with Nationals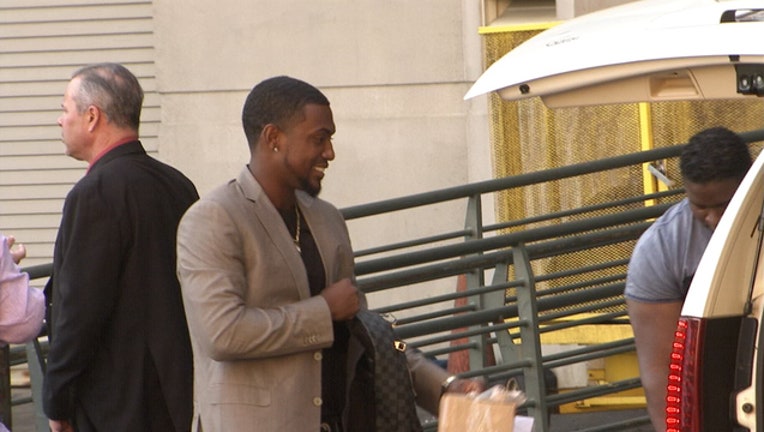 article
KISSIMMEE, Fla. (AP) - KISSIMMEE, Fla. (AP) — The Atlanta Braves reached their opening day roster, adding outfielder Drew Stubbs and pitcher Alexi Ogando and designating for assignment outfielders Michael Bourn and Emilio Bonifacio on Saturday.
The Braves also sent pitcher Jhoulys Chacin to Triple-A Gwinnett for one start. The moves left Atlanta with 12 pitchers, two catchers, six infielders and five outfielders.
Atlanta opens Monday at home against the Washington Nationals.
Bourn, who came to the Braves from Cleveland last summer in the same trade that brought Nick Swisher, is on the books for $14 million this season. Swisher, who was given his unconditional release Monday, is owed $15 this season by the Braves and Indians. Bonifacio's salary for 2016 is $1.25 million.
Stubbs signed a minor league contract Wednesday, a day after opting out of his contract with the Texas Rangers. He went 0 for 5 in two exhibition games with Atlanta.
"That tells me that they had an idea of what I was and what they were looking for. Coming in for a couple days confirmed their feelings and their thoughts," said Stubbs, who hit .195 in 140 plate appearances last season with Colorado and Texas.
"The situation that I was in was unfortunate, being in limbo," the 31-year-old Stubbs said. "I'm a major league player that can help major league teams win, and I'm just happy that it worked out the way that it did."
Stubbs pointed out that he is "just a year removed from one of my better seasons." He hit .289 with 15 homers for the Rockies in 2014.
General manager John Coppolella said the Braves considered acquiring Stubbs over the winter, but it became less of a priority after the trade for Ender Inciarte, who will be the starting center fielder.
Julio Teheran will start the opener, followed by Bud Norris against the Nationals on Wednesday and Matt Wisler on Friday at St. Louis.
Williams Perez, who started 20 games for the Braves last season, will move into the rotation for the fourth game on April 10 at St. Louis. Chacin will be put on the roster in time to start April 12 at Washington, manager Fredi Gonzalez said.
Chacin, who is coming off a couple of injury-interrupted seasons with the Rockies, appeared to have finished spring training as Atlanta's No. 4 starter.
The Braves determined that the right-hander's nonroster status, plus two scheduled off-days in the first week of the season, made it more sensible to farm him out for the first turn of the rotation.
"Last year was kind of my recovery year. I pitched a lot, but my velocity wasn't there and my pitches were hollow. I just threw," Chacin said. "My fastball is getting better and I think I can get back to where I threw two or three years ago."