Braves lose closer Grilli for season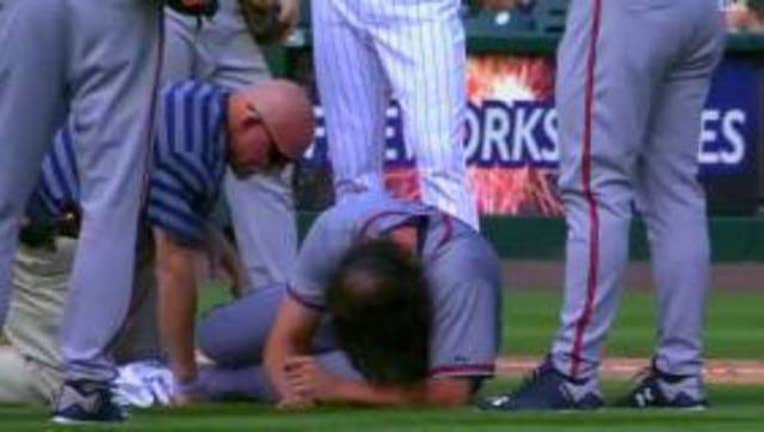 article
A Saturday loss to the Colorado Rockies proved even more costly for the Atlanta Braves, as the team lost closer Jason Grilli for the season.
The Braves lost their third straight to Colorado, 3-2, when Carlos Gonzalez hit a bases-loaded bloop single that dropped between charging center fielder Cameron Maybin and backpedaling shortstop Andrelton Simmons in the ninth inning.
Misfortune befell the Braves at the outset of the rally by the Rockies, who have won their last five games against Atlanta.
Reliever Grilli (3-4) tumbled to the ground and suffered a ruptured left Achilles' tendon as he ran toward first to cover the bag when Drew Stubbs, the first batter he faced, hit a grounder that first baseman Chris Johnson ranged to his right to field.
Grilli appeared to take a bad step and crumpled to the ground, grabbing his lower left leg in pain. Stubbs was safe on what was ruled a hit. Team trainers and manager Fredi Gonzalez ran on to the field to tend to Grilli, who remained on the ground for several minutes. He was helped to his feet, taken away on a cart for further treatment and replaced by David Aardsma.
The team said in a tweet after the game that Grilli was expected to miss the rest of the season.
"The pain he was in on the field was cruel," Fredi Gonzalez said.
The Braves loaded the bases with one out in the eighth but couldn't convert against reliever Christian Friedrich, who induced Simmons to fly out to shallow center and struck out Ryan Lavarnway, who homered earlier.
"We had opportunities," Jonny Gomes said after the Braves lost their fourth in a row, including three to the Rockies heading into Sunday's series finale. "It's an interesting ballpark. They hit some triples over our head. Blooped some in. I've been here before and there isn't a method to the madness."
Matt Wisler settled down to pitch six solid innings after being jolted in the first by Gonzalez's two-out, two run homer that soared into the stand of evergreens beyond the center field wall. Gonzalez hit a homer to nearly the same place the night before.
At the time of his injury, Grilli ranked 5th among National League relievers with 24 games.
Ironically, Grilli who was seen as the team's setup man when he was acquired in the off-season, has two more saves than former Braves star Craig Kimbrel, who was traded to San Diego right before the start of the season.
POST-BREAK ROTATION
Atlanta set its rotation for the second half of the season with Julio Teheran scheduled to start next Friday against the Chicago Cubs when play resumes following the All-Star break. He'll be followed by Manny Banuelos, Shelby Miller, Matt Wisler and Alex Wood.
The Associated Press contributed to this report.