Atlanta debuts at glitzy new home with 3-0 win over Dallas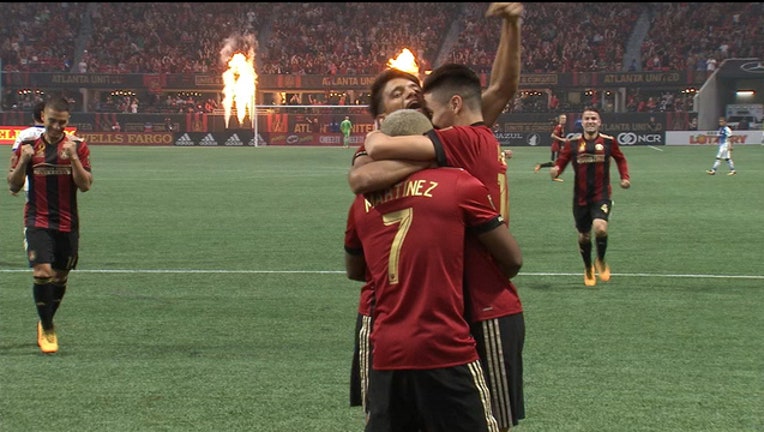 article
ATLANTA (AP) - ATLANTA (AP) - Atlanta United finally moved into their glitzy new home.
It was worth the wait.
Another boisterous, sellout crowd. Their first victory in more than seven weeks. A thoroughly dominating performance.
Josef Martinez, Leandro Gonzalez Pirez and Greg Garza scored Sunday for the MLS expansion team, which thrilled the packed house of 45,314 with a 3-0 rout of FC Dallas in its debut at Mercedes-Benz Stadium.
"Everything about this stadium is world class," goalkeeper Brad Guzan said. "For us to be able to call this place home, we're pretty lucky."
United was initially supposed to begin the season at the $1.5 billion stadium it shares with the NFL Falcons, but construction delays pushed back the opening three times. Atlanta was forced to play its first nine home matches at Georgia Tech's Bobby Dodd Stadium, and two other games were rescheduled.
The quirky scheduling resulted in United (11-8-6) having only nine home matches before Sunday's contest, at least three less than every other team in the league. Since the team's last home game on July 29, a 1-1 draw with Orlando, it had played just three matches - two draws and a loss on the road.
The victory was United's first since a 1-0 triumph at Orlando on July 21.
Nevertheless, Atlanta is sixth in the Eastern Conference and, having played fewer games than any other team, in prime position to make a run to the playoffs in its initial season.
One thing didn't change with the midseason move to a new venue.
Even with the remnants of Hurricane Irma expected to bring high winds and drenching rain to the Atlanta area and much of the city announcing plans to shut down, that didn't dampen the enthusiasm of United fans. Every available seat was filled for a team that already was leading Major League Soccer in attendance at 46,318 per game, on pace to break the record of 44,247 set by perennial leader Seattle two years ago.
They could have drawn even more to what was essentially their second home opener of the season, but red, black and gold curtains blocked off the upper deck to provide a more intimate atmosphere in a facility that can seat more than 75,000. United does plan to open the upper deck for at least two games.
"I don't think there's any comparison to any other team in MLS. In my opinion, they're the best fans in this league," Garza said. "They put on a show for us once more. Thanks goodness we were able to put on a show for them."
Dominating right from the start, Atlanta jumped ahead in the 14th minute when Gonzalez Pirez scored his first goal of the season. From near the sideline, Miguel Almiron floated a pass into the penalty area, Hector Villalba flicked it past two Dallas players with a deft header, and the defender slipped to the back post to knock the ball past helpless goalkeeper Jesse Gonzalez.
Less than a minute into the second half, United extended its lead after Dallas (9-8-10) sloppily lost possession to Carlos Carmona in its own end. Quickly seizing the chance, Almiron zipped down the left side with the ball and sent a pass through a defender's legs, setting up Martinez's easy one-timer into an open net for his 10th goal in league games.
Garza made it a rout in the 68th minute with his second goal of the season. Again, it was Villalba with an assist, this time on a crossing pass that Martinez wisely allowed to go through as he was marked by Walker Zimmerman. Garza had no one around him on the back post for yet another score that was barely challenged by the visiting team.
"He had already scored his goal for the day. At least he gave me a chance to score mine," quipped Garza, who yelled at Martinez to let the ball through. "I don't know if he heard me or not. But It worked, right? I'm guessing he heard me."
Atlanta outshot Dallas 12-5 in an opening half that could've been a much bigger margin than 1-0. Yamil Asad sent a floater off the woodwork and Martinez beat Gonzalez with a shot, only to have Matt Hedges hustle back to kick it away.
Also, it looked as though Martinez would get a penalty kick when Gonzalez took down the Atlanta star as he broke free in the area. But the call was overturned, along with a yellow card against the keeper, when referee Mark Geiger ruled offsides had been called first.
Not that it mattered.
This was a home opener the United will always remember, especially since they lost their historic first game at Bobby Dodd Stadium, 2-1 to the New York Red Bulls on March 5 .
"Everything was just amazing," captain Michael Parkhurst said. "A lot of positives to take away from it, and good memories.'
___
Follow Paul Newberry on Twitter at www.twitter.com/pnewberry1963 . His work can be found at https://apnews.com/search/paul%20newberry