Alex Morgan embracing first World Cup as a mom: 'I'm playing two roles'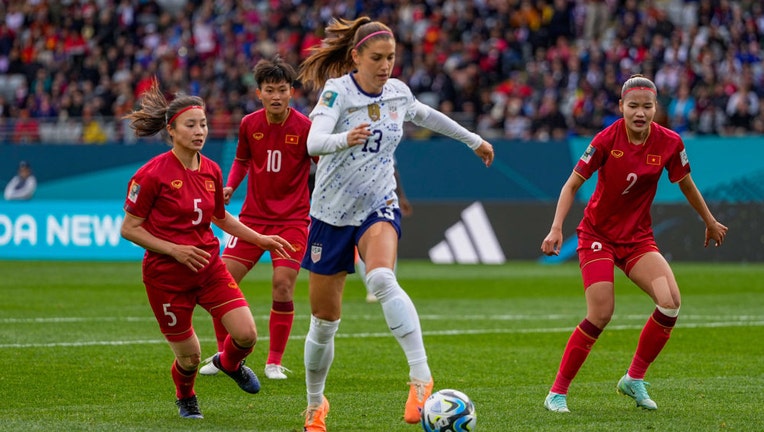 article
AUCKLAND, New Zealand - Alex Morgan was sitting at the podium, surrounded by about a dozen reporters ready to pepper her with questions when her phone buzzed.
On the other end was the U.S. women's World Cup star's daughter, Charlie, age 3. It was just after 8 p.m. back in Morgan's native California, and Charlie wanted to FaceTime with her mom and say goodnight.
Morgan apologized and excused herself. Moments later she returned. The call dropped. That can happen when you're 6,500 miles and 19 time zones apart.
Morgan and the rest of the USWNT have already been in camp for a month. Her husband, former MLS midfielder Servando Carrasco, and parents are already in New Zealand — the site of all three group-stage games for the Americans at the 2023 Women's World Cup. In a few days, Charlie and her nanny will join them Down Under.
"Charlie's the last piece of the puzzle, and I'm very excited," Morgan said.
This is Morgan's first World Cup as a mother. She's in good company. Two other members of Vlatko Andonovski's 23-player roster, Crystal Dunn and Julie Ertz, are in the same boat. All three veterans of the USA's 2019 World Cup triumph started the U.S. team's first game at the 2022 Women's World Cup — the first time three moms have appeared in a match for the U.S. at soccer's biggest event at the same time.
[Meet the 'badass' soccer moms who blazed a trail for USWNT]
There's a lot to navigate for all of them. For world-class athletes competing at the absolute highest level of their sport, finding that work-life balance is sometimes difficult, if not impossible.
"It's hard, because every day I miss her so much," Morgan said of her daughter. "But when she's here, I know that I'm playing two roles, as mom and soccer player."
While Charlie is now old enough to understand what her mother does for a living, the long stretches apart are understandably difficult for her, too.
"I think time to her is a little still confusing," Morgan said. "But I got her calendar to have a countdown on when she's coming, and I think she gets a lot of it. But she's never once asked why I'm not there. She asks when I'm going to see her. It's the life of a professional athlete with a family."
Of course, World Cup moms are nothing new. Mothers have been playing for the USWNT for more than three decades. But as in other professions, it wasn't always something that was embraced or encouraged by their employers. Slowly but surely, that has started to change in recent years.
"I think we need to break down the stigma of women pursuing motherhood while they are playing," Dunn, who had her first child in 2022, told FOX Sports' Martin Rogers last month. "Back in the day, it used to be you're either a soccer player or you're going to be a mom. Usually you'd end your career, and then you pursue motherhood. I think now we need to normalize that idea that should a woman want to pursue that, that is her choice, and the club that they play for, the federation that they play for, will be fully, 100-percent backing them."
As they have been in other areas, members of the women's national team have been at the forefront of this evolution.
"For me, the reason I think I was able to play in seven or eight games toward the end of last year is because throughout my whole pregnancy journey, I was welcome at training — I was still involved in some pieces of training up until I was ready to give birth," Dunn said. "It wasn't something where I announce my pregnancy and everybody was like, 'OK. Bye, see you two years from now.'"
[Alex Morgan on rare missed penalty kick: 'Glad to put that behind me']
Morgan has enjoyed that sort of institutional support ever since returning to the field in 2021 following her maternity leave. And she knows she'll have it however long the USWNT's stay is at this World Cup. 
In some ways, Charlie and the children of other players are treated as extended members of the squad.
"U.S. Soccer has been great allowing [Charlie] to come into our hotel, which is closed off from the public and our families," Morgan said. 
"For her to come in to the hotel and be able to go to the meals with me, or in my room and relaxing with me — she's allowed to come into our environment whenever she wants, which is really nice for U.S. Soccer to make sure that that's important."
Doug McIntyre is a soccer writer for FOX Sports. Before joining FOX Sports in 2021, he was a staff writer with ESPN and Yahoo Sports and he has covered United States men's and women's national teams at multiple FIFA World Cups. Follow him on Twitter @ByDougMcIntyre.