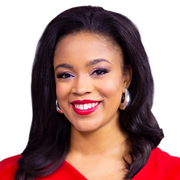 Alex Whittler is an Emmy Award-winning journalist, who joined FOX 5 in January 2020. 
Born in Chicago and raised in Albuquerque, NM, Alex most recently anchored and reported in Richmond, Virginia. There, she covered breaking news events ranging from the Virginia Beach mass shooting to near record-breaking snowfall, and historic, deadly tornadoes caused by Hurricane Florence.
Alex started her journalism career in Chicago, working in all but one television newsroom in the city including WMAQ, WGN, WBBM and WLS. Alex had stints interning for the TODAY Show and Cosmopolitan magazine. She went on to write freelance articles for TODAY.com, NBCNews.com and Cosmopolitan.
Alex holds a master's from the Medill School of Journalism. She graduated magna cum laude with a bachelors of journalism from Loyola University Chicago, where she minored in political science and dance.
When she's not chasing a story, Alex looks for ways to get involved in the community, such as speaking to students and hosting charity events. Alex loves food, and while jazz dance is her typical workout of choice, she recently took up kick boxing and is excited to find a gym in the Atlanta area! 
Don't be shy. Shoot Alex an email or send her a message on social media. She's eager to tell the stories that matter to you, and jot down a local food suggestion or two!
 
The latest from Alex Whittler
A suspect was arrested after breaking into a Brookhaven couple's home, pulling the bathroom curtain back while a woman showered and then stabbing her husband.
Residents demand the Clayton County Board of Commissioners to hold Sheriff Victor Hill accountable for a video of deputies pinning a man to the ground during an arrest. Many residents spoke during the public comment period of Tuesday night's meeting.
Several Atlanta residents are frustrated about a plan to stop them from renting out their homes.
Multiple agencies across the metro Atlanta area are concerned about the safety of a child in widely shared videos.
A Clayton County mother forced to wait months to hold her baby because of the pandemic may finally be able to bring her son home.
A family is desperate to find a missing 57-year-old father, who was last seen nearly a week ago on his way to Emory Hillandale Hospital.
Oglethorpe County elementary school students were asked to write journal entries as if they were runaway slaves.
The death of "Black Panther" star Chadwick Boseman has thrust the importance of regular colon exams into the spotlight.