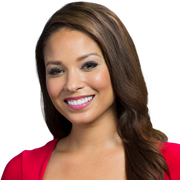 Alyse Eady joined FOX 5 as an anchor and reporter for Good Day Atlanta in August 2016. Before joining FOX 5, Alyse anchored at KTHV-TV (CBS) in Little Rock, Arkansas, where she won an Emmy Award in 2013.
Alyse was crowned Miss Arkansas in 2010 and represented her state in the 2011 Miss America pageant, where she was first runner-up. She is a graduate of Ouachita Baptist University with a double major in speech communication and mass communications, and earned her master's degree in communications from Purdue University.
Alyse is proud to partner with the Georgia Division of Family and Children's Services to highlight a Wednesday's Child on FOX 5, in the hope of finding them a forever family. A former foster child herself, she knows the importance of adoption.
Alyse has been actively involved with the Boys and Girls Club of America for 23 years. As part of her work with BGCA, she traveled to Turkey and Germany to mentor children whose parents were deployed there. She was awarded the Freedom Corps President's Volunteer Service Award for 2,000 hours of community service, and was invited to speak before Congress on how the Boys and Girls Club impacted her life.
Alyse lives in DeKalb County with her husband, baby girl Sofia, and their Siberian husky, Ranger.
The latest from Alyse Eady