Zumper ranks Atlanta as 21st priciest apartment rental market
ATLANTA - Zumper has released its latest National Rent Report and Atlanta is the 21st priciest market, which is its same ranking as last month.
Last month, Zumper reported that the cost of rent declined overall in the U.S. for the first time in year years.
This month, Zumper says rent prices continue to normalize throughout much of the country. The median for a one-bedroom apartment is $1,495, which is the same as last month. The national median for two bedrooms is $1,842, up half a percentage point month-over-month.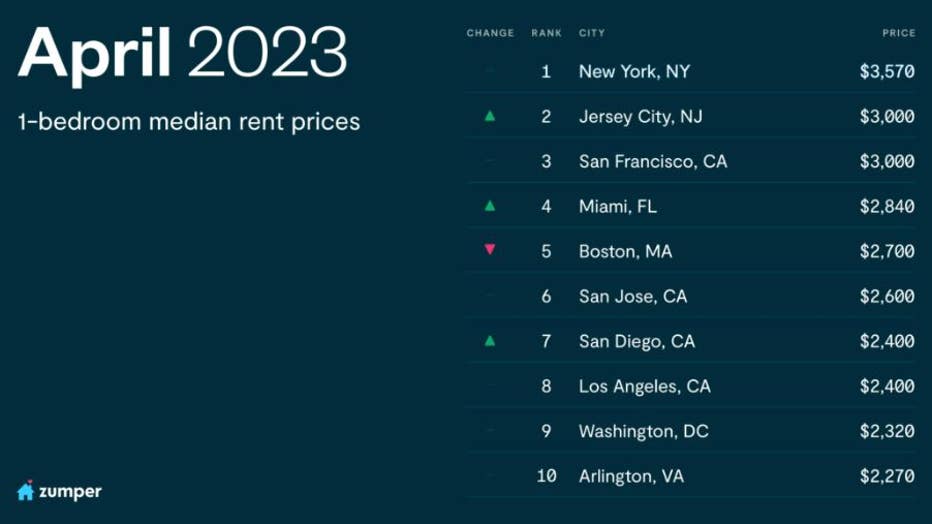 Luxury living is increasingly popular in Miami, where rents continue to climb thanks to factors including and increasing and increasingly wealth population, a strong tech scene and foreign investment. Florida is the fastest-growing state in the nation and Florida's adjusted gross income increased by $23.7 billion in 2020, according to the IRS.
RELATED: Atlanta ranks poorly in study on value of $100K salary in America's largest cities
Jersey City in New Jersey and Raleigh in North Carolina are also seeing sustained price increases.
The addition of new rental units this year have helped stabilize prices although not enough to solve the housing shortage. There continues to be an issue with adequate affordable housing in many major cities. Most new rentals fall into the luxury category with high-end appliances and lavish amenities.
Another city in Georgia -- Augusta -- ranked No. 81 on the list, which is up 7 spots from last month. The median cost for a one bedroom in Augusta is $990 and the cost for a two bedroom is $1,100.
The least expensive major city in the U.S. for rentals is Akron, Ohio. The median cost for a one bedroom in Akron is $700 and the cost for a two bedroom is $850.