Women's World Cup: Brazil going after first championship | July 24, 2023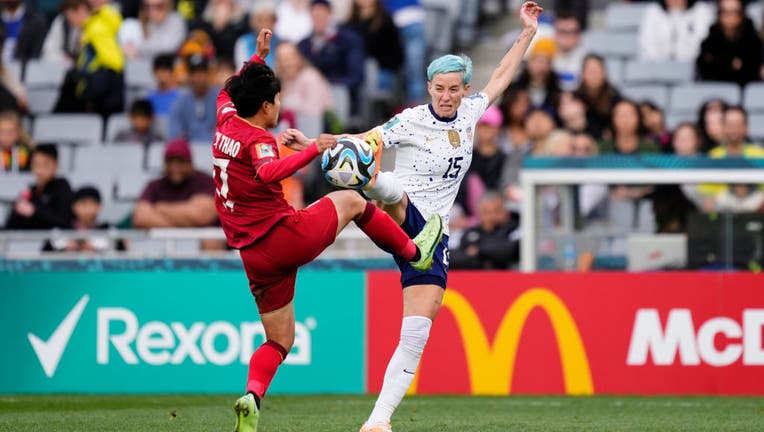 article
AUCKLAND, New Zealand - The FIFA Women's World Cup only happens once every four years, and whether you're a soccer devotee or someone who just tunes in when the Cup comes around, you won't want to miss the action. Never fear: We've got you covered.
Every day through the Final on August 20, FOX Digital will be breaking down the details on all the can't-miss matches, players to watch and other essential details. What's next: The mighty Swedes make everyone sweat.
Watch the 2023 FIFA Women's World Cup only on FOX and FS1.
Women's World Cup matches on July 24, 2023
Day four features four matches.
Italy vs. Argentina-Final score Italy 1 Argentina 0
         Watch the replay of Italy vs. Argentina here
Germany vs. Morocco-Final score Germany 6 Morocco 0
         Watch the replay of Germany vs. Morocco here
Brazil vs. Panama-Final score Brazil 4 Panama 0
         Watch the replay of Brazil vs. Panama here
Colombia vs. Korea Republic, 10:00 p.m. EST (FS1, FOX Sports app)
For details on the results of concluded matches, scroll down to the 'Soccer spoilers' section. 
Match spotlight: Brazil vs. Panama
Brazil starts the Women's World Cup trying to remain undefeated in opening matches, and then take superstar Marta deep into her sixth and final tournament. But, more on that below.
Brazil is one of seven teams to qualify for all nine Women's World Cups, while Panama is one of eight teams playing in the tournament for the first time. 
Brazil's national team has never won the World Cup, losing in the 2007 final to Germany, making it to the quarterfinals in 2011, but then getting eliminated in the round of 16 in the next two tournaments.
RELATED: 8 teams that could stop USWNT from three-peating at 2023 World Cup
Players to watch on July 24, 2023
Brazil: Marta, forward
This is Marta's sixth World Cup and will be her last, but she has a chance to make history as the first player — male or female — to score in six tournaments. She's already the all-time leading scorer in the Women's World Cup with 17 goals.
Morocco: Nouhaila Benzina, defender
When Nouhaila Benzina steps onto the field for Morocco's first match of the Women's World Cup against Germany, she will make history — and not just as a player for the first Arab or North African nation ever in the tournament. The 25-year-old defender will be the first player to wear the Islamic headscarf at the senior-level Women's World Cup
Where is the 2023 Women's World Cup taking place?
The eyes (and cameras) of the world have turned toward host countries Australia and New Zealand. 
In what time zone is the Women's World Cup taking place?
Well, there's more than one time zone involved, as the battles for the Cup will take place in 10 stadiums in two countries. But suffice it to say that you're looking at times that are anywhere from 12 hours (for matches in Perth, Australia) to 16 hours (all New Zealand-based matches) ahead of EST. 
That means some matches – like Nigeria vs. Canada, the first match of day two (July 21) – will be played early in the day locally but air on what's technically the evening before in the U.S. (in this case, July 20). Who said there's no such thing as time travel?
RELATED: Who could be the breakout star for this young, talented USWNT squad?
Where can you stream the FIFA Women's World Cup?
We're living in the future, baby! All matches will be live-streamed on FOXSports.com and via the FOX Sports app, and full replays will also be available. So if you're not into watching soccer at 3 a.m., you're covered! 
How can I watch the FIFA Women's World Cup on live TV?
The FIFA Women's World Cup will air on FOX and FS1. The complete schedule awaits your perusal at FOXSports.com. In addition to all FIFA Women's World Cup matches, head to your preferred FOX platform for game highlights, replays, stats, player stories, analysis and more. 
How does the elimination round work in the Women's World Cup?
Good question! As with the men's World Cup, it's a wee bit complicated. The 32 qualifying teams have been split into eight groups, each assigned a letter (A-H). In the first round, the groups compete against each other: each "side" (team) will participate in three in-group matches. A win is worth three points, a draw worth one point and a loss is worth (you guessed it) zero points. 
At the end of the round, the top two teams (as determined by point total) in each group proceed to the knockout round. That's 16 teams total. 
RELATED: 2023 Women's World Cup betting primer: How to bet on soccer
When does Team USA play next?
After their July 21 showdown with Vietnam, Alex Morgan, Lindsay Horan and company will square off against the Netherlands on July 27.
Soccer spoilers: day four results
Brazil vs. Panama: Ary Borges became the first player to score a hat-trick in this year's tournament and the first Brazilian ever to score a hat-trick in her Women's World Cup debut. Only four other Brazilians have ever scored a hat-trick at the Women's World Cup.
Germany vs. Morocco: Germany has been dominant for years on the world stage, and the two-time World Cup champions entered this year's tournament ranked second in the world rankings. Alexandra Popp scored two of the team's six goals (the most of any team in the tournament thus far) en route to a resounding victory. The win continued its undefeated streak against African nations in the World Cup.
Italy vs. Argentina: Italy, which checked in at 14th on our latest World Cup power rankings, was led offensively by Cristiana Girelli, whose late header was the deciding factor after two earlier goals were taken away due to offside penalties.
Check back here later for results!
Watch the 2023 FIFA Women's World Cup only on FOX and FS1.