Woman's Old Navy dressing room selfie goes viral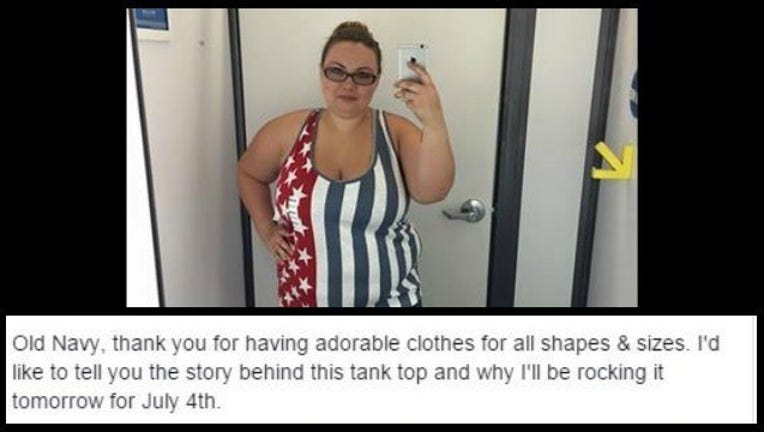 article
A Louisiana woman's selfie snapped inside a dressing room is receiving a lot of attention.
Rachel Taylor said she was shopping at an Old Navy on Friday when she overheard something that really upset her. She shared the encounter on Old Navy's Facebook page and the post has been shared more than 10,000 times.
Taylor said she was standing in between a teen and her mom.
"The girl picked up a plus-size tank top, showed it to her mom and said, 'Look! Me and So-and-so can fit in this tank top!' Her mom laughed and said, 'Yeah, you could! That thing is huge!'" said Taylor on Facebook.
Taylor said she couldn't help but crying and her husband walked her out of the store. She sat in their car crying for a long time, but decided to go back inside.
"I ended up buying that tank top because, it turns out, I look fierce in it!" Taylor said. "Be kind. Think about others before you speak. And if someone hurts you, you have to move on."
She uploaded a photo of herself in the Old Navy dressing room wearing the patriotic tank. Since the Friday post, more than 230,000 people have liked it and Old Navy responded.
"Rachel, you are amazing. We want to celebrate your fierce style by sending you a gift card. Please keep an eye out for a message from us!"
The response from Old Navy has more than 40,000 likes.
Following Old Navy's response, Taylor sent another message back:
A few things:
First, thank you so much for all the kind words and for sharing your stories in turn. I never, ever, ever imagined that more than a few people would see this picture (I never see anything posted to Old Navy's timeline) but I appreciate the sweet comments all the same.
However, posting a photo on social media is NOT an invitation to criticize, ridicule, or judge someone. Calling me a crybaby, telling me to save my shopping money for therapy, telling me to "do something" about my weight... what does that accomplish other than making yourself look like a fool? Sitting behind a keyboard commenting on someone else's life doesn't make you superior; it makes you a troll. Also, I don't want any handouts from anyone, nor would I accept it. There are far too many people who need clothes, and I can buy my own.
I could tell you more about the tone of the ladies' conversation, about our positions in the store, about my health and self-esteem issues, but I shouldn't have to. Obviously I didn't handle the situation well, but I worked through it and I'm a better and braver person because of it. I wanted to share my story with Old Navy because I love my new top and appreciate them having cute clothes in all sizes. Now I'm refusing to delete it because people should know that they are not alone in their struggles, and even if they seem silly to someone else, their feelings are still valid. As my Mama always says, "If you can't say anything nice, then don't say anything at all."
APP USERS: Click here to view the Facebook post. 
Taylor is the owner of Daylight Fasing Photography. To view her work, click here.