With cameras running, Savannah owls are a hit again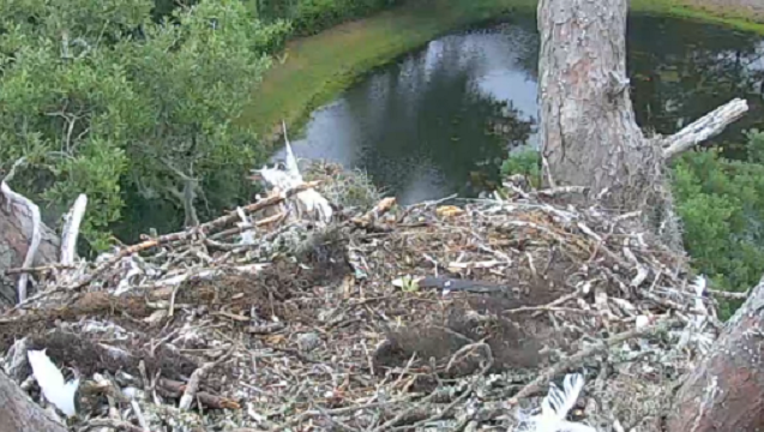 article
SAVANNAH, Ga. (AP) — Cue the tears from the empty-nesters. The second season of The Landings owl show has come to a close.
The younger of two adorable owlets raised under live-streaming cameras fledged over the weekend. It had made a few previous forays out of this converted eagle nest seven stories above a golf course green and returned home, but this exit seemed to be for good.
As they did during last year's inaugural season, the owls provided months of entertainment and education to viewers allowed to peek into their world. As before, the mama owl was unfailingly vigilant, the dad a good provider. Even what seemed like a mishap when the older owlet fledged on a windy day had a happy ending.
Two cameras were trained on them, both equipped with infrared lighting to provide nighttime viewing. A Minnesota researcher examined the raptors' voiceprints and determined it was the same male and female returning to raise a second brood. Amateur and professional ornithologists have provided insight into the birds' biology and behavior.
Savannahian Mary Lambright has chronicled much of the owls' activity on Twitter and Facebook feeds, where the great horned owls have attracted a worldwide audience and tallied more than two million interactions.
"I feel like their publicist sometimes," said Lambright, a retired biology teacher who taught at Johnson High for nearly three decades. She cracked up as a squirrel with an apparent death wish repeatedly scrambled past the nest of the predators. And she watched as they gobbled down less fortunate squirrels, plus swamp rats, snakes and lizards. The size of the prey these raptors hauled home for the babies was a surprise this season.
"I think the highlight this year was seeing they could bring in great egrets," Lambright said. "I never thought about how large a prey item they could take."
Great horned owls are among the most common owls in North America and are the "quintessential owl of storybooks," with their "long, earlike tufts, intimidating yellow-eyed stare and deep hooting voice," according to the Cornell Lab of Ornithology, a partner in the Landings Bird Cam project.
The nonprofit Skidaway Audubon is the primary driver of the nest cam. The Cornell Lab of Ornithology provides technical assistance and birding expertise. The private California-based HDOnTap provides the live streaming and recordings.
Others who contributed money or in-kind services include Coastal Conservation Association, Skidaway Chapter; Ogeechee Audubon; Wild Birds Unlimited Savannah; the Georgia Golf Course Superintendents Association; The Landings Club; and The Landings Association.
Earlier this month some camera viewers panicked when the older owlet appeared to have been swept away from its perch by a stiff breeze. When volunteer Rick Cunningham was dispatched to check on junior, he spied the owlet safely ensconced in an adjacent tree rather than stuck on the ground as owl watchers feared.
"I had to make sure there was not a cat or two prowling around," he said. "People really needed reassurance."
Cunningham expects the owls' loblolly pine to survive another year, so the show may go on if the owl couple returns in 2017. Hooked on the bird show, Cunningham is also eyeing other nesting sites and plotting how best to wire a camera near them.
"I think we really would like to have bald eagle," he said.
___
Information from: Savannah Morning News, http://www.savannahnow.com