West prepares for flooding while East Coast in deep freeze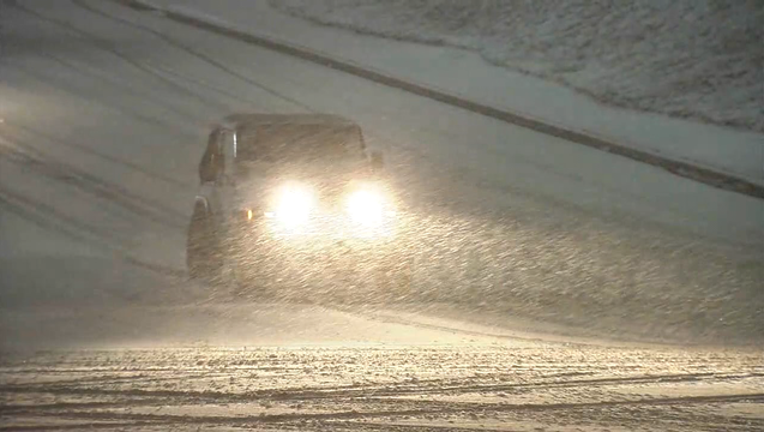 article
As the East Coast waits to thaw out from a weekend icy mess, another storm is bringing rain and the potential of the worst flooding in more than a decade to the West coast.
At least four deaths have been blamed on the East Coast storm, which dropped more than a foot of snow in southern New England, caused a former governor to fall on his icy driveway in Mississippi and caused schools in North Carolina to cancel classes Monday.
Out West, forecasters are warning of heavy rains in northern California and Nevada through the middle of the week along with an ice storm in Oregon.
In the East, the worst, lingering problems were expected in North Carolina where up to 10 inches of snow and sleet fell in places Saturday. The deep freeze followed. Forecasters predict temperatures won't get above freezing in much of the state before Tuesday afternoon, a big problem in a place where officials depend on usually mild weather to melt away the ice and snow on less traveled routes. One person died in Montgomery County when a car slid off icy Interstate 73/74 into a tree Sunday morning, Gov. Roy Cooper said.
The other three deaths related to the storm occurred in Virginia, Georgia and Kentucky, and officials said they were the result of cars traveling on roads made slick by ice. Other traffic deaths were being investigated to determine if weather played a factor.
Early Monday, low temperatures in North Carolina ranged from zero in Reidsville and Roxboro near the Virginia state line to 29 degrees at Cape Hatteras.
The National Weather Service had winter weather advisories in effect for 75 of North Carolina's 100 counties until late Monday morning. Driving conditions were dangerous across because of leftover snow and ice and cold temperatures.
There was one happy ending. Two hikers missing for more than a day in the frigid North Carolina mountains without food and water and only a small fire for warmth were rescued from waist-high snow. A helicopter using a tool that can detect heat found the hikers about 5 p.m. Saturday in the Shining Rock Wilderness area about 25 miles southwest of Asheville. Cooper said rescuers got to the men about two hours later, just in time to save them.
School systems across North Carolina went ahead early Sunday and canceled Monday's classes in part because of icy roads, but also because of bitter cold temperatures making it dangerous for children without proper clothes to wait for buses and difficult to keep buildings warm.
Many schools and government offices were closed Monday. North Carolina State University also canceled classes.
When the thaw does come later in the week, it will be quick. Highs in the South are forecast in the 70s on Friday.
In the West, forecasters said flooding from the storm moving onshore and a second predicted bout of heavy rain Tuesday could cause flooding in northern California and Nevada similar to problems in 2005 and 2006 that sent 5 feet of water into warehouses in Sparks, Nevada, and hazardous waste barrels floating away.
The icy weather also prompted an increase in emergency room visits from falls. In Mississippi, a family spokesman said 93-year-old former Gov. William Winter was expected to recover and was in fair condition after suffering a concussion when he fell on the steep, icy driveway of his Jackson home.
___
Associated Press writers Jack Jones in Columbia, South Carolina; Martha Waggoner in Raleigh, North Carolina; Olga R. Rodriguez in San Francisco; Scott Sonner in Reno, Nevada; Emily Wagster Pettus in Jackson, Mississippi; Bob Salsberg in Boston and John Nicholson in New York contributed to this report.