Happy semiquincentennial: We're already planning America's 250th birthday in 2026
WASHINGTON - The United States will mark the 250th anniversary of its founding in 2026, and a commission tasked with planning and orchestrating the celebration is already getting to work. 
The U.S. Semiquincentennial Commission, known as America250, will formally kick off its three-year countdown campaign on July 4 in Milwaukee, Wisconsin, when the Brewers host the Chicago Cubs at American Family Field. Fans will be invited to visit a booth and record a video that tells their own American story.
The nonpartisan Semiquincentennial Commission was established by Congress in 2016 to mark the anniversary and is chaired by former United States Treasurer Rosie Rios. The commission, along with its private, nonprofit partner the America250 Foundation, aims to build "the largest, most inclusive commemoration in history."
For Rios, a lot of their success will involve reaching everyday people on "Main Street" in towns across the U.S. – and particularly inspiring younger Americans to get involved. 
"I think we'll be successful if as many Americans as possible feel like this is the land of opportunity all over again," she told FOX Television Stations. "And how do we inspire this next generation to pursue those opportunities that have been given to them?"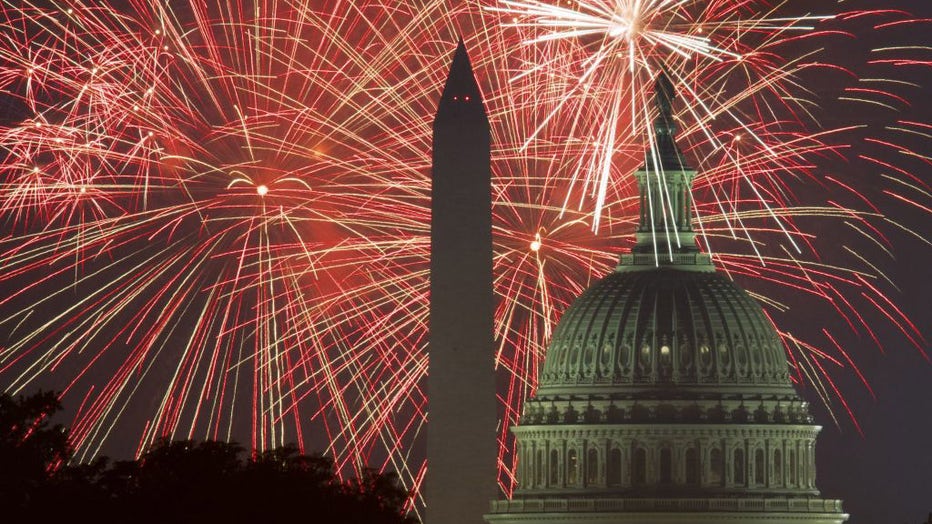 FILE - Fireworks explode over the National Mall as the US Capitol (R) and National Monument are seen on July 4, 2017, in Washington, DC. (Photo by PAUL J. RICHARDS/AFP via Getty Images)
The nonpartisan America250 commission is made up of four U.S. representatives and four senators, 16 private citizens appointed by both parties, and 12 other individuals from all three branches of the federal government and its independent agencies – including U.S. Department of Education Secretary Miguel Cardona, Defense Secretary Lloyd Austin, and Interior Secretary Deb Haaland.
But the next three years of planning will come amid a 2024 presidential election, a time that's always divisive, as well as what many would call an already politically-divided nation showcased during the Jan. 6 Capitol riot in 2021, backlash against corporations getting involved in social and political issues, and more. 
Rios noted the atmosphere during the nation's bicentennial celebration in 1976. America's 200th anniversary of its founding was celebrated two years after Richard Nixon resigned his presidency over the Watergate scandal and in the post-Vietnam War era. 
"I mean, think about what our country was going through at that time," Rios said. "Probably a lot of, you know, hesitation in general about how we could think about finding that collective voice. I see it as an opportunity."
"This isn't about one person, this isn't about one commission. This is about the American people and all constructive voices are welcome," Rios added.
America's bicentennial in 1976: 'It wasn't about the fireworks, it really was a feeling'
Some may remember the country's celebrations leading up to July 4, 1976, in which similar patriotic events were held across the nation to mark its 200th birthday. This included the American Freedom Train, which was visited by more than 7 million Americans during its tour of all 48 contiguous states.
FILE - An oversized birthday card honoring the American Bicentennial stands on display on the White House lawn, Washington, DC, July 3, 1976. (Photo by Pictorial Parade/Getty Images)
For Rios, then an 11-year-old girl in Hayward, California, she still "very clearly" remembers the bicentennial celebrations. She recalls learning all the patriotic songs in school, taking a field trip to see the American Freedom Train while it was in town, watching the parade of tall ships coming through the New York and Boston harbors on television.
She even still has her bicentennial quarter, which was specially-produced in celebration of America's 200th birthday. 
"But I think the big memory that really sticks to me is the night of July 4th, 1976. I remember it was a cloudy night and those were probably the best fireworks I've ever seen. And it wasn't about the fireworks," Rios recalled to FOX Television Stations. "It really was a feeling, a feeling that I had at that very moment in time and, and really what it means to be American."
Rios grew up in a family of nine children and is the daughter of immigrants who moved to the United States in 1958 in search of work. She now has two adult children of her own. 
"We are the American dream. We're living the American dream," Rios said. "And I want my kids to feel what I felt on July 4th, 1976."
How to get involved in America's semiquincentennial celebration
The America250 commission has already enlisted the neighborhood app Nextdoor and the YWCA, the nation's oldest and largest women's organization, as partners for the anniversary celebration. 
Over the next three years, America250 plans to host commemorative events in every U.S. state and territory.
"We hope to have this be a sea-to-shining-sea perspective," Rios said. "It's not about a coast, it's not about one area. It is about how to have this be about 'Main Street' and really a grassroots effort." 
America250 is encouraging Americans "from all walks of life" to share their story through photos, videos, artwork, poems, songs and more, on its official website. 
Rios, who will be in attendance at the July 4th Brewers vs. Cubs game in Milwaukee to kick off the campaign, said she hopes to meet as many people as possible and hear how they would like to celebrate.
"I want to hear firsthand, especially from kids," Rios said. "Tell us your story. How do you want to participate? And most importantly, how should we be planning this? We want this public engagement effort to really inform us on exactly how we should be putting this planning process in place.
"I want to hear what it means to be American, and I want to hear how we should be planning this once in a lifetime – well, I guess for me, it's twice in a lifetime – celebration and commemoration."
This story was reported from Cincinnati.