Trump calls federal prosecutor 'deranged,' slams Fulton DA in first speech since indictment
COLUMBUS, Ga. - In former Pres. Trump's first public remarks since his 37-count felony federal indictment at the Georgia GOP Convention on Saturday afternoon, he called the lead prosecutor on the case Jack Smith "deranged."
"We have a thug who's in charge. This is a political hit job," Trump said. "We didn't do any obstruction."
The former president claimed the charges amounted to election interference and that his political opponents including President Biden and Former Secretary of State Hillary Clinton were also guilty of the same crimes.
He also slammed Fulton County District Attorney Fani Willis' special grand jury probe of Trump's efforts to overturn the 2020 election in Georgia.
CAN YOU RUN FOR PRESIDENT FROM PRISON? YES, IT'S BEEN DONE BEFORE
"In Atlanta, people are afraid to walk to their local grocery store for a loaf of bread for fear of being assaulted or murdered," he said. "Yet, your local district attorney, Fani Willis is spending all of her energy, all of her money, all of her time trying to get Trump."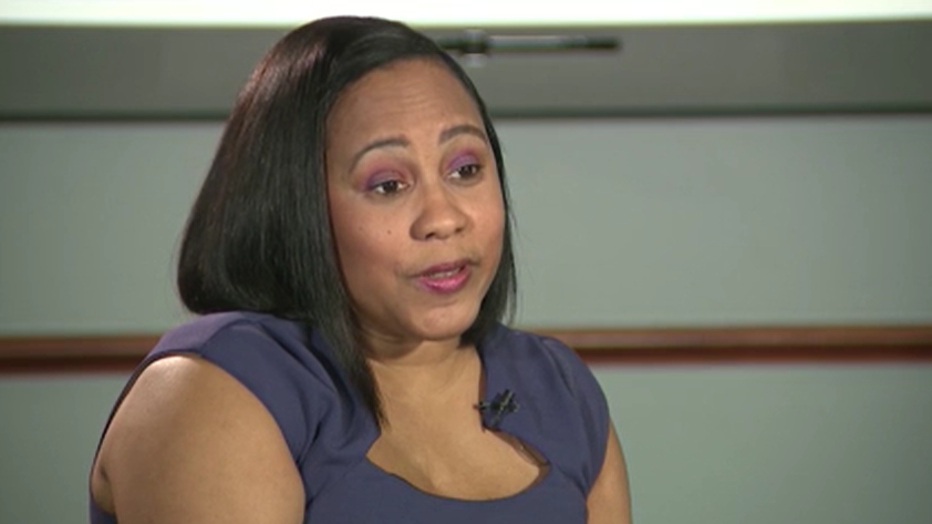 Fulton County District Attorney Fani Willis (FOX 5)
Willis said she will make her decision on whether to charge the former president in an alleged scheme to enlist fake electors by the end of August.
Many of those implicated in the investigation were also in the room, including state party chair David Shafer.
TRUMP INDICTMENT UNSEALED: REAL THE ENTIRE TRUMP INDICTMENT
TRUMP FULL GOP SPEECH:
He said because of crime, Atlanta has become unrecognizable.
"There's 71% increase in homicides in Atlanta," he said. "And now it ranks among the highest murder rates anywhere in the nation."
According to data from Atlanta police, that's false.
The latest crime report shows homicides down 32% compared to this time last year.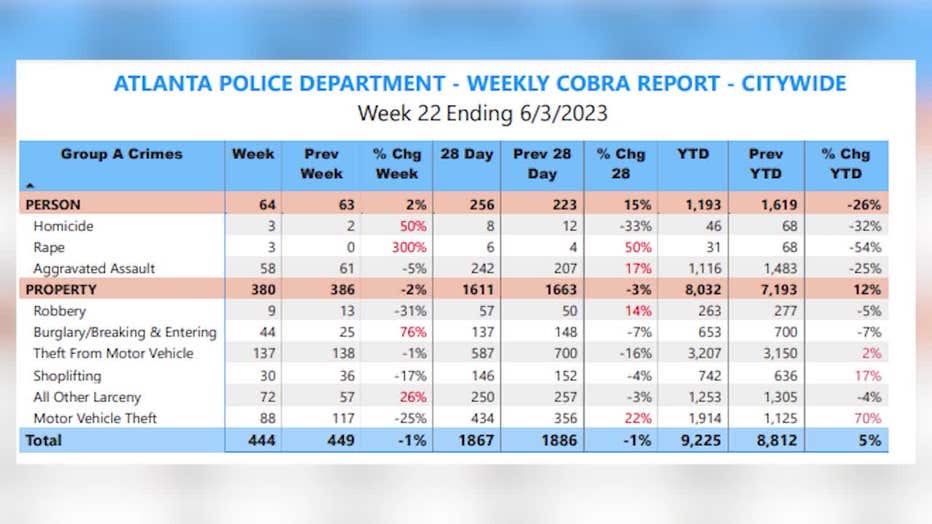 The latest crime data report released by Atlanta police shows homicides down 32 percent compared to this time last year. (Credit: Atlanta Police Department)
Noticeably absent from Saturday's convention, the state's top Republican, Gov. Brian Kemp.
"[I've been asked] I was the only statewide elected official at the convention today," said. Lt. Gov. Burt Jones. "I told them, I think they like me."
Kemp has publicly criticized Trump and his efforts to overturn the election.
KEMP TAKES JAB AT TRUMP OVER KIM JUNG UN PRAISE
Bill Warren, a Republican voter from Cherokee County, said while he likes Kemp, many in the room do not.
"Possibly he wouldn't have been as welcome here then Burt Jones was," Warren said.
When Trump brought up Secretary of State Brad Raffensperger and the "perfect" phone call in which he instructed Raffensperger to find 11,780 votes, the crowd let out a thunderous 'boo.'
At one point, Trump invited Rep. Marjorie Taylor Greene up on stage during his speech to say a few words Saturday afternoon. 
The former president is due in a Miami federal courtroom on Tuesday.
PHOTOS: