Ebenezer Baptist Church celebrates Dr. Martin Luther King Jr. Day
ATLANTA - The country came together to honor the life and legacy of civil rights leader Dr. Martin Luther King Jr. on Monday.
The annual MLK Day Commemorative Service took place at Ebenezer Baptist Church with the pews mostly empty.
This year, the COVID-19 pandemic has forced the service to be virtual, a move that "saddened" King's daughter and CEO of the King Center Dr. Bernice King.
WATCH: Full MLK Day Commemorative Service coverage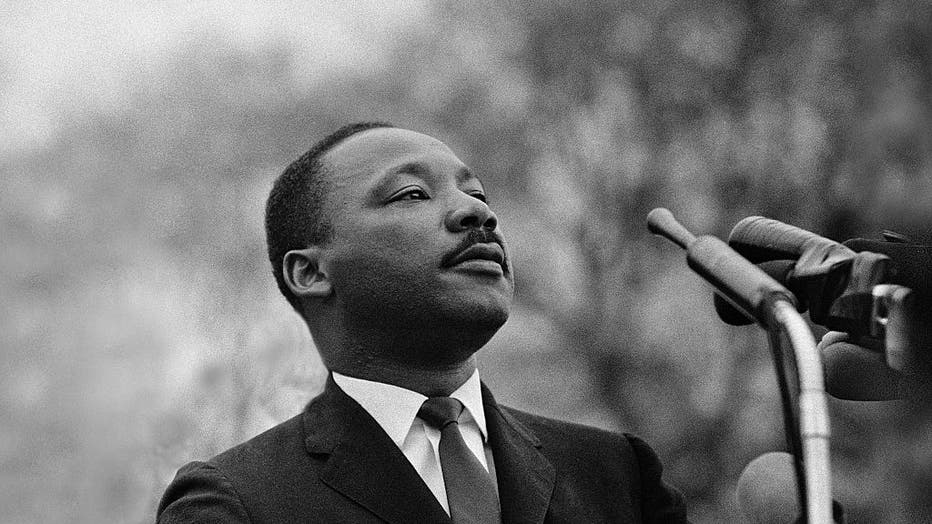 Dr. Martin Luther King, Jr. speaking before a crowd of 25,000 Selma To Montgomery, Alabama civil rights marchers (Photo by Stephen F. Somerstein/Getty Images)
Speakers from more than a dozen countries sang and shared some of Rev. King's most impactful teachings.
"We have people tuning in from all around our globe on all six continents today represented, we will have speakers that represent the world house," said Pastor Sam Collier.
The keynote speaker for Monday's event, as seen on FOX 5, was Bishop T.D. Jakes, who spoke on this year's theme, "Urgency of Creating a Beloved Community." Although it may be tough to see a silver lining amid all the unrest, he said progress has been made since Reverend King's passing.
"I know you're not happy with where it is right now but it's, trust me, it's better than it was. And I know that we are not there yet, but we're further than we used to be," said Bishop Jakes.
"His words are relevant now as they were when he said them more than 50 years ago when he said we are faced with the fact that tomorrow is today, we are confronted with the fierce urgency of now," said Dr. Bernice King.
It was a sentiment that was reflected by Georgia's newly elected U.S. senator.
"A virus has reminded us a deadly pandemic has reminded us that we are tied together as Dr. King said and the single garment of destiny because we're dealing with a deadly airborne disease," said Senator-elect Rev. Raphael Warnock.
Amid the racial injustice brought to light within the past year and the insurrection at the nation's capital, Dr. Bernice King said the country needs to find a way to come together and heal.
"This King Holiday has not only come at a time of great peril and physical violence, it has also come during a time of violence in our speech, what we say and how we say it. It is frankly, out of control," King said.
President-Elect Joe Biden also spoke virtually at the service as he prepares for his inauguration. He said the spirit of Dr. King lives on deep within the soul of the nation.
After that moving commemorative ceremony, a wreath-laying ceremony took place outside the King Center. King Center CEO Bernice King laid the wreath Monday afternoon outside her father's tomb.
This weekend would have marked King's 92nd birthday.
This is the first King Holiday commemoration for the new newly installed bronze sculpture immortalizing the civil rights icon. It's near Mercedes-Benz Stadium at Northside and M.L. King drives and it attracted a lot visitors on Monday. It's called "Hope Moving Forward" and the sculptor said the monument pays tribute to King's walk toward peace and equality for all people. The statue is the first of seven installations commissioned to honor Dr. King's legacy and global influence.
Also, Atlanta-based non-profit Hosea Helps found a way to honor King. The organization held its 20th annual M. L. King Day celebration. Volunteers held a drive-through and walk-up event this morning at the Georgia World Congress Center where people picked up free food, personal protective equipment, and blankets.  Hosea Helps CEO Elisabeth Omilami spoke about how King's fight for equality impacts her life. Omilami also spoke about the sacrifices King made to ensure people of all races were treated fairly.
Widely regarded as one of the greatest nonviolent leaders in history, King spearheaded the Civil Rights Movement from the mid-1950s until his assassination in 1968. It was during that time that he was the driving force behind landmark events like the Montgomery bus boycott and the March on Washington. 
During the March on Washington, King delivered his famous "I have a dream" speech to over 200,000 people at the National Mall. The historic movement inspired Congress to pass the landmark Civil Rights Act in 1964. The same year, King became the youngest person to win the Nobel Peace Prize at 35-years-old. 
King is the only non-president to have a national holiday dedicated in his honor. 
WATCH: FOX 5 Atlanta live news coverage
_____
Sign up for FOX 5 email alerts
Download the FOX 5 Atlanta app for breaking news and weather alerts.