Man uses sentencing hearing to apologize for tow truck driver's murder
DEKALB COUNTY, Ga. - A 26-year-old man was sentenced on Friday after being convicted in the deadly shooting of a tow truck operator in May 2022.
Victor Richardson was found guilty of felony murder, but not guilty of malice murder. Ultimately, he was guilty of five of the six counts against him.
Richardson told jurors he feared for his life the day Christopher Harrold was killed. The 26-year-old said he never meant to shoot the tow truck operator and felt horrible when he realized he had.
Trial for tow truck driver's murder
Richardson said he was arguing with Harrold's employee, DeAndre Dean, over money when he says Dean started shooting at him
The state says Richardson was lying on the stand. Prosecutors say he was not fearful of his life, but rather mad and opened fire on a busy Chevron gas station because he had a malignant heart and wanted to shoot employee Dean.
Richardson took the witness stand during the trial.
He told jurors he was arguing with Harrold's employee over money, never meant to shoot the tow truck driver, and feared for his own life when he opened fire at a busy Chevron gas station last May.
The state says it was a series of bad decisions that lead to murder.
Prosecutors showed the jurors police body cam video and surveillance video taken at the gas station where Christopher Harrold was murdered.
Detectives said the video puts the rifle in Richardson's hand. They said he sprayed bullets from his black Chevy Impala during an argument with the new trainee, DeAndre Dean. Officials said the two were arguing over money.
At least two of those bullets hit Harrold, who had nothing to do with the fight.
Prosecutors also showed jurors the handgun tow truck employee Dean likely had as the two men shot at each other.
Police said they got a break in the case from Richardson's mother. The suspect's mother, Shantina Richardson, told jurors when she arrived at home on the day of the deadly shooting, her son was visibly upset. She said he wanted to turn himself in.
Richardson was also found guilty of aggravated assault and firearms possession.
Tow truck driver's widow responds to apology from gunman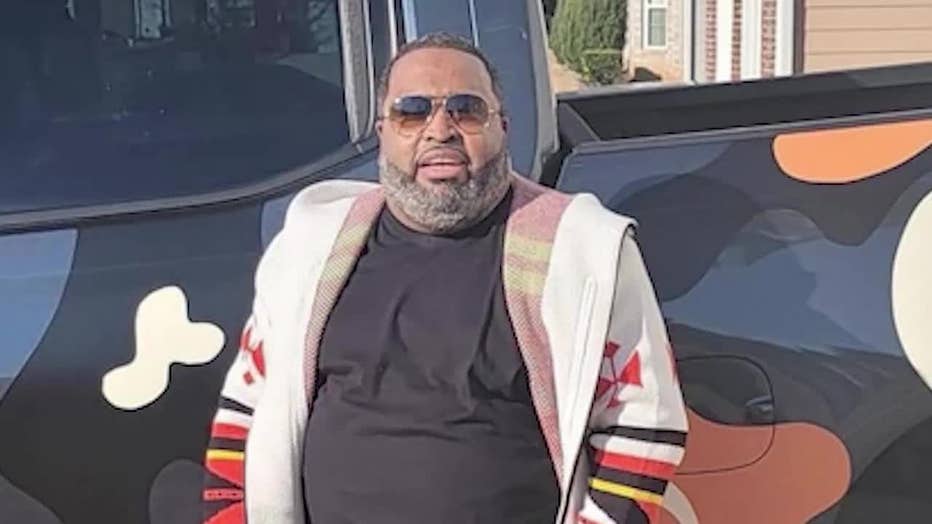 Christopher Harrold (Courtesy of the family)
Maya Harrold has mixed feelings about the 50-year prison sentence her husband's killer received as she left the DeKalb County Courthouse on Friday. 
She was glad he received the maximum sentence.
"I would've preferred him to get life because he took a life," Harrold told FOX 5's Deidra Dukes. 
Richardson read a statement in court. He apologized to Harrold's family for taking his life.
"The loving man who passed away, Christopher, did not deserve it. His life did not deserve to be taken by gunfire," Richardson said.
Richardson's mother begged the judge for leniency.
"I'm so sorry for you guys' loss in every conceivable way, in every conceivable way.  But Victor wasn't shooting at him," said Shantina Richardson. 
The victim's family asked the judge to impose the maximum sentence, which she did, noting that the evidence presented during trial clearly showed Richardson put several lives at risk that day.