US Soccer chooses Atlanta to be home for new HQ, national training center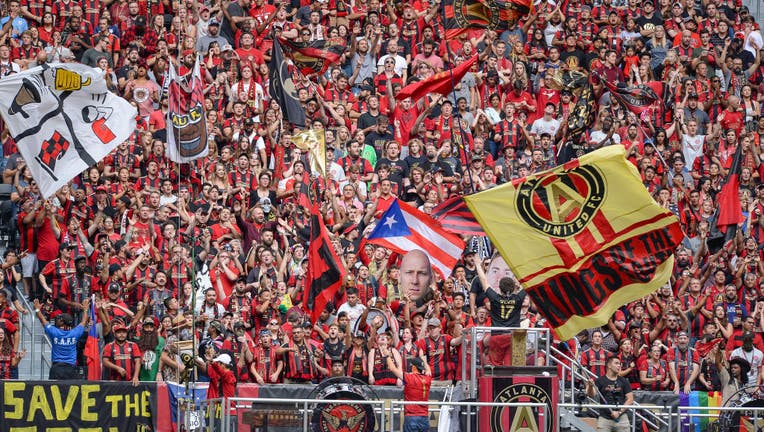 article
ATLANTA - Atlanta is going to be home to U.S. Soccer's new headquarters and the organization's first-ever designated national training center.
U.S. Soccer and Georgia officials announced the move from Chicago to Georgia Friday, saying that the development will make Atlanta a "central hub for the entire soccer community."
The move comes after Arthur Blank, the owner of Atlanta United and the Atlanta Falcons, pledged $50 million to support the construction of the training facility.
"This National Training Center will accelerate the growth of soccer in this country and will represent a commitment to developing elite soccer players for decades to come," said U.S. Soccer President Cindy Parlow Cone. "Investing in youth and adult programs as well as our Extended National Teams reflects our commitment to ensuring that players of all ages and backgrounds can find a home and thrive in this sport. These investments are a signal to our players, coaches, referees, members and fans that the future of U.S. Soccer is bright."
The facility will serve as the hub for the league's 27 national teams as well as nine extended national teams, which includes the Cerebral Palsy, Deaf, and Power Soccer National Teams. Officials say the locker rooms and facilities will be designed to maximum accessibility.
"America's top athletes deserve the best when it comes to preparing them for competition on the global stage and I'm thrilled U.S. Soccer has chosen metro Atlanta as its new home," said Blank. "Atlanta's incredible passion for soccer, corporate community and unmatched infrastructure make this a natural home for the National Training Center and I'm very confident our community will help America's finest soccer players compete on a global level like never before. I'm also pleased to help U.S. Soccer with community outreach and soccer development among underserved communities as part of our contribution and know that it will benefit scores of young people through engagement with the beautiful game for generations to come."
Blank's contribution will also be used to help the league support women's youth national team camps and women's coaching and mentoring initiatives. Officials say the center will host youth tournaments and conferences.
Gov. Brian Kemp reacted to the move by saying that Georgia was "proud" to be the new home for U.S. Soccer and that the state looks forward to working with the league.  
"For many decades, sports have been an essential part of Georgia's history and culture," Kemp said. "Events like the 1996 Olympics laid the groundwork for current and upcoming major attractions like the 2026 FIFA World Cup. From hosting visitors to training the next generation of athletes, we're glad that this project will create new opportunities for local businesses and hardworking Georgians."
"Atlanta is a sports town—and just like soccer in America, we are dynamic, diverse and passionate. There is no better place for this sport to call home during such a critical time," Mayor Andre Dickens said. "On behalf of the people of Atlanta, we are extremely honored to welcome U.S. Soccer to our community and look forward to this new partnership and our city becoming even more of a soccer destination than it already is."
Along with Blank, officials say the Atlanta-based Coca-Cola Company, which announced a partnership with U.S. Soccer over the summer, played a role in bringing the training center to the Peach State.
Officials have begun their search for a site in the Atlanta area for the center at this time and expect the final decision about the location will be made in January 2024. There is no expected competition date for the project at this time.