Trapped worker surprised with pregnancy news before being rescued
ALLENTOWN, Pa. - A Pennsylvania man who was partially buried in a collapsed trench for hours was given wonderful news right before he was rescued — he's going to be a dad! 
Two construction workers became trapped after a trench they were working in collapsed Wednesday afternoon in Allentown. One of the workers was actually able to escape the 12-foot trench by climbing up a ladder when rescue crews arrived. 
The other worker was unfortunately buried in debris from the neck down. Thankfully, he was alert and able to speak with rescue crews. 
After shoring up the trench to prevent further collapse, officials say crews worked to free the man by moving dirt with a vacuum system, shovels and their hands.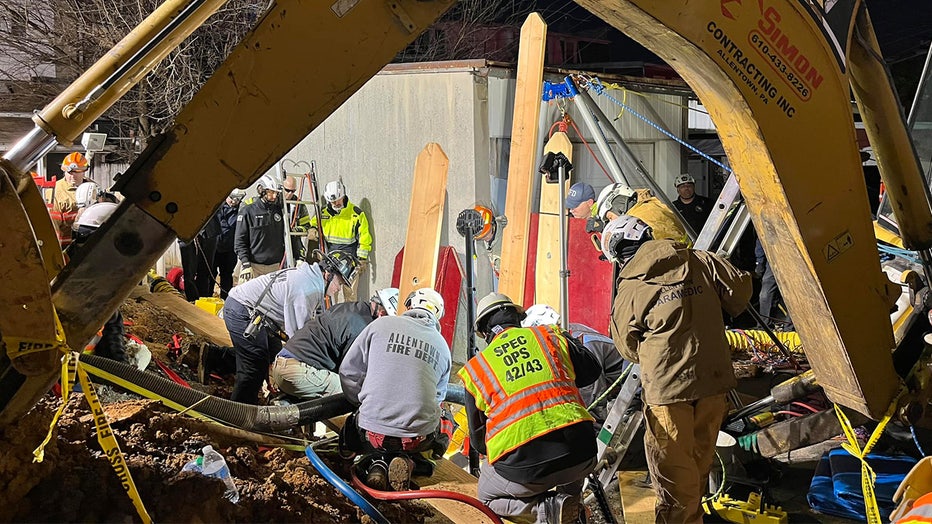 Rescue crews working to get a trapped construction worker out from a collapsed trench in Allentown, Pennsylvania on Jan. 11. (City of Allentown)
"The whole time he was in the trench he was under paramedics' care," Allentown Fire Department Captain John Christopher said. 
About an hour before the remaining construction worker was rescued and out of the trench, he was told he would be expecting his first child by his wife, according to a City of Allentown Facebook update. 
"And because every story deserves a happy ending… shortly before we were able to lift him out of the trench, the rescued man's wife told him she was pregnant with their first child!" the post read in part. 
Officials have not said what caused the trench to collapse and have not provided an update on the man's condition. 
A spokesperson for the U.S. Department of Labor confirmed their Health Administration (OSHA) is investigating the trench collapse. 
This story was reported from Los Angeles. Fox 29 Philadelphia contributed to this report.