Traffic stop for speeding leads to big drug arrest in Fayette County
FAYETTE COUNTY, Ga. - A big drug bust happened in Fayette County where the sheriff says they are seeing a resurgence of crack cocaine.
Deputies say traffic stops involving drugs and guns are more commonplace than ever before. One reason is cost, according to Fayette County Sheriff Barry Babb.
"We are seeing some of the lowest costs for these drugs that we've ever seen. It's simply supply and demand," the sheriff said.
Fayette County deputies say they clocked a Mercedes-Benz traveling 87 mph in a 50 mph zone on May 21. They say the driver had slowed down rapidly from the mid-90s before the radar locked on the car.
The deputy said he could smell marijuana coming from the car, but the driver, Javier Mendoza Corral, refused to allow deputies to search the car.
Fayette County deputies say the made a massive drug bust after stopping a speeding vehicle on May 21, 2023. (Fayette County Sheriff's Office)
They did search it and say they turned up a large stash of drugs, including meth, cocaine, crack cocaine and marijuana, as well as a loaded handgun, and weight scales.
Sheriff Babb says that felony drug arrests by his department have increased 136 percent in the last year, from 30 in 2022 to 71 so far this year.
"One reason is the open border. Drugs just continue to flow over the border," he said.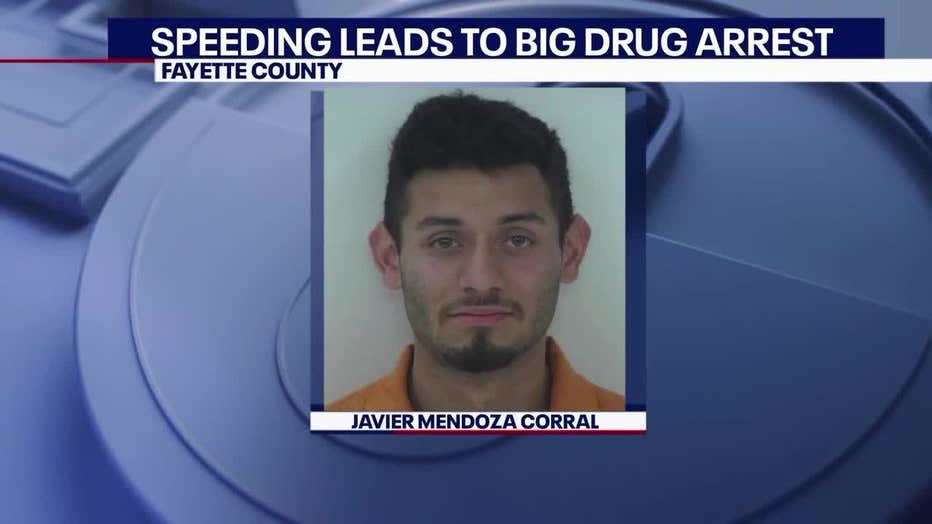 (Fayette County Sheriff's Office)
Mendoza Corral, who deputies say is 18 years old from Riverdale, is facing numerous felony drug charges.
The sheriff says crack cocaine is apparently making a comeback.
Just last week, FOX 5 reported on the Fayette County arrest of Antwon Atkins, who they say caused an accident on State Road 85. While he and the other driver were waiting for deputies to arrive, he was allegedly recorded hiding a bag containing drugs and a gun in the woods. A K-9 found the bag and Atkins was arrested on felony drug charges as well.
The sheriff's office says Javier Mendoza Corral remains in custody in the Fayette County Jail.