Thousands gather for memorial service honoring fallen Officer Chase Maddox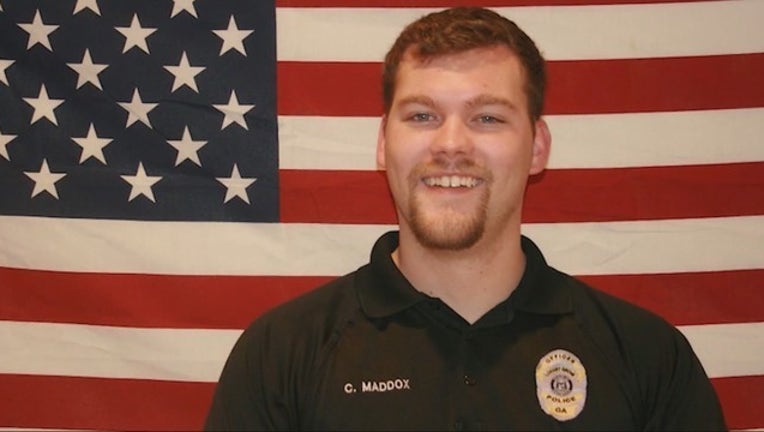 HENRY COUNTY, Ga. - Thousands lined streets in Locust Grove to honor Officer Chase Maddox, who was killed in the line of duty this month. 
App users: View full article here
Hundreds of first responders led the procession, which stretched several miles. Thousands of residents held up American and Blue Lives Matter flags. 
"To pay my respects," one Henry County resident said. "That's the least we can do to for somebody who does what these guys do every day," he said. 
Officer Maddox's brother-in-law shared stories about how he loved his wife, being a father and called being a police officer his dream job. 
"He loved deeply from the heart," Maddox's brother-in-law Coleton Segars said. "You have no idea what it meant to see the streets lined for my sister and my brother," he said. 
RELATED: Hundreds gather to remember fallen Locust Grove officer. 
Officer Chase Maddox, a nearly 5-year veteran of the force, was killed in the line of duty Feb. 9 after meeting up with two Henry County Deputies at a home on St. Francis Court after receiving a call for backup. The deputies were trying to serve a warrant for failure to appear on an individual.
RELATED: Fundraiser created to help family of murdered Locust Grove officer.
He is the first officer killed in the city of Locust Grove's 124-year history.  
Maddox leaves behind his wife Alex, a young son Bradin, and a newborn son, Bodie, born four days after his passing. 
"To Bradin and Bodie: your father is a hero," said Locust Grove Police Chief Jesse Patton. 
The community raised $103,000 on a GoFundMe page to support the needs of his family.