Synagogue suspect leaves hospital; survivors recall ordeal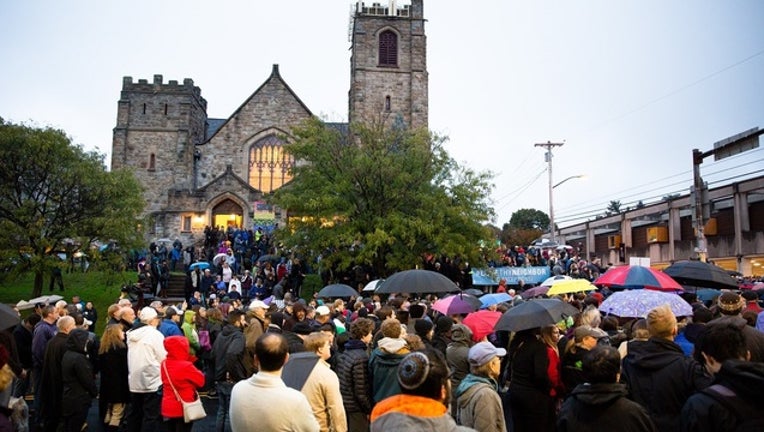 article
PITTSBURGH (AP) - The man accused in the Pittsburgh synagogue massacre was released from a hospital and turned over to authorities for a court appearance Monday on charges he killed 11 people and wounded six in what is believed to be the deadliest attack on Jews in U.S. history.
Robert Gregory Bowers, 46, who was shot and wounded in a gun battle with police, was released from Allegheny General Hospital, according to hospital spokeswoman Stephanie Waite.
Federal prosecutors set in motion plans to seek the death penalty against Bowers, who authorities say expressed hatred of Jews during the rampage and later told police that "I just want to kill Jews" and that "all these Jews need to die."
The first funeral - for Cecil Rosenthal and his younger brother, David - was set for Tuesday.
Survivors, meanwhile, began offering harrowing accounts of the mass shooting Saturday inside Tree of Life Synagogue.
Barry Werber said he found himself hiding in a dark storage closet as the gunman tore through the building and opened fire.
"I don't know why he thinks the Jews are responsible for all the ills in the world, but he's not the first and he won't be the last," Werber, 76, said Sunday. "Unfortunately, that's our burden to bear. It breaks my heart."
The weekend massacre - which took place less than a week and a half before the midterm elections - heightened tensions around the country, coming just a day after the arrest of the Florida man accused of sending a wave of pipe bombs to critics of President Donald Trump.
The mail bomb attacks and the bloodshed in Pittsburgh set off debate over whether the corrosive political rhetoric in Washington and beyond contributed to the violence and whether Trump himself bears any blame.
The attack spurred a number of fundraising efforts. A crowdfunding campaign called Muslims Unite for Pittsburgh Synagogue raised more than $90,000 for survivors and families, while a fundraiser led by a graduate student in Washington had taken in nearly $545,000 as of Monday morning, with funds to go to the congregation.
Bowers killed eight men and three women before a tactical police team tracked him down and shot him, authorities said.
He apparently posted an anti-Semitic message on a social media account linked to him just a few minutes before the rampage. The Anti-Defamation League called it the deadliest U.S. attack on Jews.
Six people were injured, including four officers.
It wasn't clear whether Bowers has an attorney to speak on his behalf. A message left with the federal public defender's office in Pittsburgh wasn't returned.
All three congregations were conducting Sabbath services when the attack began just before 10 a.m. in the tree-lined residential neighborhood of Squirrel Hill, about 10 minutes from downtown Pittsburgh and the hub of the city's Jewish community .
Speaking at a vigil in Pittsburgh on Sunday night, Tree of Life Rabbi Jeffrey Myers said about a dozen people had gathered in the main sanctuary when Bowers walked in and began shooting. Seven of his congregants were killed, he said.
"My holy place has been defiled," he said.
In the basement, four members of New Light were just starting to pray - with two others in the kitchen - when they heard crashing coming from upstairs, looked out the door and saw a body on the staircase, Werber recalled in an interview at his home.
Rabbi Jonathan Perlman closed the door and pushed them into a large supply closet, he said. As gunshots echoed upstairs, Werber called 911 but was afraid to say anything, for fear of making any noise.
When the shots subsided, he said, another congregant, Melvin Wax, opened the door, only to be shot.
"There were three shots, and he falls back into the room where we were," he said. "The gunman walks in."
Apparently unable to see Werber and the other congregants in the darkness, Bowers walked back out.
Werber called the gunman "a maniac" and "a person who has no control of his baser instincts."
The youngest of the 11 dead was 54, the oldest 97. The toll included a husband and wife, professors, dentists and physicians.
Bowers shot his victims with an AR-15, used in many of the nation's mass shootings, and three handguns, all of which he owned legally and had a license to carry, according to a law enforcement official who wasn't authorized to discuss the investigation and spoke on condition of anonymity.
Bowers was a long-haul trucker who worked for himself, U.S. Attorney Scott Brady said Sunday. Little else was known about the suspect, who had no apparent criminal record.
Bowers was charged with 11 state counts of criminal homicide, six counts of aggravated assault and 13 counts of ethnic intimidation. He was also charged in a 29-count federal criminal complaint that included counts of obstructing the free exercise of religious beliefs resulting in death - a federal hate crime - and using a firearm to commit murder.
Of the six survivors, four remained in the hospital Sunday night, and two - including a 40-year-old officer - were in critical condition.
Gab.com, a social media site popular with far-right extremists, where Bowers had a profile, was offline Monday. Gab wrote it had been "systematically no-platformed by App Stores, multiple hosting providers, and several payment processors," including PayPal.
___
Lauer reported from Philadelphia. Contributing to this report were Associated Press writers Mark Scolforo in Pittsburgh, Michael Balsamo in Washington, Jennifer Peltz in New York and Michael Rubinkam in northeastern Pennsylvania.